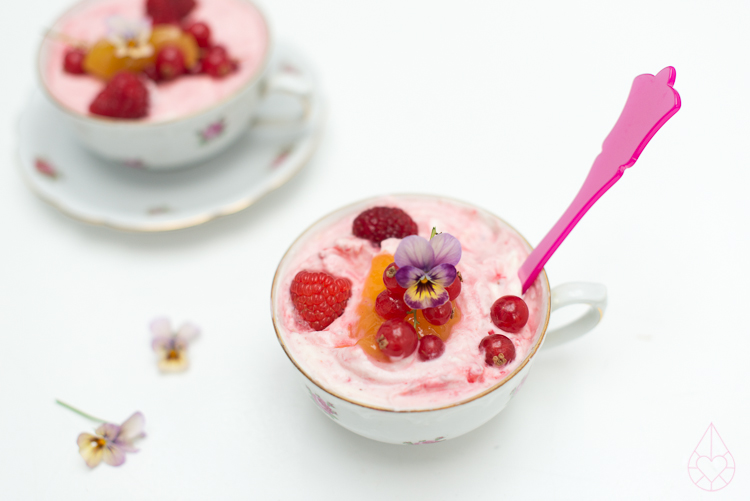 Al sinds ik me kan herinneren, heb ik een voorliefde voor oud servies. Liefst met bloemetjes, gouden randjes en krullen, terwijl dat eigenlijk helemaal niet bij de rest van mijn stijl past. Vooral oude schoteltjes stelen vaak mijn hart. We gebruiken ze als onderzetter, voor theezakjes, serveren er fruit op en eten er sushi van. Mooi oud servies vinden bij de kringloop maakt me intens gelukkig. Helaas zijn ze bij onze kringloop een beetje gek geworden en vragen ze exorbitante bedragen voor oud servies. Groot was dus ook mijn blijdschap toen bleek dat ze bij de kringloop in Brugge nog gewoon mooie kopjes, bordjes en schoteltjes hebben voor minder dan een euro. Ik nam (onder andere) deze twee kopjes mee en maakte er een lekker toetje in.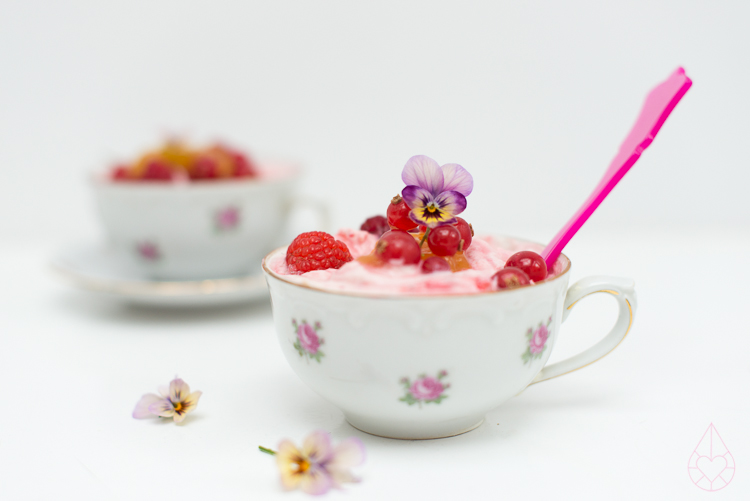 Ci­troen­mas­car­po­ne met rood fruit
Nodig:
1 citroen
1 bakje mascarpone (250 g)
100 ml yoghurt halfvol
1 bakje frambozen
1 bakje rode bessen
3 el lemon curd
Doen: Rasp de gele schil van de citroen. Meng de mascarpone met de rasp en yoghurt. Doe de helft van de frambozen en bessen samen met de lemon curd in een kom en mix kort met de staafmixer. Schep de citroenmascarpone in de kopjes en verdeel de roodfruitpuree erover. Roer desgewenst door elkaar. Schep de rest van het fruit erop en serveer direct. Ook lekker met een extra schepje lemon curd erop. Smakelijk! (Recept gevonden op Allerhande.)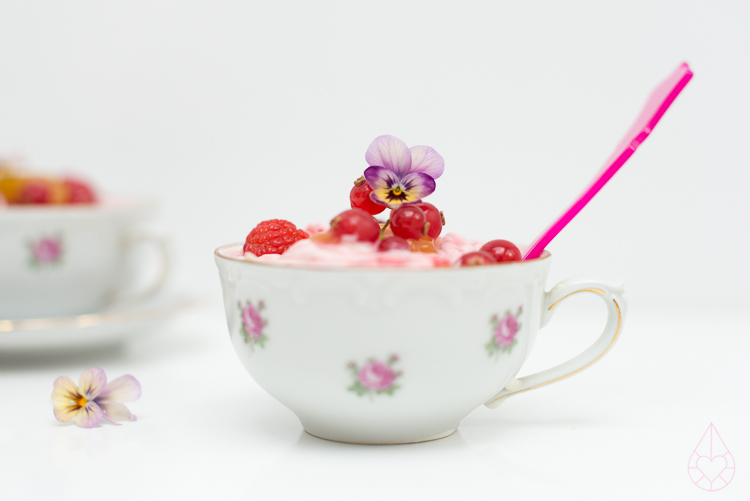 I have this crazy thing for vintage plates and cups & saucers. Well, actually for all vintage tableware. Finding it for a reasonable price at a thriftstore makes me extremely happy. Unfortunately, the prices for old tableware are insanely high at the thriftstore in our small town. You can imagine how happy I was when I found a large pile of tableware for nearly nothing at the thriftstore in Brugge. Today, I used my 'new' cups for a nice dessert. You can find the recipe here. It's in Dutch, but I'm sure Google Translate will help you out. Have a happy evening sweet blogreaders!