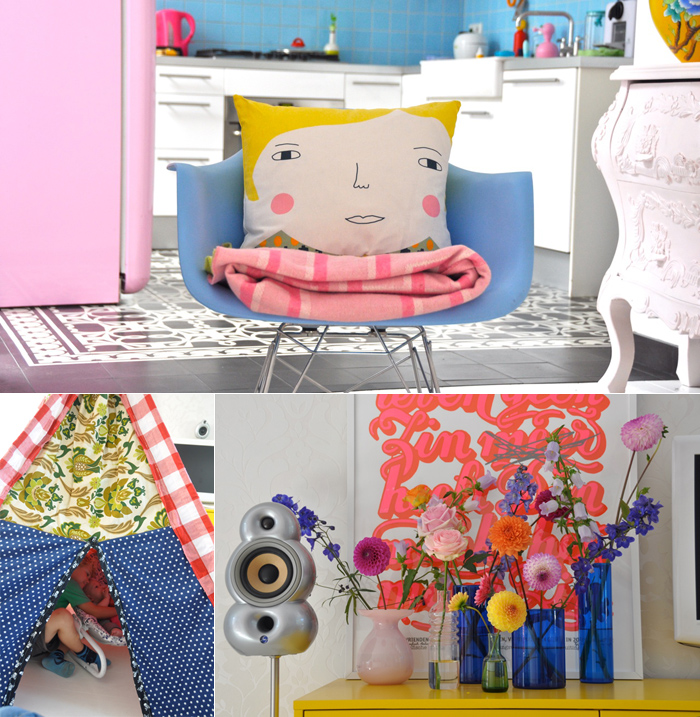 Het is lang geleden, een Home sweet home-logje van mij. Vandaag ben ik weer eens van de partij en wil ik jullie graag mijn nieuwe Donna Wilson-kussen showen, wat ik tegen kwam in de sale bij Store without a home en niet kon weerstaan. En een plaatje van Wolf in zijn tent samen met Mus in de wipstoel (aaah, mama, mag Mus ook in de tent?) en de bloemenpracht, die ik kan blíjven fotograferen. Fijne maandag!
Home sweet home is een initiatief van Barbara, kijk bij haar voor een lijst met alle deelnemers. Meer Home sweet home zien op dit blog? Klik op de button in de sidebar.
Long time no 'Home sweet home' here at Zilverblauw, but today I've got something new to show you. I couldn't resist a Donna Wilson-cushion for sale at Store without a home, so happy with it! Wolf's also happy; Mus is his special guest in the tent. And the pretty flowers on our sideboard; I just can't stop taking pictures of them! Wanna see more Home sweet home on this blog? Click the button in the sidebar. For more Home sweet home on other blogs, check Barbara's blog.