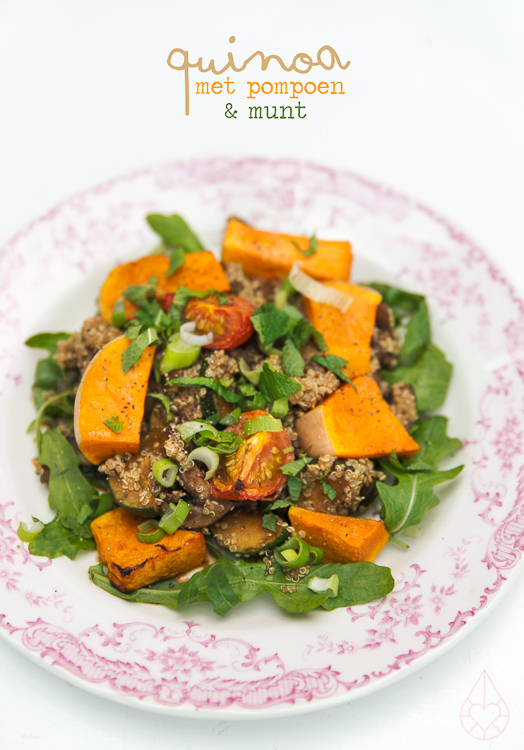 Via mijn goede vriend Jorg leerde ik van het bestaan van quinoa, het zaad van een Zuid-Amerikaanse plant dat qua smaak lijkt op graan. Je kunt quinoa eten als rijst en couscous en het schijnt super gezond te zijn. Ik vind het vooral erg lekker en gezien ik de laatste tijd wat bewuster met gezond eten bezig ben, hieronder een vegan recept wat ik nu al een paar keer heb gemaakt.
Quinoa met pompoen en munt
Nodig, per persoon: 300 gram flespompoen, 1 eetlepel olijfolie, handje rucola, twee lente-uitjes, 200 gram champignons, een scheutje ketjap manis, een halve courgette, 50-75 gram quinoa, twee tomaatjes, een aantal blaadjes munt en een theelepeltje Ras el Hanout.
Doen: Verwarm de oven voor op 200 graden. Snij de pompoen en de tomaatjes in grove stukken. Meng in een kom met een eetlepel olijfolie en hussel goed door elkaar. Leg op een bakplaat bekleed met bakpapier en rooster ongeveer in 30 minuten gaar in de voorverwarmde oven. Snij ondertussen de lente-uitjes, champignons en courgette. Doe de courgette en champignons bij elkaar in een pannetje, voeg een scheutje ketjap manis toe en laat in het eigen vocht gaar stoven. Bereid de quinoa zoals aangegeven op de verpakking. Meng de quinoa met de courgette en champignons en voeg de pompoen en tomaatjes toe. Meng de Ras el Hanout door het geheel. Garneer met rucola. Strooi de lente-uitjes en munt over het gerecht heen. Smakelijk!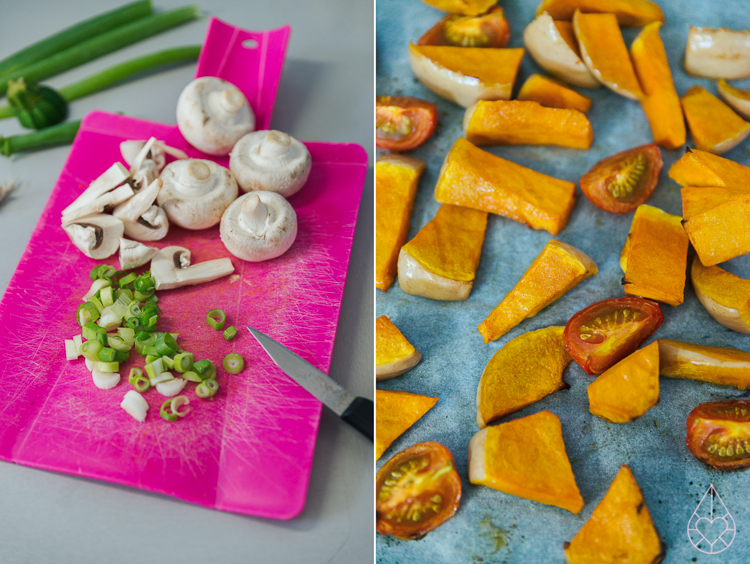 One of my best friends Jorg served me quinoa some time ago, and I really liked it. Here's a healthy, vegan, delicious quinoa-recipe for you.
Quinoa with roasted pumpkin & mint
For one person, you need: 300 grams butternut pumpkin, 1 tablespoon extra virgin olive oil, about a cup of rocket salad, two spring onions, 200 grams mushrooms, a dash of kecap manis, 1/2 zucchini, 50-75 grams quinoa, 2 tomatoes, 1/2 cup fresh mint and a teaspoon Ras el Hanout.
To do: Preheat oven to 200C. Place chopped pumpkin and oil in a bowl. Toss to coat. Transfer to a baking tray lined with baking paper. Roast for 30 minutes until golden and tender. Meanwhile, place quinoa and 1 1/2 cups cold water in a saucepan over high heat. Cover. Bring to the boil. Reduce heat to low. Simmer for 10 to 12 minutes or until liquid is absorbed. Chop the spring onions, zucchini and mushrooms. Heat a pan over medium heat. Add mushrooms, zucchini and kecap manis. Stir-fry until tender. Place quinoa in a heatproof bowl. Add pumpkin, mushrooms, zucchini, mint, rocket salad and spring onions. Season with salt and pepper. Toss gently to combine. Serve & enjoy!
En bijna vergeten: Marcha is de winnares van Ingrid's nieuwe boek, gefeliciteerd! Stuur even een mailtje naar casper@zilverblauw.nl met je adresgegevens.
Marcha wins Ingrid's new book, congrats!