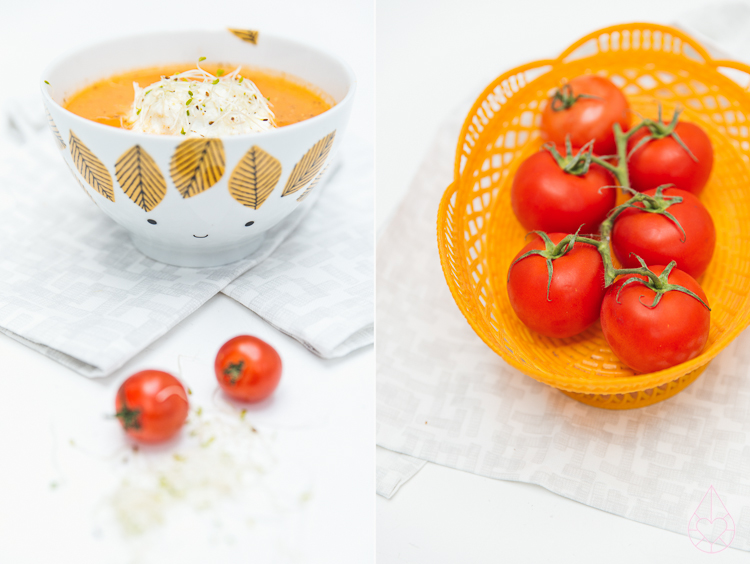 Bah, het lijkt wel herfst. Maar om het positief te bekijken: het is wel lekker weer om soep te maken. Ik hou erg van tomaten, dus als ze in de aanbieding zijn koop ik ze bijna altijd. Het was alleen een beetje aan me voorbij gegaan dat de tomaten momenteel bijna overal in de aanbieding zijn, dus  we hadden er nogal veel in huis. Ideaal voor soep! Verse tomatensoep is heel lekker, supergezond en makkelijk om te maken.
Nodig: tomaten natuurlijk, ik gebruikte gewone, trostomaten en cherrytomaatjes, maar je kunt echt alle soorten tomaten gebruiken. Ik had ongeveer 800 gram. Verder gebruikte ik 1 gele paprika, 3 uien, 3 teentjes knoflook, gedroogde basilicum, (verse is nog lekkerder) een theelepeltje Baharat, wat Alfalfa voor de garnering, groentebouillon en een paar scheppen Griekse yoghurt.
Doen: snij de tomaten, de paprika, de knoflook en de uien grof in stukken en bak ze aan in een grote soeppan met een beetje olijfolie. Voeg de kruiden toe en laat lekker lang sudderen op een laag vuurtje. Voeg een scheutje bouillon toe als de groente dreigt aan te bakken. Als de groenten helemaal zacht en puree-achtig zijn, voeg dan bouillon naar smaak toe en pureer het geheel. Ik vind Griekse yoghurt erg lekker in tomatensoep, helemaal als je het combineert met Alfalfa. Smakelijk!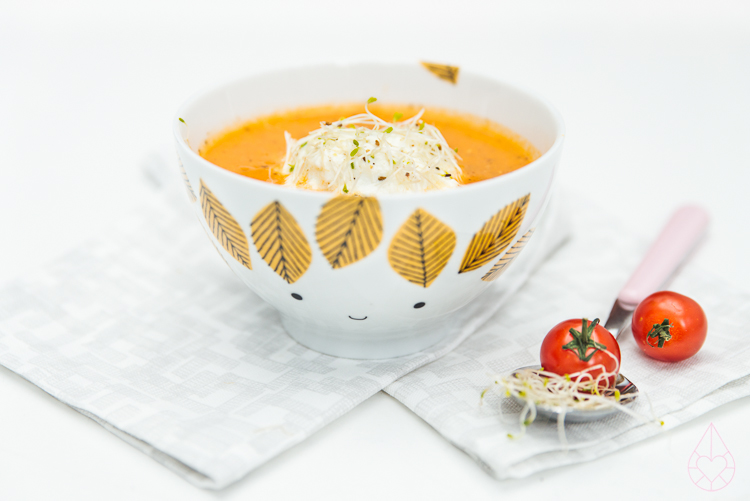 It feels like fall instead of summer here in Holland, which makes me a bit sad, because I wasn't quite ready to say goodbye to summer yet. But to keep optimistic: this weather is perfect for a nice, hot, homemade soup. I decided to make fresh tomato soup.
You need: about 800 grams tomatoes, (cut into quarters ) 3 medium onions, (peeled and chopped) two cloves of garlic (minced) and 1 yellow paprika (chopped). 1/2 cup chopped fresh basil leaves, 1 teaspoon Baharat. Vegetable broth, Alfalfa sprouts and Greek yoghurt to liking.
To do: In a stockpot, over medium heat, combine the tomatoes, onion, garlic and paprika. Bring the vegetables to a boil, lower the heat, and simmer, uncovered, for 30 to 40 minutes, until the tomatoes are very tender. Add the Baharat and vegetable broth to liking. Remove the pan from the heat. Season with salt and pepper and add the basil leaves. Using a hand blender or liquidizer, pulse the soup until smooth. Garnish with Greek yoghurt and Alfalfa. Bon appetite!