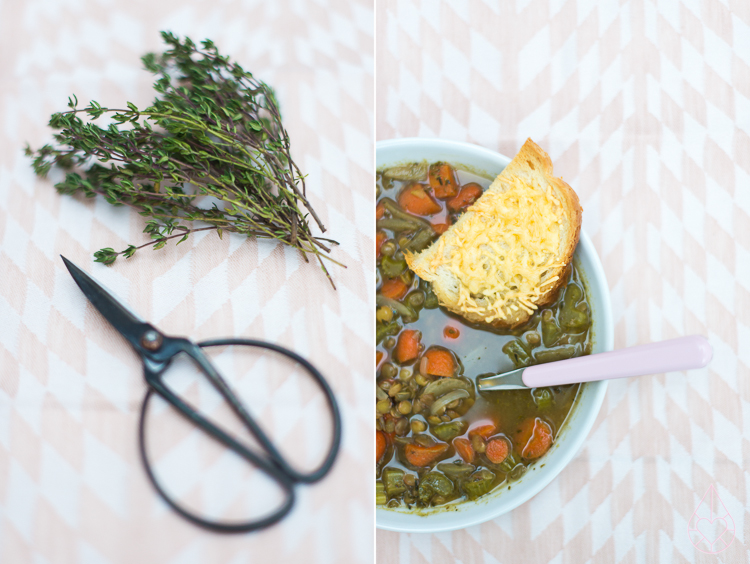 Geen idee hoe jullie december was, (ik hoop goed?) maar die van ons was hysterisch. Gelukkig was het leuke hysterie, maar toch: we moeten er een beetje van bijkomen. Deze linzensoep is daar perfect voor, het is puur krachtvoer met alleen maar gezonde ingrediënten. Het is ook nog eens een makkie om te maken, dus ideaal gezien onze decembermoeheid.
Nodig, voor een grote pan: 500 gram blonde linzen, (ik kocht deze, gewoon bij de supermarkt) 3 uien, 4 teentjes knoflook, een zakje worteltjes, een bleekselderij, (niet helemaal, ik gaf drie stengels aan de cavia's) 3 tot 3,5 liter groentebouillon, een eetlepel komijnzaad, twee laurierblaadjes, 3 kruidnagels, een theelepeltje ketoembar, flink wat (liefst verse) tijm. Beetje olie of boter.
Doen: snij de uien in ringen, de bleekselderij en worteltjes in stukjes en pers de knoflook uit. Fruit de uien en de knoflook. Blus af met de bouillon en verwarm tot het bijna kookt. Voeg de rest van de ingrediënten toe en laat 45 minuten op een zacht vuurtje pruttelen. Verwijder de laurierblaadjes en kruidnagels en breng op smaak met zout en peper. Lekker met een kaasbroodje. Smakelijk!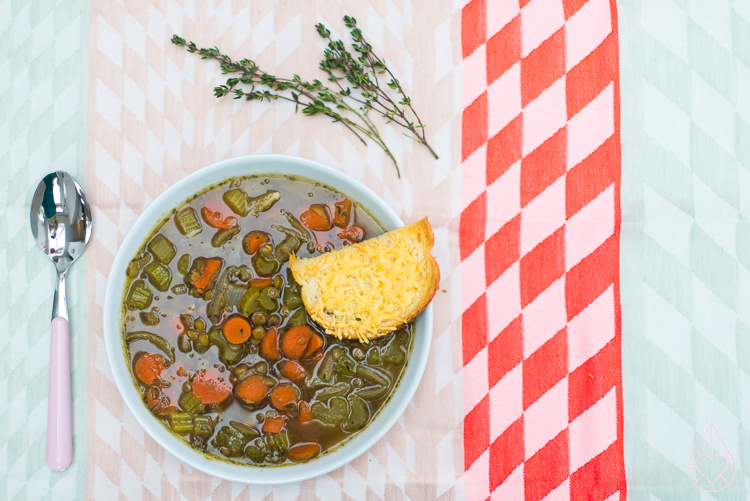 Since december was pretty hectic for most people, (for us it was for sure! Hectic in a nice way, but still, we're pretty tired) here's a real powerful soup to regain some strength after the holidays. Lentil soup is filling and comforting without forsaking nutritional density or incredible flavor. And it's really easy to prepare.
Ingredients, for a big pan of soup: 500 gr. dried lentils, I used these, 3 onions, 4 gloves of garlic, 6 stalks celery, a little sack of carrots, like these, 3 to 3,5 liters vegetable bouillon, one spoon of cumin, 2 bay leafs, a teaspoon of coriander, 3 cloves, a handful of (fresh) thyme and bit oil or butter.
To do: chop the onions, garlic, carrots, and celery. Fry the garlic and onion in a large pan for 2 mins until fragrant. Add the bouillon, heat until it almost cooks and add the rest of the ingredients. Cover and simmer for 45 mins. Remove the bay leafs and cloves. Season with salt and pepper and serve hot. Amazing with cheesy croutons. Bon appetite!
Ik fotografeerde de linzensoep op een theedoek van Mae Engelgeer, hier verkrijgbaar. Fijne dag allemaal!