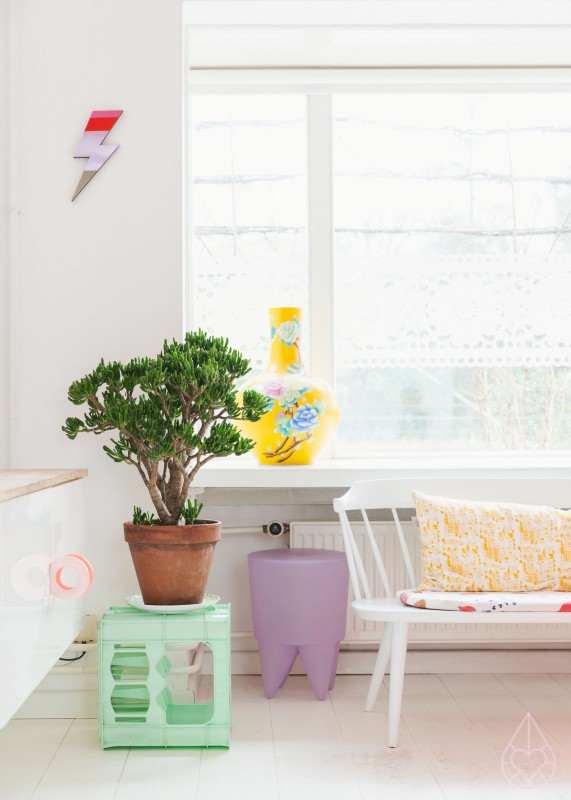 Om eerlijk te zijn gaat de 'plantenhype' een beetje aan mij voorbij. Kleine plantjes vind ik nog wel leuk, maar daarna groeien ze vaak uit tot lange sprieten die in de verste verten niet meer lijken op het schattige plantje dat ik kocht. Of ze blijken ineens heel veel water nodig te hebben, dat ik ze vergeet te geven. De enige planten waar ik echt van hou zijn sterke, vormvaste planten zoals de sanseveria (tot hilariteit van mijn moeder, die sanseveria's afzichtelijk en ouderwets vindt) en vetplantachtigen.
After taking the first photo of this post in Paris, I fell in love with the Crassula Ovata, a simple, sturdy succulent. I love to have one bigger plant in our home and since our ficus died of neglect (I guess I'm not a a good plant mother, only the really tough ones like the sanseveria survive) I was looking for a replacement. I found the Crassula at marktplaats, a Dutch auction site, and bought it from a man who took care of it for over 25 years. The lightning mirror is from Bride & Wolfe, I found it on Pinterest and couldn't resist buying it (that's what Pinterest does to me sometimes). Hope you all have a happy Sunday evening.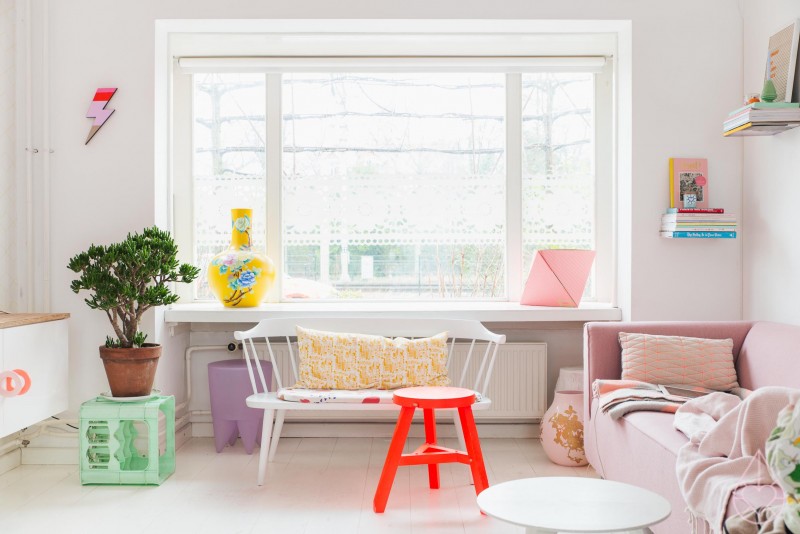 Jarenlang hadden we een grote sanseveria in huis, totdat ik de oranje pot waarin hij stond niet meer zo mooi vond. Daarna hadden we de ficus, die het niet overleefde en die ik eigenlijk ook iets te frivool vond en toen een hele tijd niks, buiten de kleine plantjes en onze cactus.
Totdat ik in Parijs verliefd werd op deze plant, de Crassula Ovata. Of eigenlijk werd ik geloof ik gewoon verliefd op de eerste foto van deze blogpost, die ik maakte van een restaurant in Parijs en die me kennelijk nogal heeft geïnspireerd de afgelopen tijd, want als je goed kijkt zie je ook een roze Evian-kratje staan. Grappig hoe inspiratie soms werkt.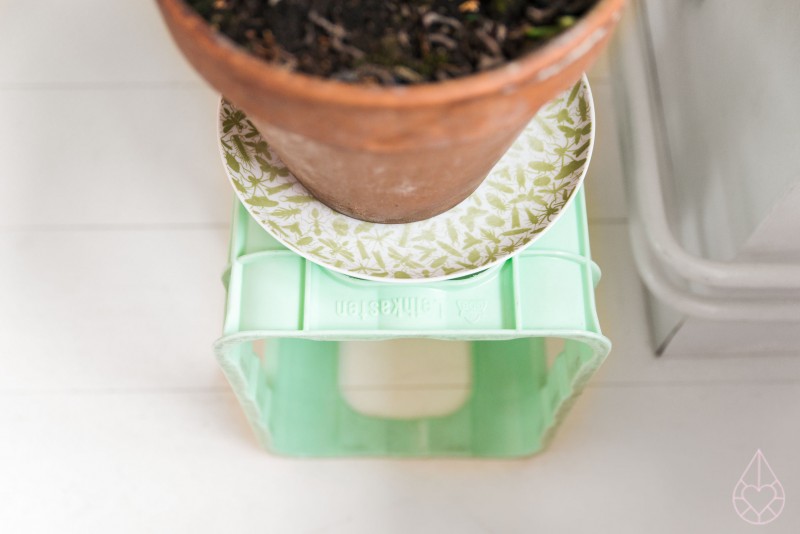 De Crassula Ovata is een sterke vetplantachtige die weinig water nodig heeft. Hij groeit langzaam (deze is al 25 jaar oud!) waardoor hij vormvast is en kan prima overleven onder niet-ideale omstandigheden. Klinkt als de perfecte plant voor ons. Ik vond onze nieuwe aanwinst op Marktplaats en ben 'm op gaan halen bij een meneer die de plant heeft opgekweekt uit een stekje, wat overigens echt weer een fantastisch Marktplaats-verhaal is (die man ging helemaal los tegen me over z'n hobby) maar dat zal ik bewaren voor een andere keer.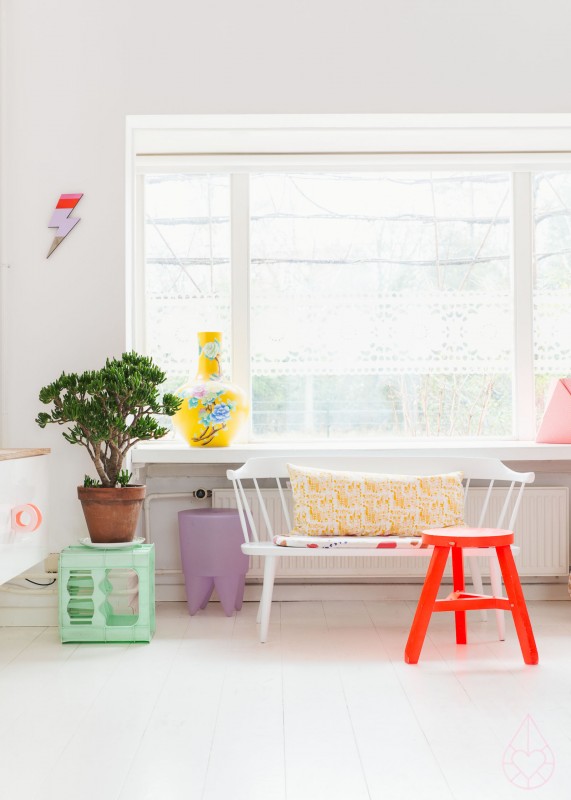 De bliksemspiegel aan de muur is van het Australische merk Bride & Wolfe, ik kocht 'm online nadat ik er eerst een aantal weken verlekkerd naar had gekeken op Pinterest. Wat dat betreft is Pinterest een verleidelijk medium. Wens jullie allemaal een fijne zondagavond!