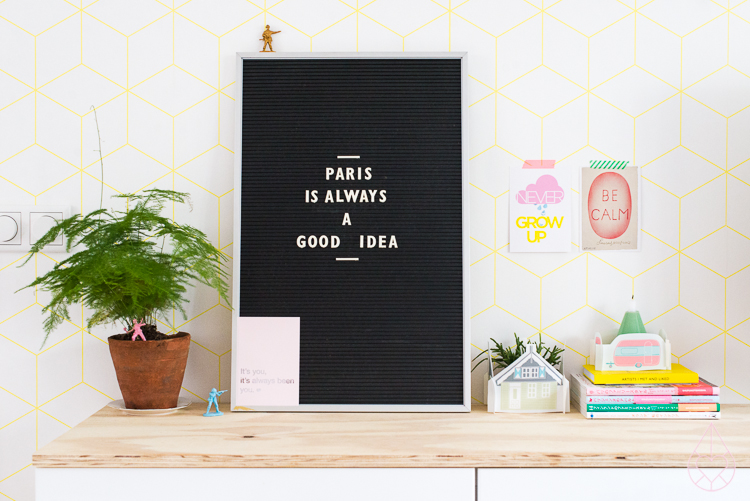 Vorige week werden we gebeld door Studio Snowpuppe. Ze staan komend weekend op de Parijse beurs Maison&Objet en wilden hun stand daar graag behangen met Zilverblauw-behang. Gaaf! Maison&Objet is de meest toonaangevende internationale beurs op het gebied van interieurdesign en ik wilde er altijd al eens naartoe, maar het kwam er nooit van. Nu ons behang daar samen met de prachtige Snowpuppe-lampen hangt, grijpen we onze kans. Parijs is immers altijd een goed idee. (Onze roadtrip volgen? Check Instagram.)
Really cool: the wonderful Studio Snowpuppe's booth at Maison&Objet, a major French trade fair for interior design, is wallpapered with our wallpaper. Since I wanted to attend Maison&Objet for ages but never actually made it, this is our chance to visit the fair and the city of Paris. So I'm roadtrippin' with my favorite ally, follow us on Instagram if you want to keep in touch. 
Het grote letterbord vond ik op marktplaats, ik zocht op 'letterbord'. De papieren huisjes zijn een creatie van Ellen, die deze maand met een artikel in 101-woonideeën staat. (En hier op hun blog, je kunt daar een printable voor zo'n huisje downloaden, cool!)  I found the big letterboard at Marktplaats, the Dutch Craigslist. The paper houses are created by Ellen. There's an article about her in this month's issue of the Dutch magazine 101-woonideeën. You can download a printable for one of these houses here.