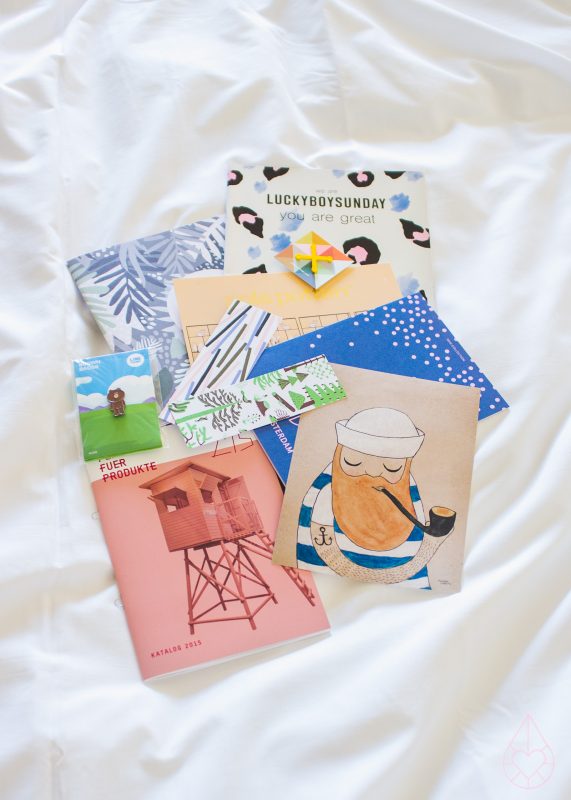 Gisteren bezochten Suus en ik samen Maison et Objet 2015, dé Parijse beurs voor interieurdesign en (woon)accessoires. Afgelopen vrijdag vertrok ik in mijn eentje met de Thalys naar Parijs, waar ik sliep in een fijn hotel (zie de foto's hieronder) vlakbij de beurs. Het voelde een beetje als een minivakantie. Grappig hoe amper twee dagen weg je het gevoel kunnen geven even in een andere wereld te zijn.
Yesterday Suus and I visited Maison et Objet in Paris, the international trade show for homedecor and design. I left for Paris last Friday and it felt a bit like a tiny holiday.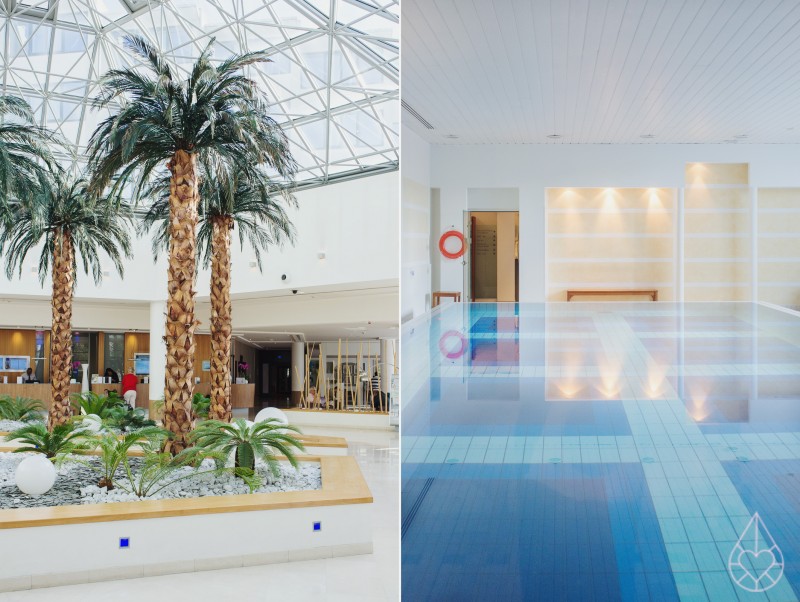 Op de beurs mag je eigenlijk niet fotograferen en daarom durfde ik het in het begin niet zo goed. Na een tijdje hadden we echter door dat de meeste mensen gewoon rondlopen met een camera. Na netjes vragen hadden de meeste standhouders er gelukkig geen problemen mee dat we af en toe een foto maakten.
It's forbidden to take pictures at the show, but since I saw everyone doing it I gave it a try. Luckily most of the exhibitors didn't mind. (And of course I asked before taking a picture.)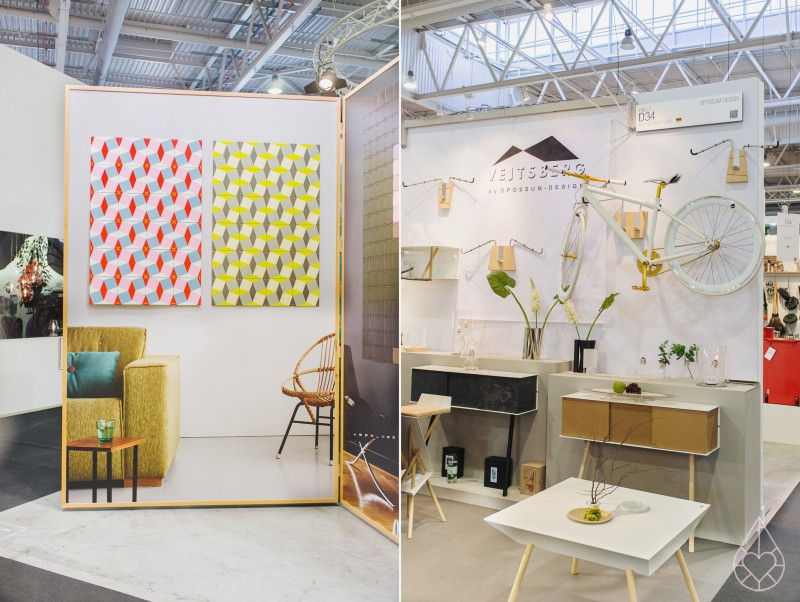 Er waren een heleboel Nederlandse merken vertegenwoordigd op M&O en dat maakt me altijd een beetje trots. IXXI showde hun nieuwe designs, waaronder bovenstaande nieuwe Ixxi van Studio Boot. Die wil ik!
It made me proud to see so many talented Dutch designers at M&O. IXXI presented their new collection and I fell in love with the new design by Studio Boot.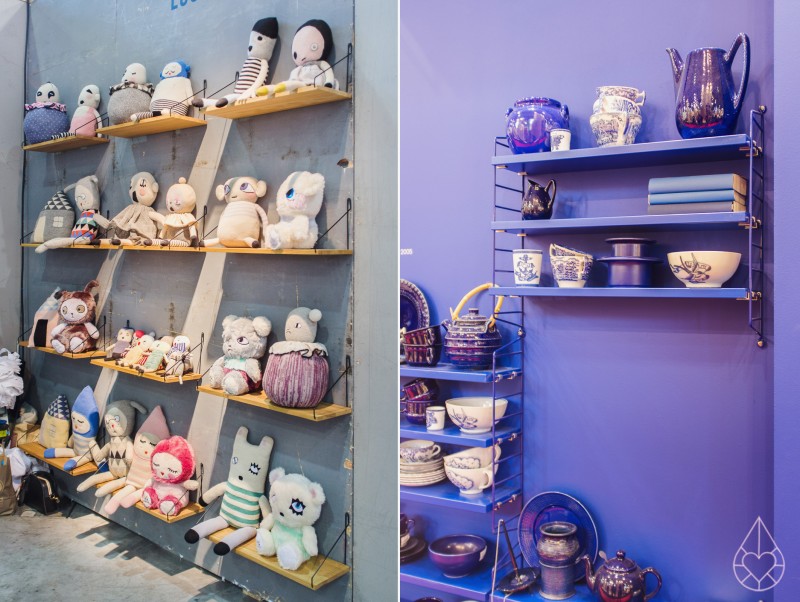 De stand van het Deense Lucky Boy Sunday maakte me blij, met al hun bijzondere knuffels op een rijtje. De blauwe rekjes zijn van String Furniture, die op de beurs hun kastensysteem presenteerden. Hetzelfde systeem als dat van mijn oude Tomado rekje, maar dan in een nieuw jasje.
Lucky Boy Sunday made me laugh with their funny looking collection of cuddly toys and String Furniture showed their collection of string shelves in different colors and designs.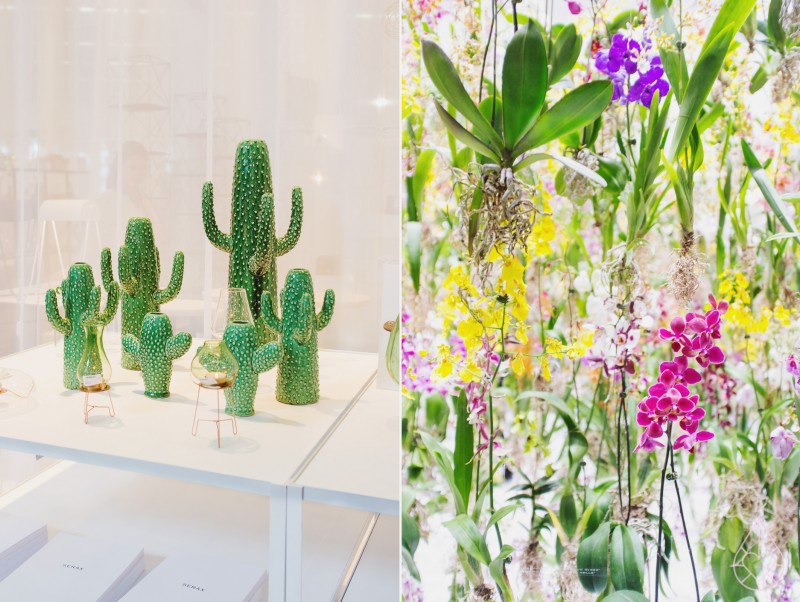 Zeer indrukwekkend was een installatie met bewegende echte bloemen, waar je als bezoeker onderdoor kon lopen. De familie cactusvazen zijn natuurlijk van het Belgische Serax.
I was amazed by an arty installation made with fresh flowers. The cactus-vases are from the Belgian brand Serax.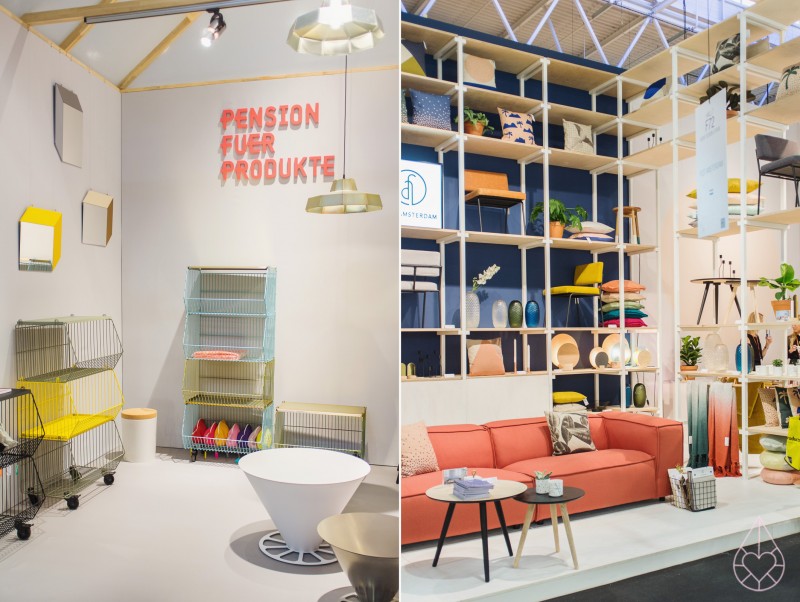 Als ik ooit in een loft ga wonen, wil ik de rekken van Pension Fuer Produkte, in prachtig geel en lichtblauw. Rechtsboven zie je de stand van het Nederlandse merk Fest Amsterdam, die hun steeds groter wordende merk presenteerden.
And if I'll ever move to a loft, I'll buy these colorful cabinets from Pension Fuer Produkte for sure. I love the blue and yellow ones. The photo on the right shows Fest Amsterdam's stand.
Andere stands en merken die ik me inspireerden en ik graag wil delen/Other brands and designers I found inspiring: Michelle Carlslund Illustration – Gompf + Kehrer – House of Rym – Petite Friture – Komware
Hier vind je tips voor hotels in Parijs en hier kun je mijn post over Maison et Objet van vorig jaar bekijken. Fijne zondag allemaal!