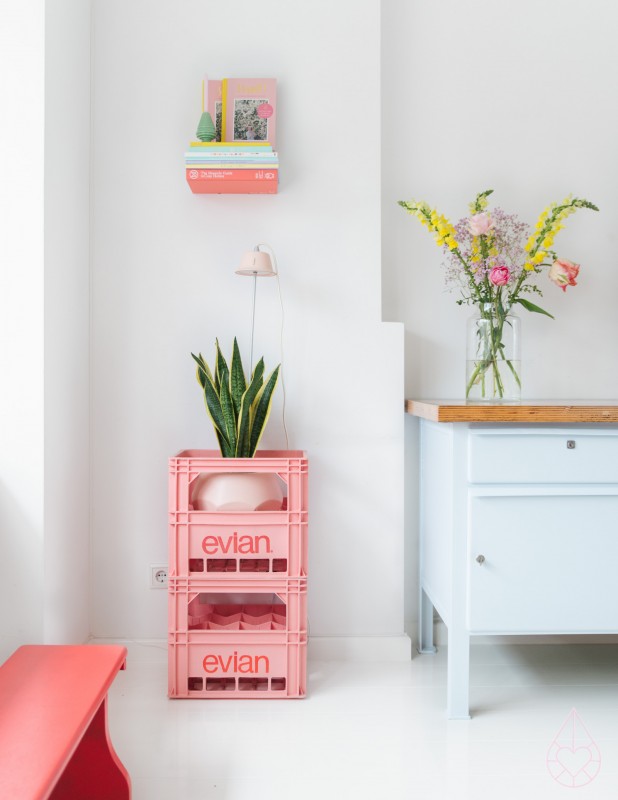 Deze blogpost heet 'Evian bottle crates' (dat leek me wel een mooie zoekterm) maar had net zo goed 'Hoe Anki dankzij Judith na een barre zoektocht uiteindelijk toch twee roze Evian kratjes vond' kunnen heten. Al eerder vertelde ik jullie over mijn liefde voor het roze Evian-kratje, dat me al jaren fascineert. De vorm, de manier waarop het roze combineert met rood, ik weet niet precies wát het is, maar feit is dat Evian erin geslaagd is mijn hart sneller te doen kloppen door het maken van een simpel kratje. De kratjes worden volgens mij alleen nog in de Franse horeca gebruikt (daar doken ze ook op toen ik afgelopen januari foto's nam in Parijs) dus ik zocht dus al heel lang zonder resultaat naar een kratje zoals deze. Ik vond wel verschillende soortgelijke, maar nooit een 'echte'. Totdat Judith zich ermee bemoeide.
The name of this blogpost is 'Evian bottle crates', but a better (but unfortunately way too long) name would be 'how Judith helped Anki find her beloved Evian bottle crates'. Sweet Judith knew the Evian bottle crates were on my wish list for ages and when she discovered two crates in the garden of Mama Petula plant concept store, she didn't hesitate and bought them for me. The crates went on a wonderful trip through Paris before Judith's husband delivered them straight to my doorstep. Thank you so much Judith!
Lieve Judith, die in Frankrijk woont, startte een soort zoektocht voor me en vond al snel twee kratjes, verstopt in de tuin van een conceptstore voor planten, Mama Petula. De kratjes gingen vervolgens op een fantastische reis, die werd vastgelegd op Snapchat. Ik zag een filmpje van de kratjes in de Franse trein, in Judith's huis en tenslotte in de auto van haar man naar Nederland. Ik kon niet anders dan heel hard lachen toen Judith's man de kratjes een paar dagen later af kwam geven. Want hóe lief en bijzonder is het, dat iemand zoiets speciaal voor je doet? Kratjes voor je zoekt, door Parijs sleept met twee van zulke grote en onhandige dingen en ervoor zorgt dat die kratjes zo, hoppa, voor je deur worden afgeleverd? Voor mij maakt het de toch al bijzondere kratjes nog waardevoller. Dankjewel Judith!