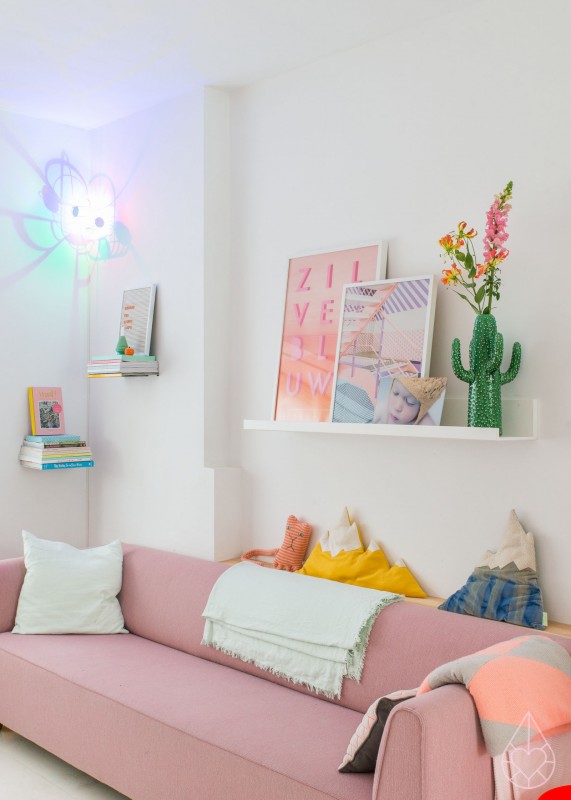 We zijn al een tijdje bezig de zithoek een restyling te geven. Onlangs haalden we onze boekenkast weg en hingen een simpele, op maat gemaakte plank terug (over die plank maak ik nog een keer een los blogbericht, het was een fijn project dat onverwacht goed uitpakte). Daarnaast haalden we de gordijnen eraf. Ons huis is oud en de gordijnen hingen 's winters altijd voor de verwarming, waardoor ons toch al koude jaren '30-huis nog kouder werd. Nu hebben we een rolgordijn. Simpel, wit en strak.
Ik merk dat ik steeds kritischer word over wat we op interieurgebied in huis willen hebben. En dan gaat het me uitdrukkelijk niet om de prijs of de designwaarde van spullen, maar meer om eigenheid, zoals ik hier schreef. Spullen in ons huis komen overal vandaan: soms van marktplaats zoals mijn lichtbak (een van mijn lievelingsitems), soms van designers of vakmensen en soms gewoon van grote retailers zoals HEMA of IKEA.
Our interior is a reflection of who we are, it's eclectic. Some of my most beloved items (like my lightbox) are thrifted, others are made by small labels or designers, or simply bought at retailers. The most important thing is the feel of the products we're using. This 'CMYK hoeklamp' stole my heart from the moment I saw it a couple of years ago. It was quite an investment, but it makes me so happy. The lamp is from Dutch designer Dennis Parren and we bought it at Studio de Winkel (they also ship abroad). On Instagram I'm hosting a give-away in collaboration with Studio de Winkel, you can read more here. 
Een aantal jaar terug zag ik de CMYK hoeklamp van de Nederlandse ontwerper Dennis Parren in een winkel hangen en het was liefde op het eerste gezicht. Het ingenieuze ontwerp, de kleuren, de verwijzing naar drukwerk: eigenlijk vind ik alles gaaf aan deze lamp. Uit valt het ontwerp nauwelijks op, maar aan projecteert de lamp schitterende gekleurde schaduwen op muren en het plafond. Wij hebben de variant voor aan de muur, maar er is ook een variant om op tafel te zetten. De lamp is een behoorlijke investering, maar wat maakt hij me blij!
Voor deze blogpost gingen we een samenwerking aan met Studio de Winkel, een internationale webshop die samenwerkt met kunstenaars en ontwerpers. Veel producten zijn uniek of worden in kleinere oplages gemaakt. Je vindt bij Studio de Winkel onder andere producten van Ontwerpduo, Jurianne Matter en Lammers en Lammers. Ze verkopen ook 'onze' Serax cactus vaas in verschillende maten. Op Instagram mag ik twee keer 30,- shoptegoed voor Studio de Winkel weggeven, lees hier meer. Fijne zondag allemaal!