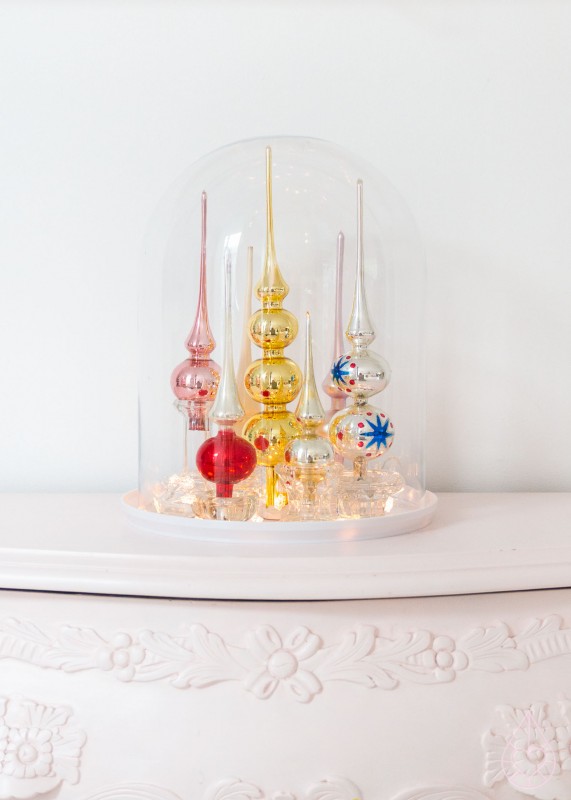 Er zijn twee dingen die ik ga doen als ik gestrest ben: ingewikkelde DIY-projecten verzinnen en Twilight, de foute filmserie voor pubers, kijken. Je kunt je afvragen wat erger is. Op Pinterest vond ik deze pin, afkomstig van dit blog, die me inspireerde om een soortgelijke pieken stolp te gaan maken. Een week lang bezocht ik na mijn werk kringlopen, op zoek naar mooie, antieke pieken voor weinig geld. Een goede afleiding die constructief bleek, want ik vond er in die week bijna tien. Daarnaast zocht ik oude glazen waxinelichthouders en kandelaars, waarvan er gelukkig bij elke kringloop wel 10 bleken te staan.
There are two things I do when I stress out: I start complicated DIY-projects and binge watch the Twilight movies. (I'm not sure what's worse.) This project, found on Pinterest, inspired me to create something similar. I combined thrifted tree toppers with thrifted candleholders and a chloche I bought at Loods 5 a while ago. (There's a nice story about the cloche here, if you like.) I used cheap clay to stabilize the tree toppers and bought LED-lights at our local HEMA to complete the dreamy atmosphere. In the past years I made similar stress-related DIY-projects, take a look here and here, or browse the categorie DIY & craft.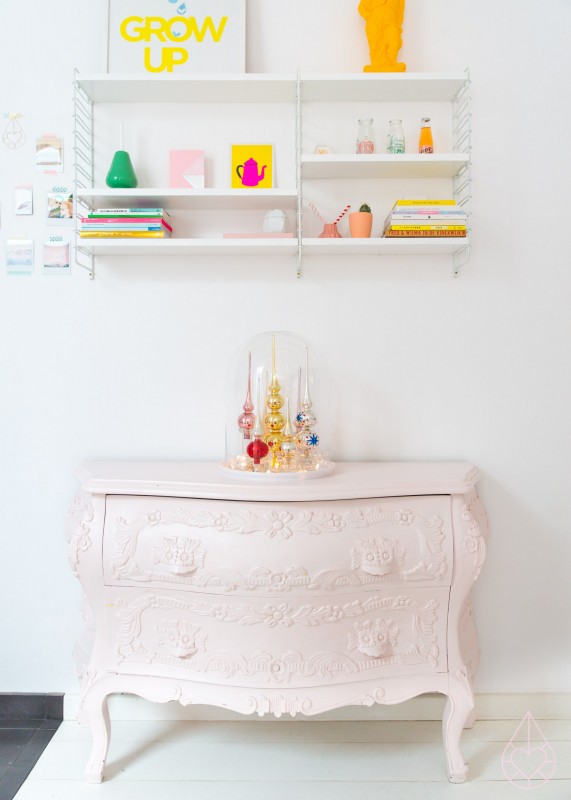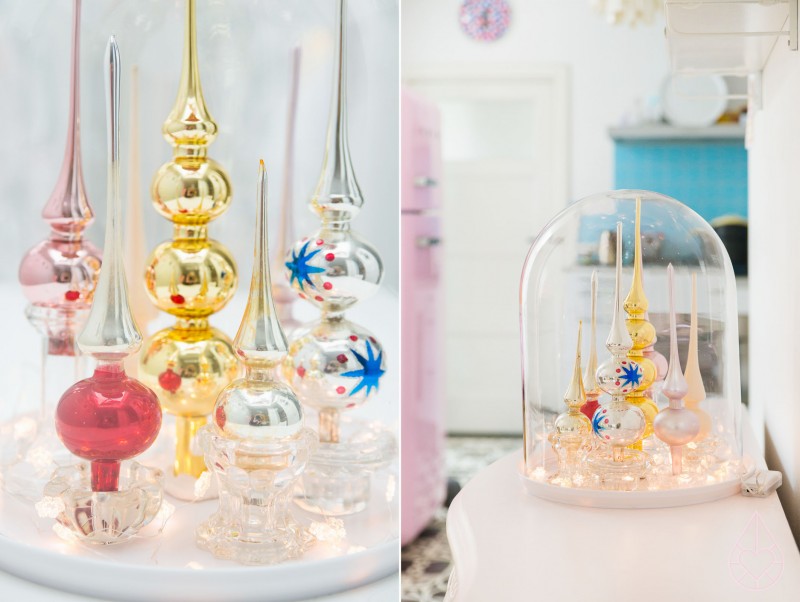 Ik gebruikte de stolp die ik al had (ooit gekocht bij Loods 5, er zit een leuk verhaal aan vast dat je hier kunt lezen) en een oude magnetronschaal (ook gekringloopt) als basis. De pieken passen niet precies in de waxinelichthouders, dus ik stabiliseerde ze met goedkope boetseerklei van Action. Tot slot voegde ik een LED-verlichtingssnoer op batterijen toe (gekocht bij HEMA). Ik hou van de combinatie van de glazen waxinelichthouders en de pieken, het heeft iets dromerigs.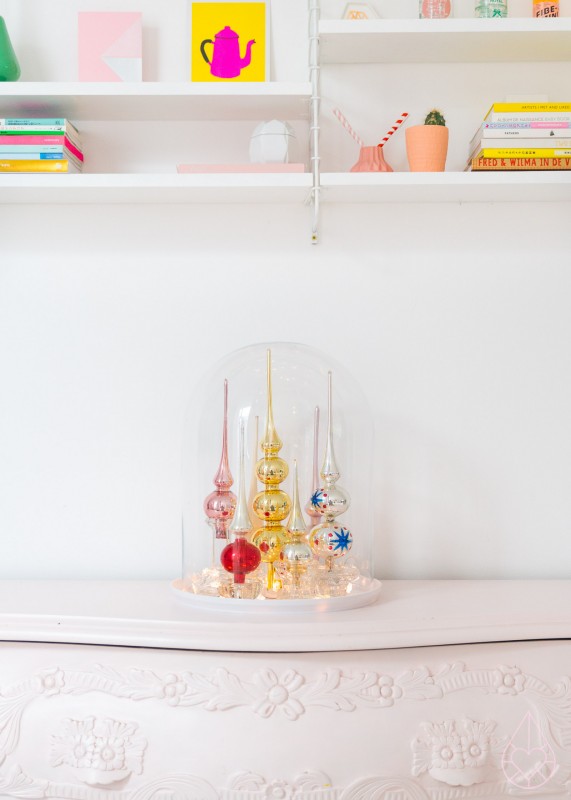 Tips: om de oude waxinelichthouders en kandelaars mooi schoon en glanzend te krijgen, zette ik ze in de vaatwasser. De stolp spoelde ik af en poetste ik daarna met een doekje met glansspoelmiddel, een tip die ik kreeg van Iris. Ik gebruikte van dit soort plastic dopjes om de stolp een beetje op te hogen, zodat het draadje van de lampjes er onderdoor kan. Zo hoef ik niet steeds de stolp op te tillen als ik de lampjes aan en uit wil doen. Fijne dag allemaal!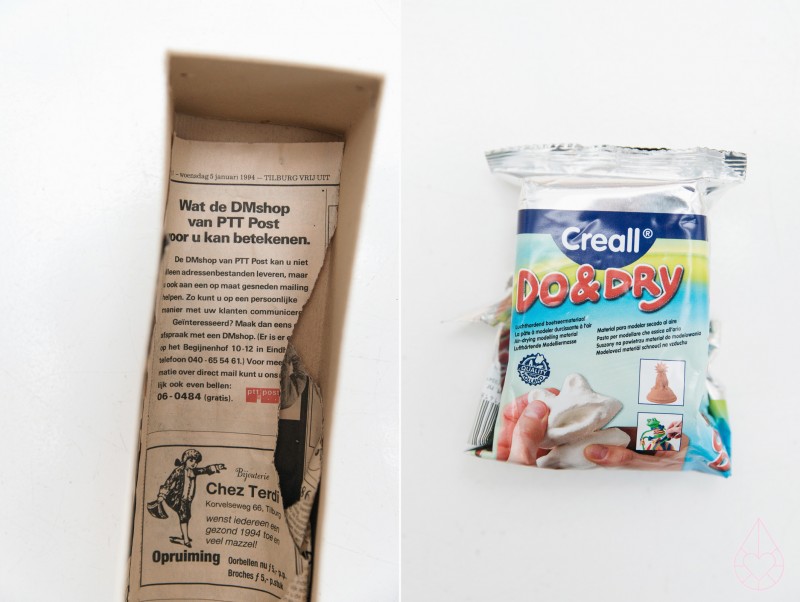 p.s. onder invloed van soortgelijke stress maakte ik eerder een geometrische kerstboom en vouwde ik tientallen papieren kristallen. Alle DIY's op dit blog kun je hier bekijken.