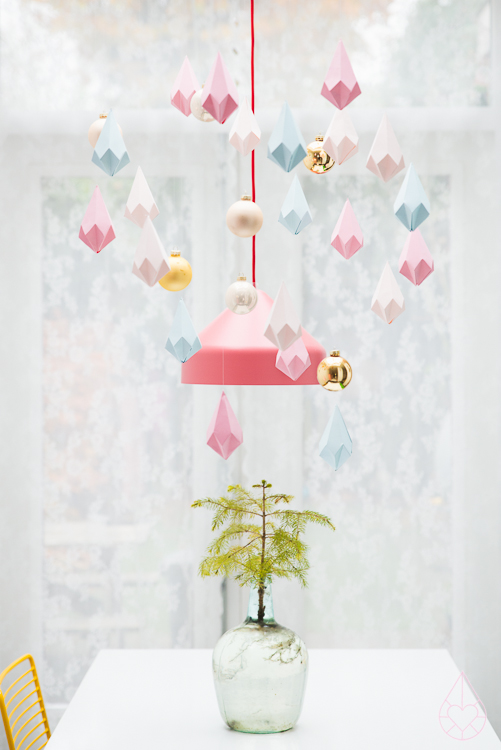 Allereerst: bedankt voor al jullie lieve reacties op het boek-nieuws!
Een tijdje terug vertelde ik over de kristalmal die ik kocht en mijn plan om elke dag een kristal te gaan vouwen. Ik ben niet echt een vouwer en heb ook niet zoveel geduld, maar ik kreeg de smaak te pakken en vouwde de afgelopen weken bijna 30 kristallen. En dat allemaal omdat ik van plan was dit te gaan maken: een kerstdecoratie voor boven onze eettafel.
A while ago, I wrote about the paper crystals I started to make. I'm not a patient crafter (that's probably why I still didn't learn how to crochet and knit) but this paper crystals turned out to be pretty easy to make and fool-proof, so I made almost 30. I bought matching baubles at our local garden centre. The crystals and baubles are affixed to a homemade version of what we in the Netherlands call a 'lintenhanger'. I have no idea if there's an English word for this thing, but it is pretty easy to make from iron wire.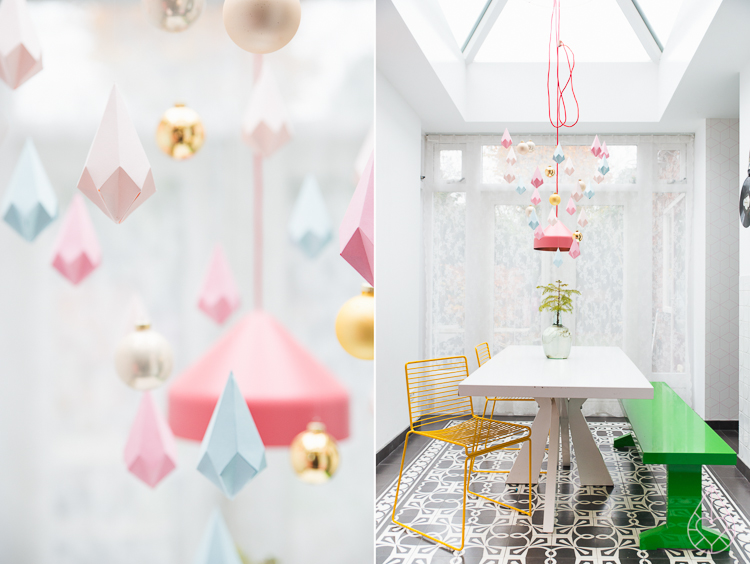 Ik koos 3 kleuren karton (wat ik bij een gewone hobbywinkel kocht, niets bijzonders) en zocht in de uitverkoophoek van ons tuincentrum naar bijpassende kerstballen. Ik kocht twee simpele setjes, met 50% korting omdat het natuurlijk nog láng geen kerst is. De kerstballen hing ik op aan een zelfgemaakt rek. Deze rekken zijn ook te koop bij de kerstafdeling van het tuincentrum of online, ze heten daar 'linthanger' of 'lintenhanger'. Casper hing het rek in de nok van onze lichtkoepel en ik maakte een compositie met de kristallen en kerstballen.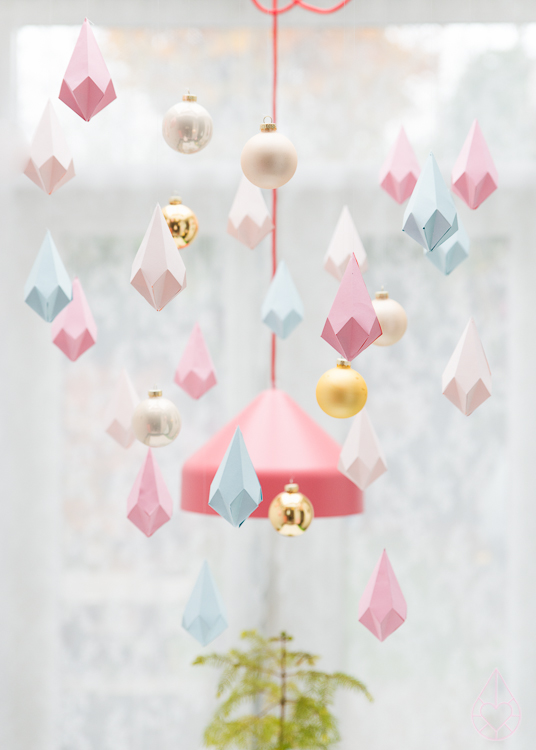 Tot kerstmis ga ik elke week een kerst-DIY plaatsen. Dit jaar hebben we ook weer een kerstactie, (weten jullie nog, de winterdieren van vorig jaar en het winterhert waar het allemaal mee begon?) daar hoop ik volgende week wat meer van te kunnen laten zien. Fijne woensdag!
There will be a Christmas DIY on this blog every week, from now on until Christmas. Do you remember last years winter animals and the winter deer? We're working on something similar for this years Christmas, will show you more next week! 
Meer Kerst DIY-inspiratie nodig? Check deze post van vorig jaar. Hier kun je alle posts met de tag 'kerst' op dit blog bekijken.
Wanna see some more Christmas-inspiration? Here you can find all Christmas related posts on this blog.