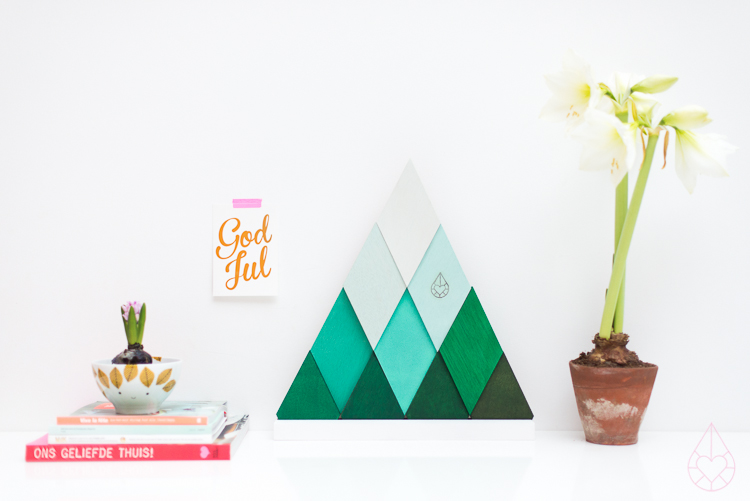 Ik verzin de ingewikkeldste DIY's als ik het druk heb. Als er éigenlijk geen plek is in mijn hoofd, omdat het vol moet zitten met deadlines en teksten van liedjes die ik moet instuderen. December is een extreem drukke maand, dus voilà: hier een zelf-te-maken geometrische kerstboom. Ik denk er nog over om er aan de achterkant een berg van te maken, daar lenen de vormen zich ook voor, maar dat komt dan in januari.
My mind makes up the most complicated DIY's when I should be busy doing other things. Like studying on the lyrics for my dinershow, or heavy deadlines at work. December is always a crazy month, so voila: here's a DIY geometrical Christmastree for you! I'm still thinking about creating a mountain on the back, but that's something for in Januari.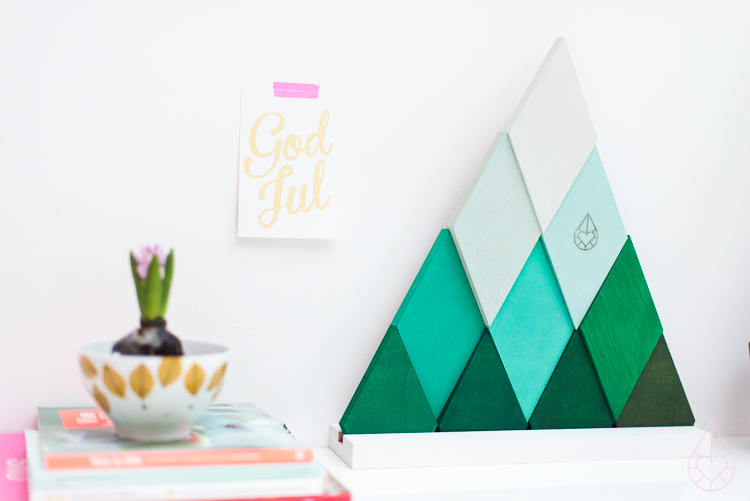 Nodig: een stuk wat dikker plaatmateriaal, ik gebruikte 1.8 cm. De werktekening, hier te downloaden. Iemand die kan zagen voor je. Dat kan een timmerman zijn, je handige man/neefje/buurman/schoonmoeder, of misschien kun je het zelf. Ik liet het zagen door leerlingen Techniek op de school waar ik werk. Het zagen is niet moeilijk, maar je hebt er wel de juiste apparatuur voor nodig.
Doen: zagen dus, en schilderen. Ik schilderde met simpele acrylverf die ik wat aanlengde met water om 'm semi-transparant te maken. Ik gebruikte een rollertje om de verf gelijkmatig over het hout te verdelen. Als je wat dikker plaatmateriaal gebruikt, kun je de blokken wat scheef op elkaar stapelen, zodat een 3d effect ontstaat.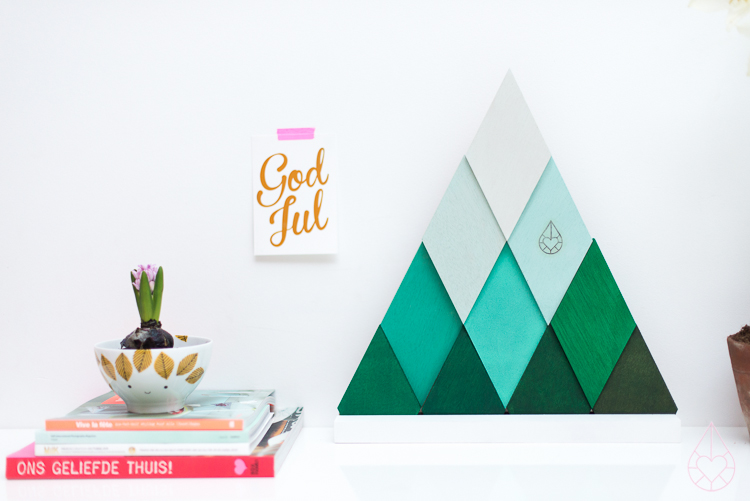 You need: plywood, approximately 50 by 50 cm and 1.8 cm thick. Some wood for the holder. You can find the building plan here. Someone who can saw the tree for you. This can be a local carpenter, your handy husband, nephew or mother-in-law, or maybe you can do it yourself. The sawing isn't difficult, but you need the right equipment and machinery.
To do: the sawing, and painting. I used simple acrylics, watered for a semi-transparent look. I used a paint roller to apply the paint. The thicker your plywood, the more you get a '3d-effect' when piling up your tree. 
Succes! Ik ga snel weer verder met alles waar ik het druk mee zou moeten hebben.
Good Luck! I'm getting back to all the things I should be busy with.