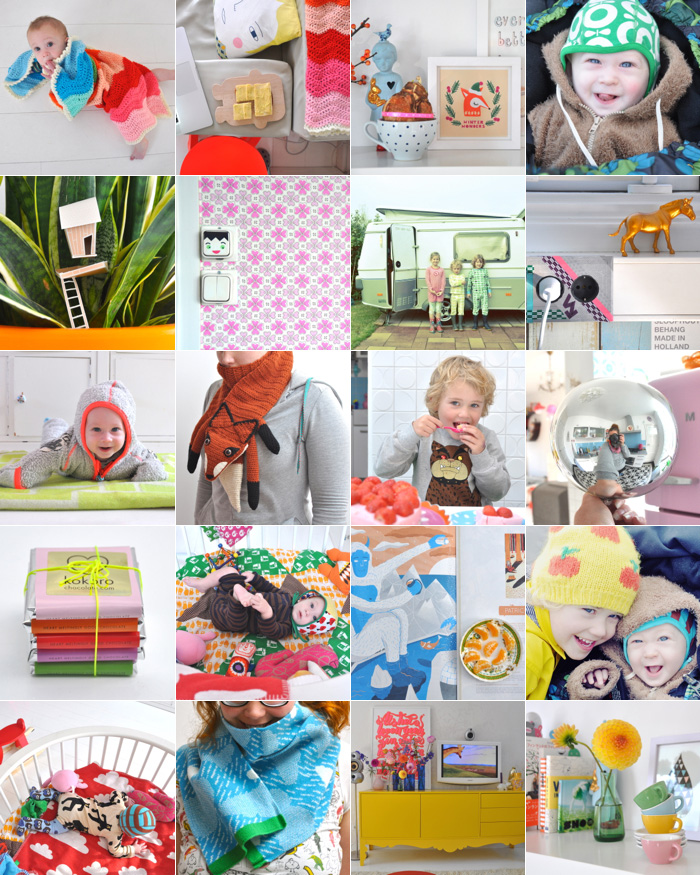 En vandaag alweer het laatste jaaroverzicht! 2011 is omgevlogen. Ik wil jullie allemaal een heel fijn 2012 wensen, met veel liefde en geluk. Dat al jullie wensen maar mogen uitkomen! Ik heb een hoop nieuwe ideeën voor Zilverblauw in 2012. Ook ideeën die ik nog niet hardop durf uit te spreken, omdat ze wel heel ambitieus zijn en ik niet weet of het wel haalbaar is. In het eerste kwartaal van 2012 zullen er in ieder geval weer gastblogs op de agenda staan; ik heb er afgelopen week vier geschreven voor Flavourites en vind dat hartstikke leuk om te doen. Ik hou jullie natuurlijk op de hoogte. Dank jullie wel, lieve lezers, voor al jullie aandacht, lieve comments en alle support in 2011. Maak er een mooi feest van vanavond!
En in het laatste kwartaal van 2012… at ik heerlijke Kokoro chocolade, hadden we herfstvakantie die we vierden in Zeeland, won ik een hele mooie Donna Wilson-sjaal, (wat een geluk!) haakte Johanneke een fantastische vossensjaal voor mij, fotografeerde ik ons huis en mezelf via een kerstbal, versierde ik de lichtknoppen in ons huis, kreeg onze sanseveria bewoners en maakte ik het huis kerstproof. Tot volgend jaar!
Today the last part of 2011. Everything on the pictures feels like yesterday, this year went by so fast! I've got a lot of new plans for Zilverblauw in the year to come. Some small, some really big and maybe not achievable. Keep you posted. Thank you so much, sweet blogreaders, for all your support, comments en attention in 2011. Wish you all the best for the year to come. May all your dreams come true. (well, at least a few of them)
And in 2011's last part, we… ate delicious Kokoro-chocolate, went to the summerhouse in our autumn-holidays, won a really really cool Donna Wilson-scarf (sooo lucky!) got a really cool fox-scarf Johanneke made for me, took pictures of myself and our home through a christmas-bauble, cheered up our light switches, had a treehouse in our plant and got our home ready for christmas. Have a nice evening, celebrate the new year!