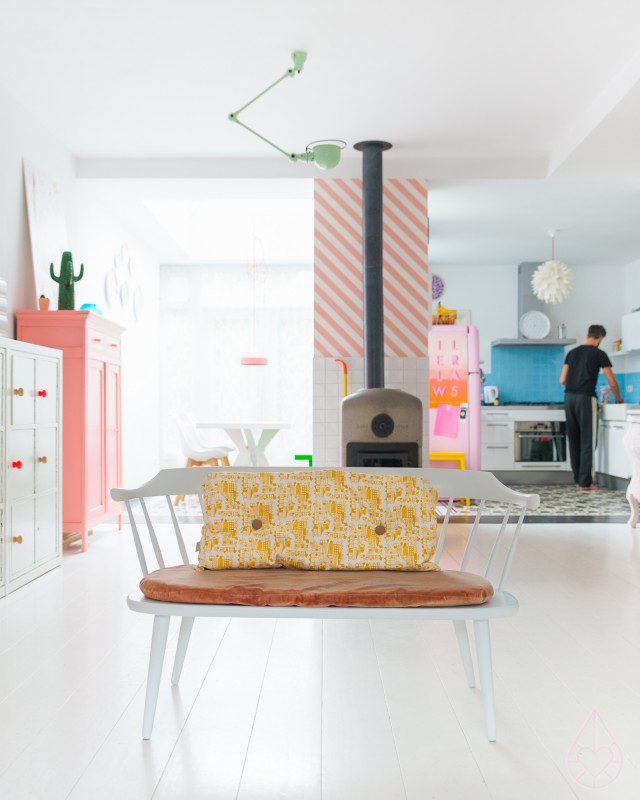 Mijn schoonmoeder is een bijzonder mens (en dat bedoel ik in positieve zin). Ik weet nog goed dat ik haar voor het eerst ontmoette. Een jaar of veertien zal ik geweest zijn, ik was bevriend met Casper's broer. In die tijd was er eigenlijk niemand in mijn omgeving met design bezig. Behalve mijn (toen nog héél toekomstige) schoonmoeder, dus. Haar huis stond vol met Artemide, Ligne Roset en Kartell. Ik keek mijn ogen uit. Wat het meeste indruk op me maakte, was de aansteker van Alessi die bij het gasstel stond. Deze was het. Cool en imponerend tegelijkertijd voor een puber. Ik ging diep onder de indruk weg.
Het duurde daarna nog wel een jaar of tien voordat mijn schoonmoeder daadwerkelijk mijn schoonmoeder werd, maar haar liefde voor design bleek nog even groot. Daarnaast is ze een fervent marktplaatser. Ze vindt de gaafste designschatten voor de beste prijs. Een hele tijd geleden vroeg ik haar om voor mij uit te kijken naar een Scandinavisch bankje, van Ercol of Yngve Ekström. Die zijn nogal moeilijk te krijgen, maar voor schoonmoeder bleek geen berg te hoog. 'Bankje op marktplaats!' appte ze op een vroege zondagmorgen naar Casper. Ze stuurde een screenshot van de advertentie mee. En zo wil het dus dat we sinds deze week de trotse bezitters zijn van dit prachtige bankje, de Pinnsoffa 'Småland' van Zweeds ontwerper Yngve Ekström. Mét origineel kussentje, dat ik opnieuw ga bekleden. Ik zie mezelf al helemaal zitten voor de kachel deze winter. Schoonmoeder mag er uiteraard bij.
My amazing mother in law, a designlover just like myself, found me this Scandinavian bench, the pinnsoffa 'Småland' by Yngve Ekström. She found it at marktplaats, the Dutch Craigslist. Benches like this are very rare, but my mother in law has a keen eye and lots of patience. Even the original cushion came with the bench, I think I'll give it a makeover later. Lucky me, don't you think?