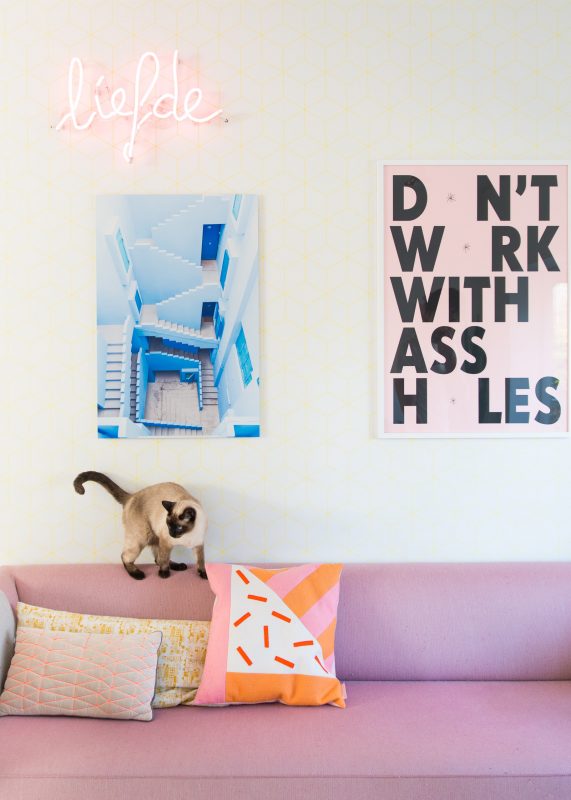 Als ik niet uitkijk, sleep ik alleen maar roze spullen mee naar huis en de laatste tijd merk ik dat ik dat niet altijd even leuk meer vind. Niet dat ik roze beu ben: onze roze Smeg-koelkast hebben we inmiddels tien jaar en ik zou daar met liefde nog tien jaar achteraan plakken. Het is meer dat roze ook heel lekker combineert met andere kleuren. Zo is roze met geel een fijne combinatie, maar ook over roze met blauw ben ik de laatste tijd erg enthousiast. Daarom besloot ik La Muralla Roja's blauwe muren af te laten drukken voor aan onze muur.
I printed one of my favorite La Muralla Roja photos on forex. I really like the combination of our pink sofa and the blue walls. Pink is still our favorite color, but it looks even better combined with other colors like white, yellow or blue.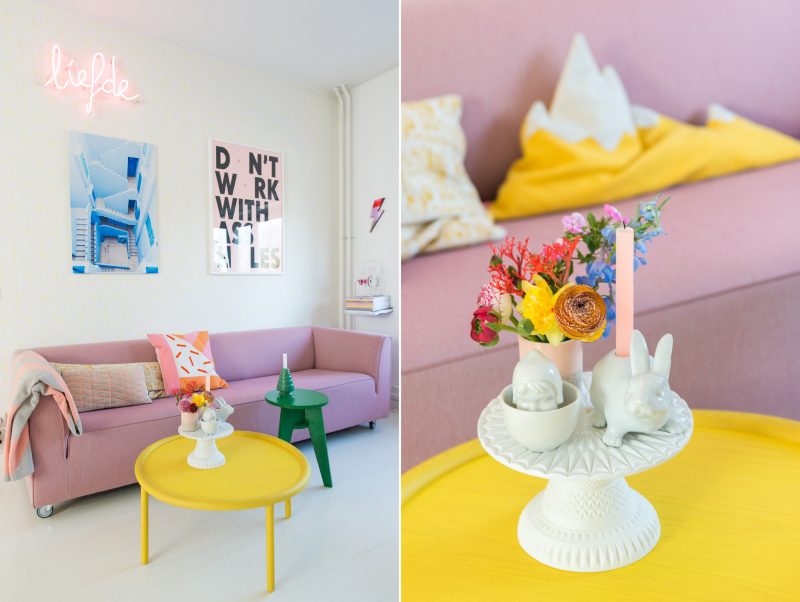 Ik probeer regelmatig foto's te laten afdrukken. Digitale foto's zijn leuk, maar je ziet pas écht goed wat je hebt gemaakt als je een foto in handen hebt. Als ik foto's afdruk, doe ik dat bijna altijd op groot formaat. Zo kun je een statement maken. We hebben onder andere foto van een roze muur in huis, onze confetti-foto, de eerste foto uit de 'Mus en mama'-reeks en de trap die ik fotografeerde in Tokio.
Ik liet de blauwe muren van La Muralla Roja printen op forex bij Fotofabriek. Forex is naast acryl mijn favoriete materiaal om foto's op te laten afdrukken: het is een licht en je kunt het gemakkelijk ophangen of neerzetten. Ik wissel veel en vaak met de prints die we in huis hebben, maar ik denk dat de blauwe muren een vast plekje boven onze roze bank hebben gevonden. Fijne dag!
(Ik mocht van fotofabriek.nl een foto op forex uitkiezen, dankjewel!)