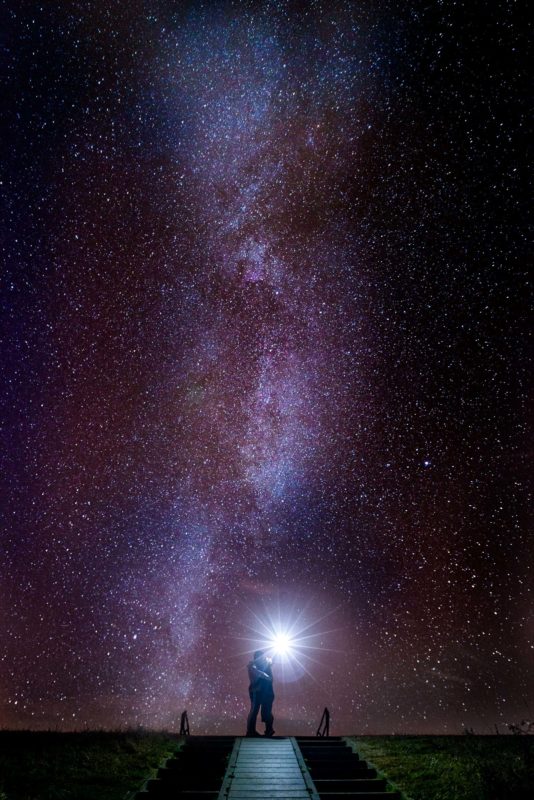 We have calcium in our bones, iron in our veins,
carbon in our souls, and nitrogen in our brains.
93 percent stardust, with souls made of flames,
we are all just stars that have people names.
~ Nikita Gill
Magisch vind ik het, de enorme hoeveelheid sterren die je op een heldere nacht kan zien als je naar boven kijkt. Nóg magischer wordt het als ik de sterrenhemel vast ga leggen met mijn camera, omdat ik daarmee veel meer kan zien dan met mijn blote oog. Thuis, in Brabant, ben ik regelmatig 's nachts op pad gegaan om de sterren te fotograferen, maar daar is het me nog nooit goed gelukt. Teveel lichtvervuiling, een oranje gloed die het donker van de nacht overstemt. In Zeeland heb ik vaker geluk. Deze foto maakte ik op het strand. Het is eigenlijk een combinatie van twee foto's, één foto van de lucht met een sluitertijd van 30 seconden, een ISO van 1000 en een diafragma van f/2.8. De andere foto van Casper en mij op de dijk is gemaakt met een sluitertijd van 2 seconden, een ISO van 1000 en een diafragma van f/2.8. Een combinatie van deze twee foto's levert dit beeld op.
Het fotograferen van sterren is technisch gezien helemaal niet moeilijk en het maakt me, als het lukt tenminste, heel erg blij. Of het lukt, is dus vooral afhankelijk van de omstandigheden: het moet helder en vooral donker zijn. Ik heb al eens eerder over het fotograferen van sterren geschreven op dit blog (hier en hier), in de eerste post leg ik uit hoe je het beste kan beginnen.
p.s. Om de locatie van de sterren te bepalen, maak ik gebruik van de gratis app Star Walk 2, daarmee kun je precies zien waar welke ster waar staat en welke kant je je camera het beste op kan richten.
One of my favorite type of personal photography is taking night shots of the stars, especially when we're on holiday at the summerhouse. The Netherlands is a crowded country, and because of the enormous amount of people living on a small piece of land the nights doesn't get really dark out here. Luckily, the summerhouse is located at one of the rare dark spots still left. Magical to see how much stars shine above our heads, right?