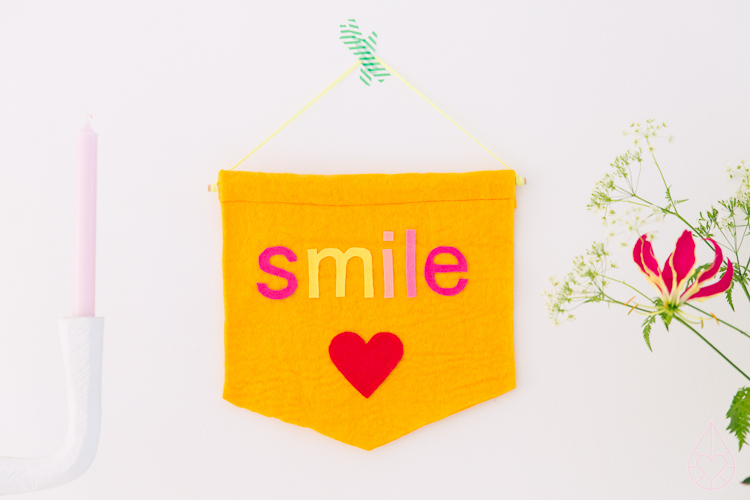 'Keep smiling, because life is a beautiful thing and there's so much to smile about' ~ Marilyn Monroe.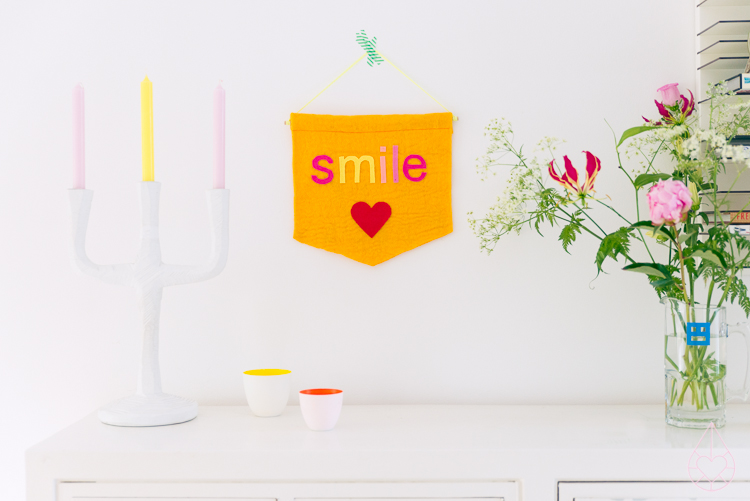 Ik maak niet zoveel DIY's meer voor hier, omdat ik de meeste voor Red-Rag bewaar, maar vandaag inspireerde de zon me tot het maken van deze Smile-banner. Ik maakte een printable van de letters en het hartje, zodat iedereen die wil ook zo'n banner kan maken. Gezellig en kleurrijk voor aan de muur en klaar in ongeveer 30 minuten.
Today the sun inspired me to make this 'Smile-banner'. I love bright and happy colors on my wall. I made a printable for the letters and the heart. This one's easy to make and ready in about 30 minutes.

Nodig: een houten stokje, een groot dik stuk vilt, (ik gebruikte deze) naar keuze gekleurde lapjes vilt voor de letters en het hartje, textiellijm, draad en garen of naaimachine, stukje lint of touw, schaar.
Doen: Download hier de printable die ik maakte en knip alle letters en het hartje uit. Leg op de gekleurde vilten lapjes, trek over met een stift of pen en knip uit. De letters zijn expres in spiegelbeeld, zodat je geen sporen van de pen of stift aan de 'goede' kant van je letters ziet. Sla je bovenkant van je dikke stuk vilt om, zodat het stokje er doorheen past. Naai de omslag vast met naald en draad of met de naaimachine. Plak de letters en het hartje vast met textiellijm. (niet teveel, dan krijg je vlekken) Knip de onderkant van het dikkere stuk vilt in een puntje (zie foto hierboven, rechts) en knoop het lintje aan het stokje. Klaar!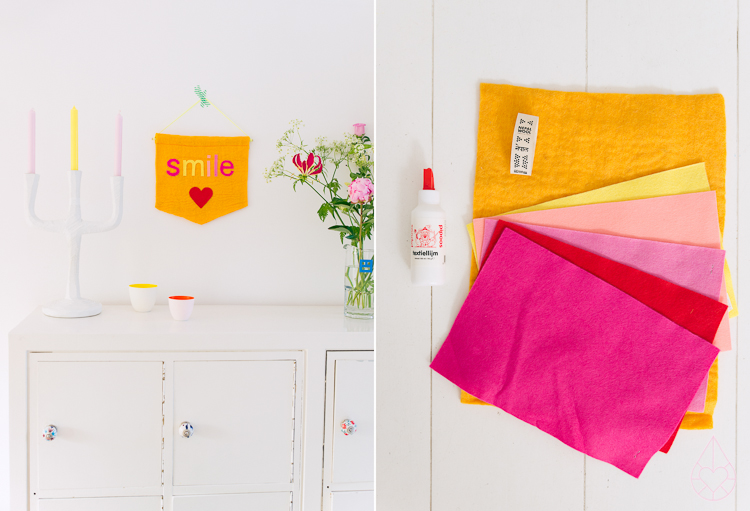 You need: a small dowel, a larger, thicker felt sheet, colored felt sheets by choice for the letters and the heart, fabric glue, needle and thread or sewing machine, ribbon and a pair of scissors.  
To do: download the printable and use it to cut out the letters and heart. Turn the upper side of the thicker felt sheet backwards and sew together, so the dowel fits in. Glue the letters and the heart down on the ticker felt sheet with the fabric glue. Tie on your ribbon to your dowel and you're all finished!