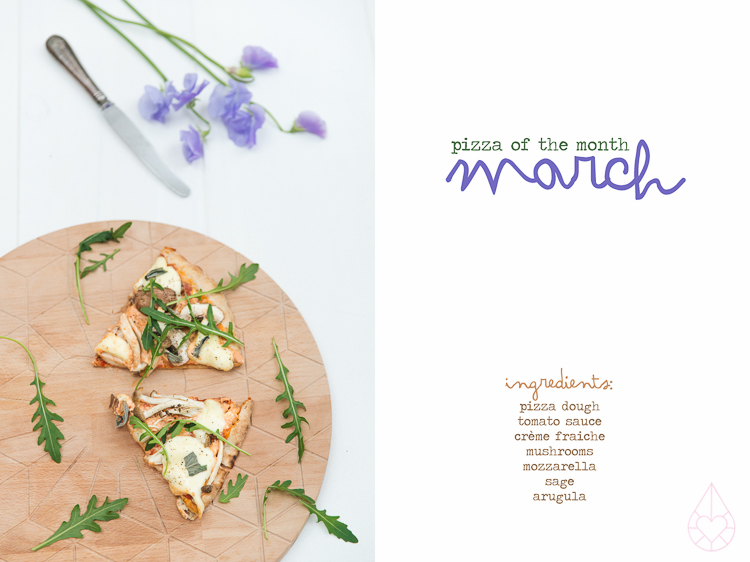 Al langere tijd dacht ik erover om ons 'pizza of the month-project' nieuw leven in te blazen. Het was ooit mijn plan om uiteindelijk een boekje te gaan maken met al onze favoriete pizza's erin, maar na een aantal maanden stopte ik met onze maandelijkse pizza-posts. We waren pizza tijdelijk tegengegeten, of het kwam doordat het winter werd en het dus te vroeg donker werd om de pizza's fatsoenlijk te kunnen fotograferen, ik weet het eigenlijk niet. Wat ik wel weet, is dat het Danique was die me inspireerde om bij de pizza's ook onze favoriete films te gaan delen. Zij maakte laatst een post waarin ze films deelt die haar inspireren en dat vond ik superleuk: het is een ideale manier om nieuwe films te leren kennen en omdat iemand ze al voor je gecureerd heeft, weet je haast zeker dat het ook echt mooie films zijn.
Nu is het toevallig zo dat pizza en films in huize Zilverblauw vaak samen gaan. Dat komt door Mus, die nog altijd een slechte eter is. We ontdekten laatst dat er één manier is om hem goed te laten eten: door hem pizza te serveren voor de tv. Niet heel pedagogisch verantwoord, maar voor een kind met ondergewicht soms een hele welkome optie. We eten hier verder nooit voor de tv, dus zowel Wolf als Mus gaan letterlijk juichen als Casper en ik een pizza & film-avondje aankondigen. Win-win dus.
Vanaf nu dus elke maand een post met onze favoriete pizza's en films. Drie familiefilms en drie films voor volwassenen. De pizza van deze maand, met paddenstoelen en mozzarella, is trouwens echt om je vingers bij af te likken. Hier heb ik al onze eerdere pizza-posts verzameld en vind je informatie over hoe we onze pizza's maken.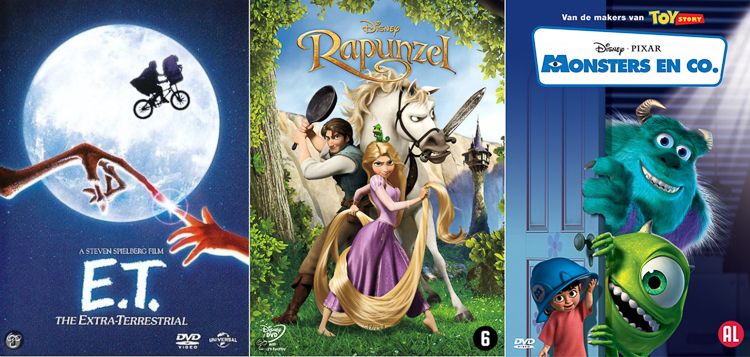 Familiefilms:
E.T. – Keek ik een tijdje terug samen met Wolf, die er nu precies oud genoeg voor is. Blijft magisch, ondanks dat 'ie stamt uit 1982.
Rapunzel – Momenteel Mus' lievelingsfilm. Sinds hij deze film gezien heeft zegt hij tegen me: 'mama, ik hou nóg meer van u', omdat Rapunzel dat in deze film tegen haar moeder zegt.
Monsters en co. – Goed voor een hele pizza en 90 muisstille minuten.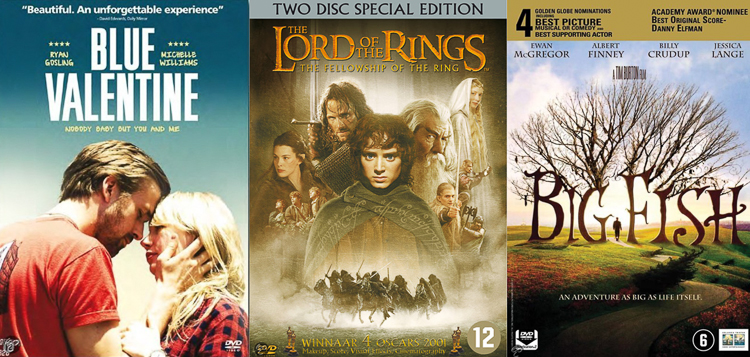 Films voor volwassenen:
Blue Valentine – Prachtige, heftige film die ik vond dankzij Danique's post. Ik was er erg van onder de indruk.
The Lord of the Rings, the fellowship of the ring – Toen de LOTR-films uitkwamen, keek ik ze allemaal in de bioscoop. Omdat dat inmiddels meer dan 10 jaar geleden is kijken we nu met vrienden alle films opnieuw. En opnieuw zien we dingen die we eerder nog niet zagen.
Big Fish – ik denk dat dit mijn lievelingsfilm is. Prachtig verhaal, schitterend gefilmd, goed geacteerd en mooie muziek. Een pareltje.
I suddenly quit our 'pizza of the month project' some time ago. I'm not sure why: probably because winter came and it was dark before dinnertime so I couldn't take pictures of our pizza's anymore. I feel like it's time to continue and thanks to Danique's post I've added some extras: we're gonna share our favorite movies too. Pizza & movies go together in our family since we found out that Mus (still underweight) eats a whole pizza if he's allowed to eat it in front of the tv. We know, not something to write home about as a parent, but since both of our children starts to cheer when we announce a pizza & movie night and we don't do it too often, we consider it as a win-win situation. So here's a new pizza and some movies we really like. (3 for the family and 3 for adults) You can see our previous pizza-posts here.