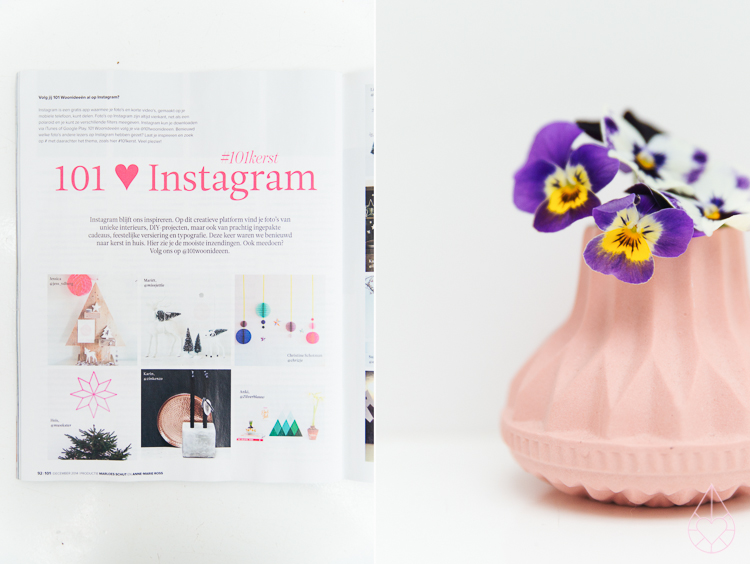 Ik begon ooit met dit blog om de mooie dingen die ik dagelijks zie, vast te leggen en te delen. Vandaag dus wat foto's van beeld wat me blij maakt. Linksboven zie je mijn vermelding, van deze DIY, in het kerstnummer van 101 woonideeën (ach, wat ga ik dat tijdschrift missen) in het kader van de Instagram-kerstactie. Leuk! Daarnaast winterviolen, dappere bloemetjes.
Today I just want to share some pictures of our daily life, one of the things I love most about blogging. Above you see a picture from my Instagram-acount, mentioned in the Dutch magazine 101-woonideeën. (It's a picture from this DIY) And purple violets, I love these brave flowers.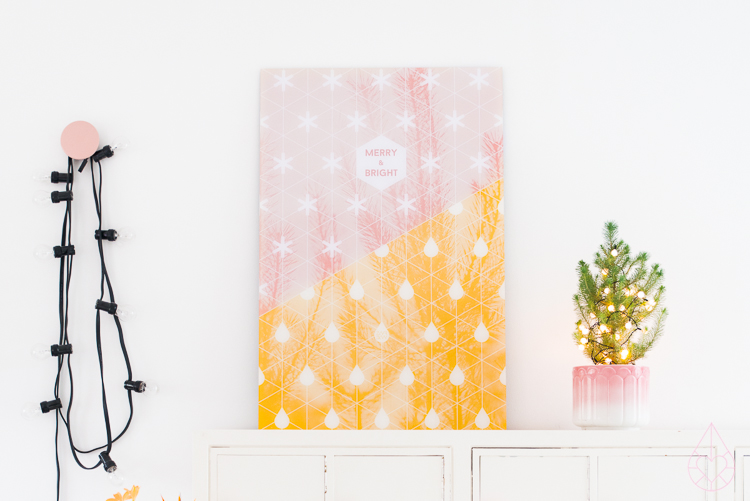 Nog iets wat me blij maakt: komende zaterdag, als Sinterklaas weer naar Spanje is, start onze kerstactie. Je kunt bovenstaande Merry & Bright-print dan gratis hier op mijn blog downloaden. Deze week kwam onze mega-grote plexiglas-versie van Merry & Bright binnen en ik kan het niet laten jullie vast een voorproefje te laten zien. Het voelt echt als een cadeautje voor mezelf, zo net voor de feestdagen. Een nieuw ontwerp laten afdrukken is altijd zo spannend, maar de mooie glans en dieptewerking van plexiglas combineert goed met onze nieuwe print. (We bestelden onze print op plexiglas bij Albelli)
Casper and I designed a new print, especially for the holidays to come. It's called 'Merry & Bright' and from saturday, december 6, you can download it for free here at this blog. (That's because the Dutch Santa, Sinterklaas, travels back to his homeland Spain on that day) We ordered a huge copy of our new print on acrylic glass. It's always exciting to wait for a new design to be printed, but we're really happy with the way it turned out. More about this on Saturday.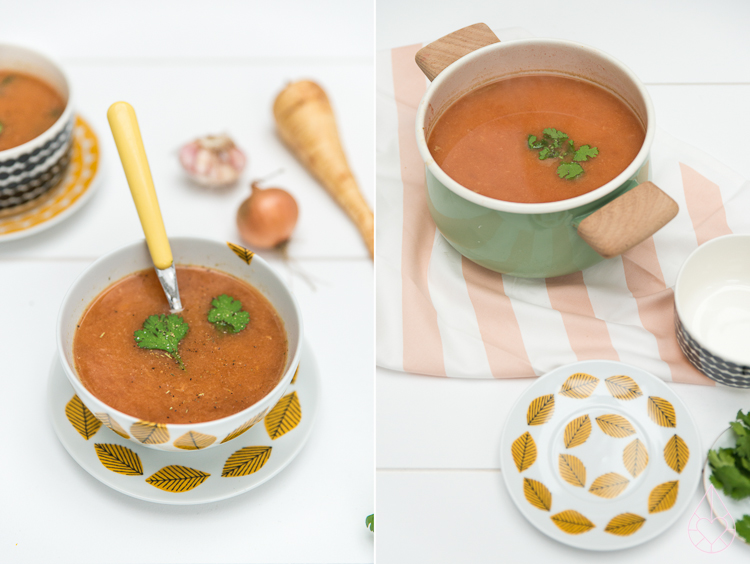 Ik had heel erg veel zin in de winter, maar nu het eenmaal echt koud is, valt het me toch wat tegen. Het enige voordeel is dat we veel lekker warme soep kunnen eten. Deze bietensoep maakte ik afgelopen weken al drie keer. Het recept is heel simpel. Voor een pannetje soep zoals op de foto moet je het volgende doen:
snipper twee uien, een teentje knoflook en snij een pastinaak in stukjes. Bak de ui, knoflook en pastinaak in een beetje boter of olie en voeg twee theelepels komijn toe. Snijd een zakje voorgekookte rode bietjes klein, voeg toe en laat het geheel even sudderen. Voeg nu langzaam een liter groentebouillon toe (of een liter water en 2 bouillonblokjes, je hoeft het niet persé van tevoren klaar te maken. Voeg eventueel een extra blokje toe als je soep te flauw is) en pureer met de staafmixer tot een glad geheel. Breng op smaak met peper en zout. Lekker met een schepje Griekse yoghurt en wat koriander.
Fijne (koude) donderdagavond allemaal!
It's really cold here in Holland, so we ate a lot of soup last week. This one is currently my favorite, it's beetroot and parsnip soup. Hope your Thursday is as nice as mine!