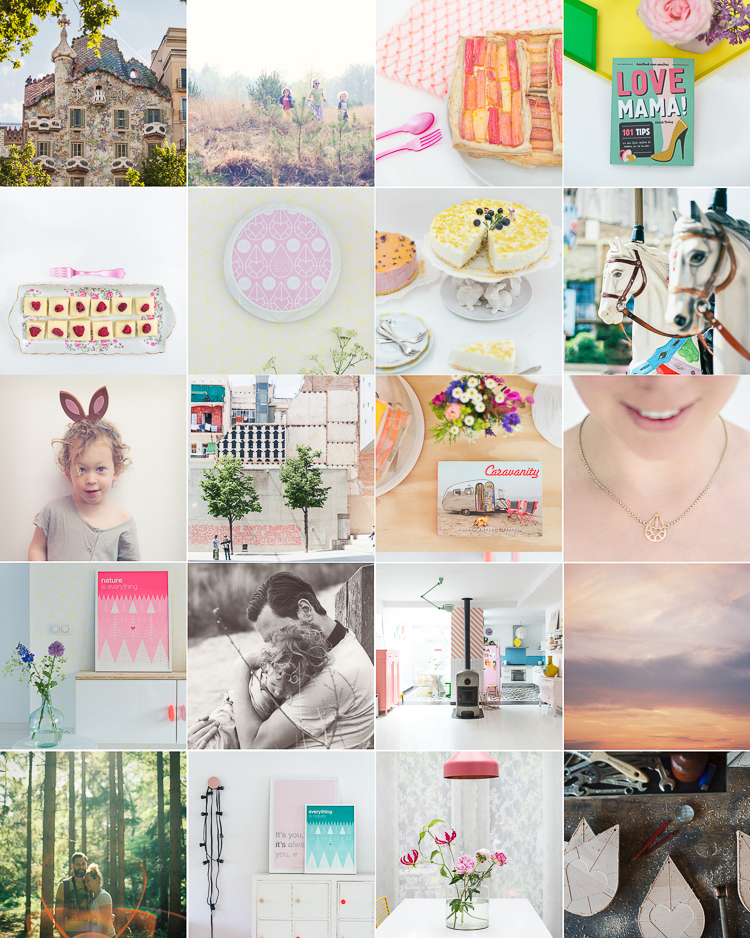 In het tweede kwartaal van 2014 genoten we van heerlijk lenteweer, maakte ik monsterlijk zoete fudge, rabarberslofjes en vonden we een oude, bruine lamp op een rommelmarkt die we omtoverden tot Zilverblauw-lamp. We werden uitgenodigd door Loods 5 om deel te nemen aan de meimazzel-dagen en terwijl ik daar was vouwde ik een konijn uit de hel. In mei vloog Wolf voor het eerst, naar Barcelona, waar we het fantastisch hadden. Mus was jarig en daarna ik. Ook in het tweede kwartaal van 2014 fotografeerde ik veel analoog, beelden in Barcelona, het bos en van ons alledaagse leven. Ik liet een sieraad maken van het oude goud van mijn familie, wat ik al heel lang wilde en we gaven een kijkje in de werkplaats waar onze plankjes worden gemaakt, wát een gave plek.
2014, wat was je mooi. En we zijn pas op de helft.
2014's second quarter was just as pretty as the first. We enjoyed perfect weather, I made monstrous sweet fudge, rhubarb tart and we found an old lamp on a flea market that we turned into our Zilverblauw-lamp. Loods 5 invited us for their 'Meimazzel-dagen' and while I was there I folded the bunny from hell. In may we flew to Barcelona with Wolf. After that, we celebrated Mus birthday, and mine. I shot a lot of film too, in Barcelona, in the woods and some random shots of things I saw. I finally went to a goldsmith who made me a new piece of jewelry from my family's gold and I took pictures in the workplace where Casper's brother and his partner make our cutting boards. 2014, you were so beautiful.