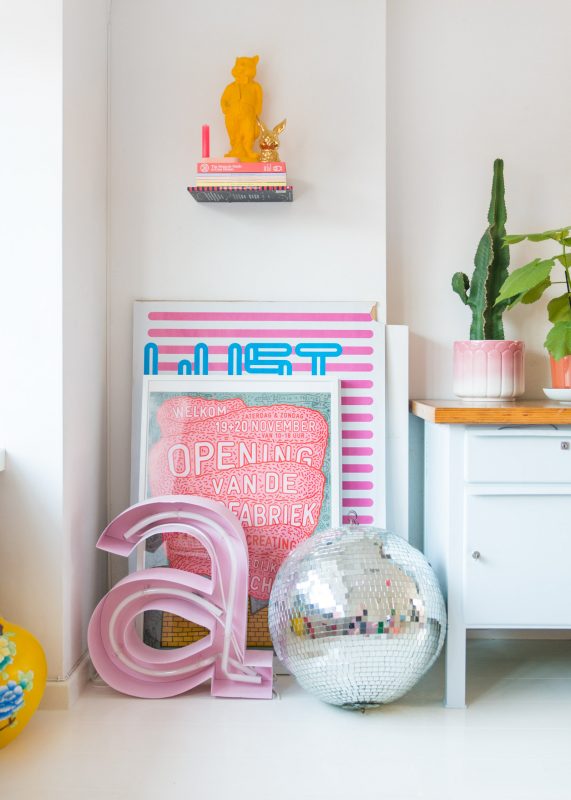 Een paar maanden geleden lagen bij een grote kringloop bij ons in de buurt twee grote discoballen. Ik zag ze meteen toen ik binnen kwam. Nu heb ik een beetje een haat-liefde verhouding met de discobal: in de tijd dat ik als artiest werkte kon ik helemaal gék worden van al die schitterende lichtjes als er een lamp op zo'n bal gezet werd (tel daarbij op dat ik nooit goed ben geweest op hoge hakken en ik dus altijd bang was dat ik zo, hop, tussen al die lichtjes mis zou stappen en mezelf ongelukkig en zeer onflatteus ten val zou brengen). Nu ik al een tijdje nauwelijks nog optreed doen die ballen me juist weer denken aan die tijd en alle leuke herinneringen die ik er maakte.
A couple of months ago I spotted two vintage disco balls at a local thriftstore. I didn't buy them and regretted it almost instantly. When I went back to the store the other day the disco balls were -obviously- gone. Of course I kept thinking about them. Nothing haunts us like the things we didn't buy. So you probably understand that I'm really happy with my latest Marktplaats (the Dutch Craigslist) find: a vintage disco ball for only ten euros. Yes!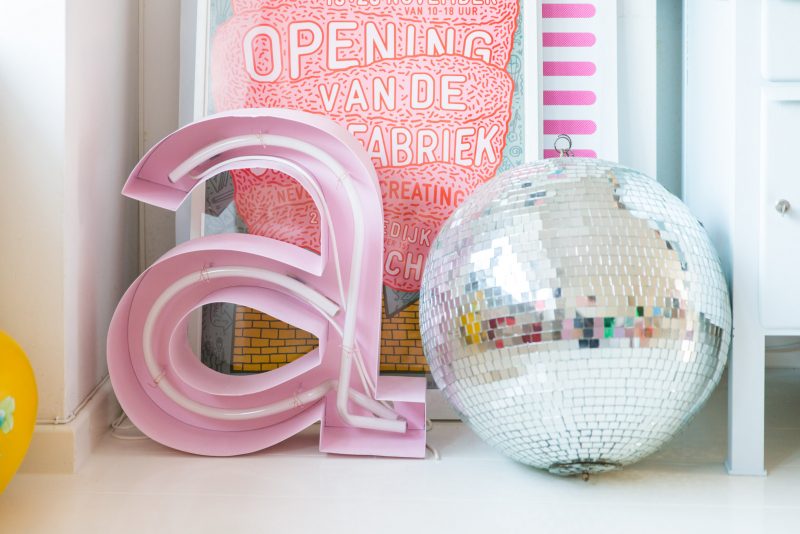 Ik kocht de discoballen niet, die dag bij de kringloop. Ik had mezelf op een strak ik-wil-ooit-verhuizen-dus-geen-troep-in-huis-en-geld-besparen-regime gezet, dus liet ze netjes liggen, maar eenmaal thuis merkte ik dat de discobal zich stevig verankerd had in mijn hoofd. Natuurlijk waren ze weg toen ik een dag later terugging.
In de maanden die daarop volgden zag ik overal discoballen. Ik zag ze hangen in winkels in Amsterdam, vond honderden discobal-plaatjes op Pinterest en er bleken zelfs discobal-drinkbekers! Gelukkig vond ik deze week mijn eigen vintage discobal voor een tientje op marktplaats. Hij mist wat spiegeltjes en kan wel wat aandacht gebruiken, maar ik ben er zó blij mee!