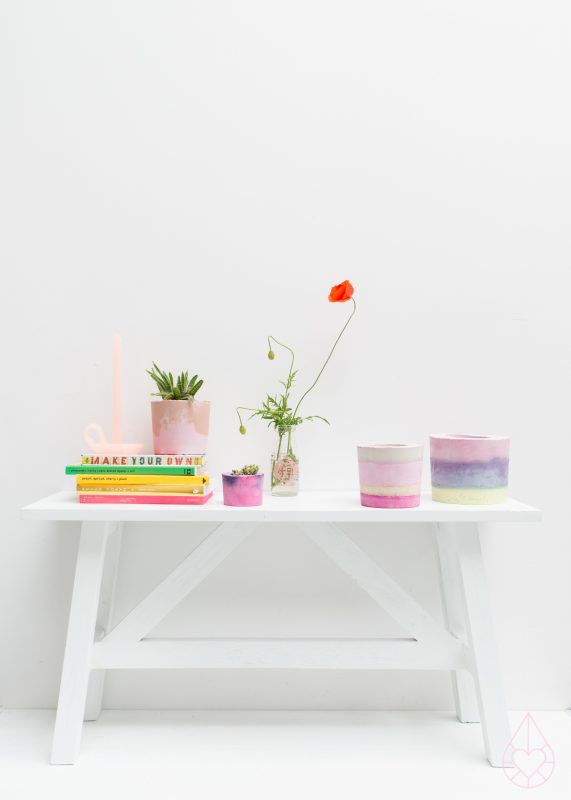 Afgelopen zondag had ik eindelijk weer eens tijd om iets te maken. Vorig jaar experimenteerde ik al eens met kleine bloempotjes van gips en ik wilde graag kijken of ik ze ook groter zou kunnen maken.
Last Sunday I finally had the time to make something again. I experimented with plaster before and made small planters, so I was curious of I would be able to create bigger planters as well.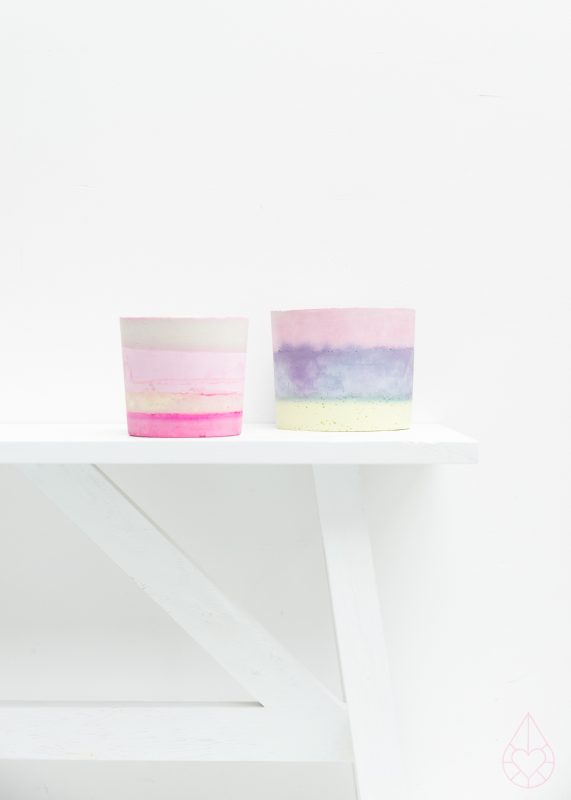 Afgelopen keer gebruikte ik verf om gips mee te kleuren, maar dat pakte niet helemaal uit zoals ik wilde. Daarom gebruikte ik nu textielverf, die ik nog over had omdat ik er afgelopen kerst kerstboompjes mee geverfd heb (die verf wordt overal voor gebruikt, behalve waarvoor het bedoeld is, haha). De verf is van het merk Dylon, je kunt het online bestellen of bij de drogist kopen. Het gips kocht ik in een grote 2,5 kilo verpakking bij de bouwmarkt (evt. hier online verkrijgbaar). Met die verpakking kon ik de vier bloempotten op de foto's maken.
Working with plaster is easy and fast. Instead of normal paint, like I did last time, I used Dylon fabric paint to color the plaster. Simply add a bit of the powder and stir. I collected different sized buckets to use as moulds. Prepare enough plaster for one layer and pour it into your mould. If you wait with the next layer until the first one is dry, you'll get clear layers (like the photo above) and if you don't wait, the colors will blend together (like the photo below). Enjoy your DIY flowerpots!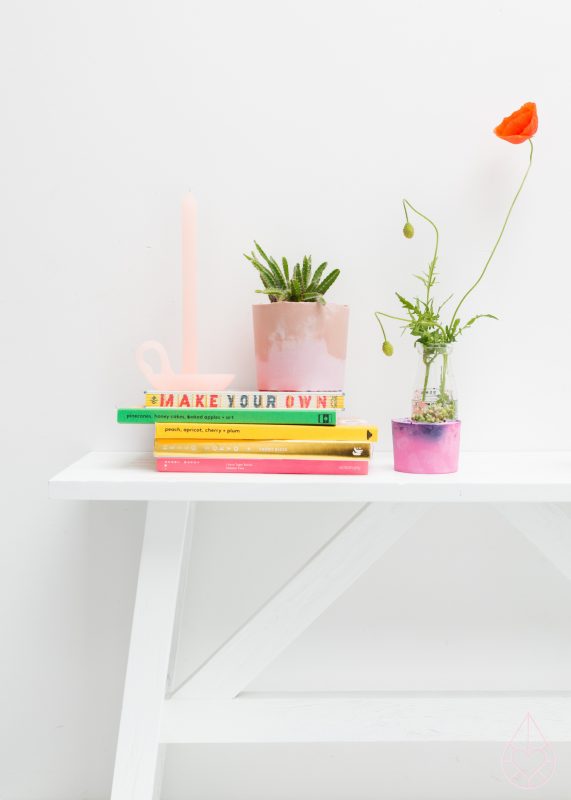 Ik gebruikte verschillende maten yoghurt-emmertjes als mal en goot de gips in lagen: één kleur per laag. Als je met de volgende laag wacht tot de laag daarvoor droog is, krijg je een gelijkmatig effect. Wacht je daar niet op, dan gaan de kleuren door elkaar heen lopen zoals op de foto hierboven. Het is maar net wat je mooi vindt.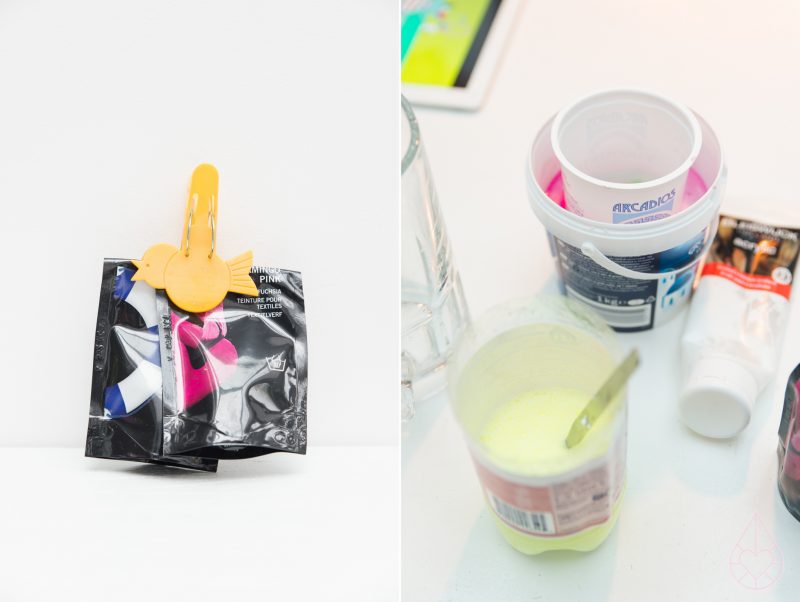 Verder wijst het proces zichzelf. Maak gips klaar zoals op de verpakking staat aangegeven, voeg zoveel textielverf toe als je zelf wilt (het poeder is behoorlijk intens qua kleur, dus niet teveel ineens) en roer goed door. Daarna snel gieten, want gips droogt snel en vervolgens verder met de volgende laag. In mijn vorige blog over werken met gips leg ik het nog wat uitgebreider uit, mocht je daar behoefte aan hebben.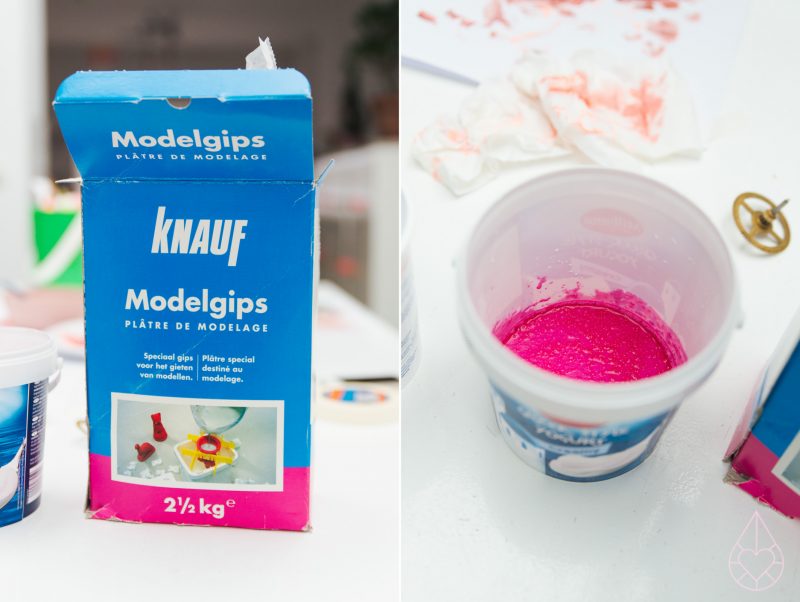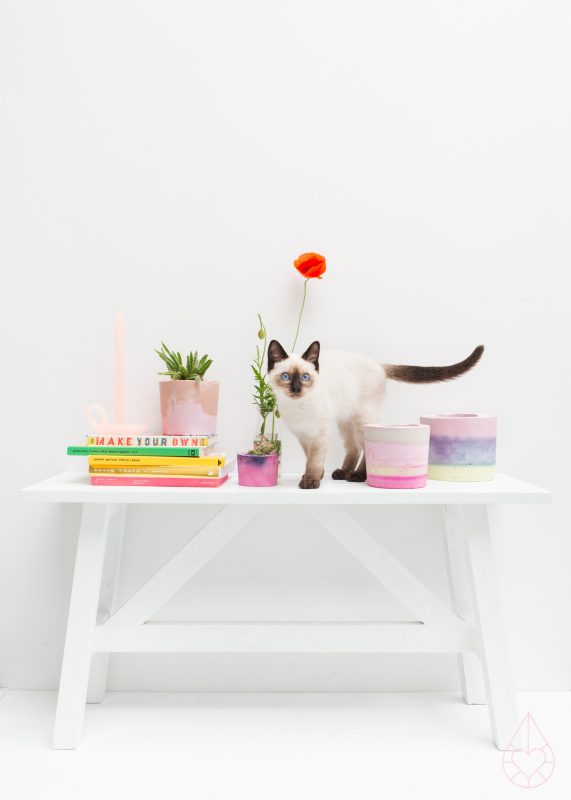 Veel DIY-plezier! Tag me even op Instagram of Facebook als je de bloempotten ook gemaakt hebt, dat vind ik leuk. Hier vind je alle DIY's op dit blog verzameld. Fijne dag!