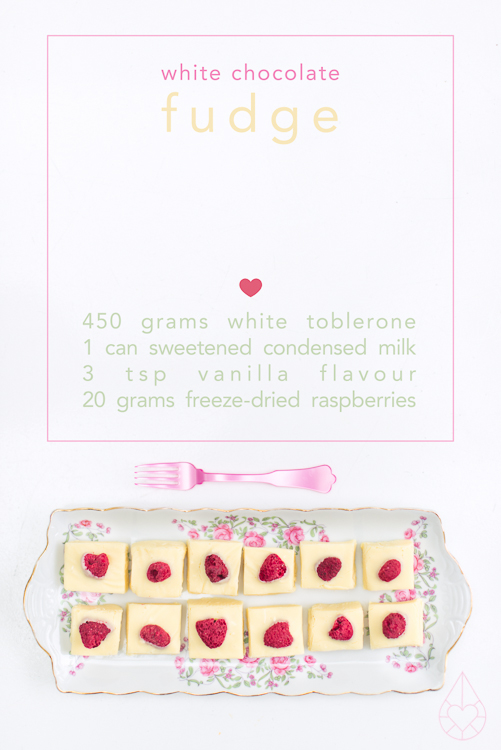 Dit is een vreselijk recept, ik zou het eigenlijk niet moeten posten. Het is zoet, ongezond en heel vet. Helaas is het ook ontzettend lekker. En niemand zegt dat je het helemaal alleen op hoeft te eten. De fudge is ook leuk om weg te geven als cadeautje, bijvoorbeeld een een juf of behulpzame buurvrouw. Hoewel zelf houden ook heel fijn is. Enfin.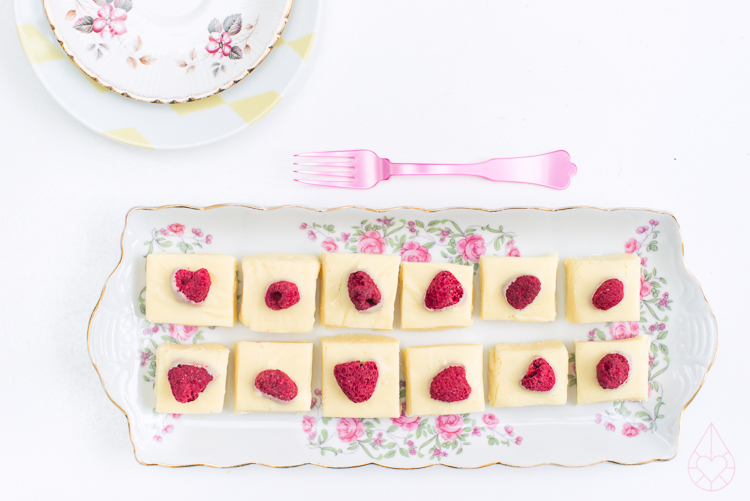 Nodig: 450 gram witte Toblerone, (heel goedkoop bij Action) een blikje gecondenseerde melk, 3 theelepeltjes vanille-aroma, 20 gram gevriesdroogde frambozen. Je kunt ook verse frambozen, of ander gedroogd fruit gebruiken. Voordeel van gedroogd fruit is dat je fudge langer houdbaar is.
Doen: Doe de gecondenseerde melk en de Toblerone samen in een pannetje en verwarm heel langzaam, onder voortdurend roeren, op het kleinste pitje van het fornuis, net zolang tot alle Toblerone gesmolten is. Voeg het vanillearoma toe. Giet in een lage, platte, met bakfolie bekleedde schaal. Duw de frambozen in de fudge en zet minimaal 2 uur in de koelkast om af te koelen. Snij in vierkantjes. Eet smakelijk!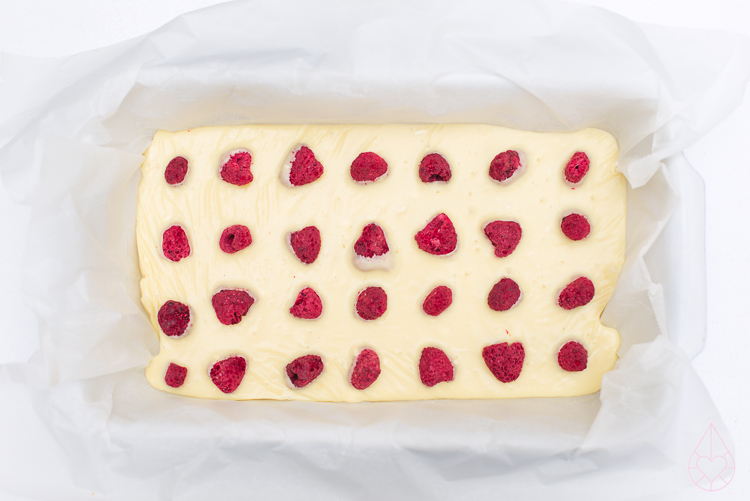 I have a love-hate relationship with this recipe. It's delicious, but also heavy and fat and not good for you at all. But again, it's delicious. And it makes a nice gift for a teacher, or helpful neighbour. You can always decide not to give it away and eat it all by yourself. Anyway.
You need: 450 grams white Toblerone, 1 can sweetened condensed milk, 3 teaspoons vanilla flavour, 20 grams freeze-dried raspberries, or other dried fruits. You can use fresh fruits as well, but it will limit the shelf life of your fudge. 
To do: melt the Toblerone together with the condensed milk in a small pan, slowly, over low heat. Stir frequently. Add the vanilla flavour. When completely melted, pour into a dish coated with parchment paper. Add the raspberries. Put in the fridge for about two hours. Cut in squares. Bon appétit!