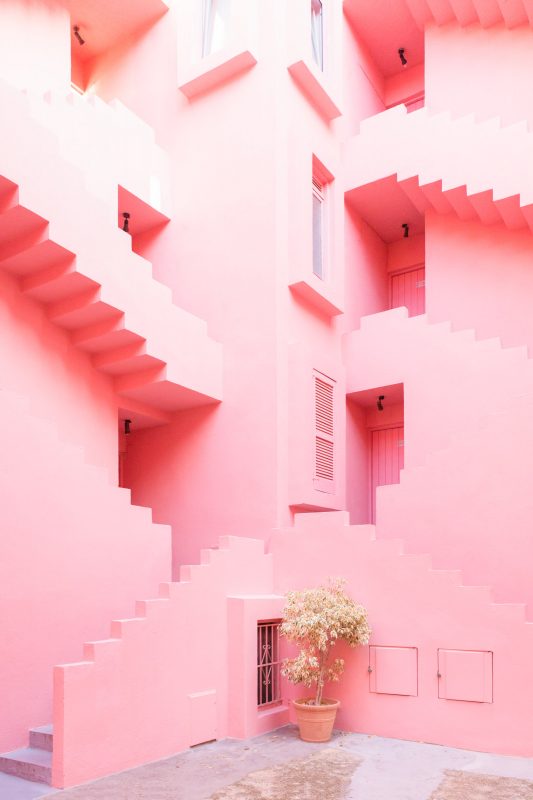 Ik was vergeten dat ik deze foto maakte, op vakantie in Spanje afgelopen oktober. Om ruimte te besparen in mijn koffer nam ik alleen mijn kleine oude Macbook Air mee op vakantie. Omdat die laptop zo traag is, importeerde ik alleen de foto's waarvan ik in eerste instantie dacht dat het de beste waren. Het mooie van fotografie is echter dat het vaak ongrijpbaar is. Het blijft je verrassen, zelfs als je denkt dat je jezelf als fotograaf en je camera toch prima kent. Deze foto vond ik dus ineens terug, verstopt en vergeten.
I found this forgotten photo from our stay at La Muralla Roja on one of my memory cards and fell in love with this beautiful place all over again. Photography never fails to surprise me, it's such a strong medium.
Op het moment dat ik dit beeld zag, herinnerde ik me direct weer dat ik het maakte. Ik stond die ochtend vroeg op, om La Muralla Roja vast te leggen voor het spel van de zon grip kreeg op de gebouwen. Hoe langer ik naar deze foto kijk, hoe mooier ik 'm vind. Wens jullie allemaal een fijne zaterdag!