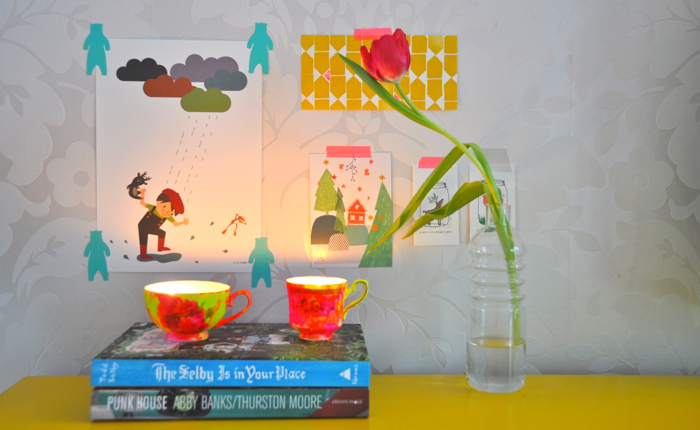 Wolf en ik maakten kaarsjes samen, van kringloopkopjes. Een snel en makkelijk project voor verveelde kerstvakantie-kinderen én altijd goed voor jongens, omdat er vuur (waaauuw!) bij komt kijken.
Nodig:
– kopjes, al dan niet van de kringloop
– twee kaarsen, gewone simpele witte
– eventueel verf, als je de kopjes eerst wil schilderen. Wolf gebruikte 'Kindertoververf' van de V&D, in leuke neonkleuren.
Doen:
– wil je beschilderde kopjes, schilder de kopjes dan eerst en laat ze goed drogen.
– Breek de kaarsen voorzichtig in een paar stukken. Laat de lont heel, zodat je deze er langzaam uit kan trekken.
– Smelt de stukken kaars zonder lont in een oud pannetje. Kaarsvet smelt heel snel!
– Knip de lont op maat voor de kopjes. Gebruik daarna een schaar om de lont op z'n plek te houden. (zie foto)
– Giet het kaarsvet in de kopjes. Laat de scharen nog even zitten, het duurt even voor het kaarsvet helemaal gestold is.

Wacht met het aansteken tot het kaarsvet helemaal is gestold en afgekoeld. Wij hebben de kopjes even in de diepvries gezet, omdat Wolf geen geduld had. Steek ze daarna aan en geniet van het extra licht in deze donkere januarimaand. Veel plezier!
Die leuke print met het jongetje op de achtergrond is trouwens van Studio Formo, die een hele mooie lijn geïllustreerde papierwaren, 'Frogs en Snails', heeft uitgebracht. Ze steunen nog een goed doel ook! Klik hier om de collectie te bekijken.
Wolf and I made candles out of old thrifted cups. Wolf painted the cups first. After that we melted two simple candles. Fun activity for bored holiday-children and perfect for boys, because of the fire involved. Print with playing boy is from the Dutch brand Studio Formo.