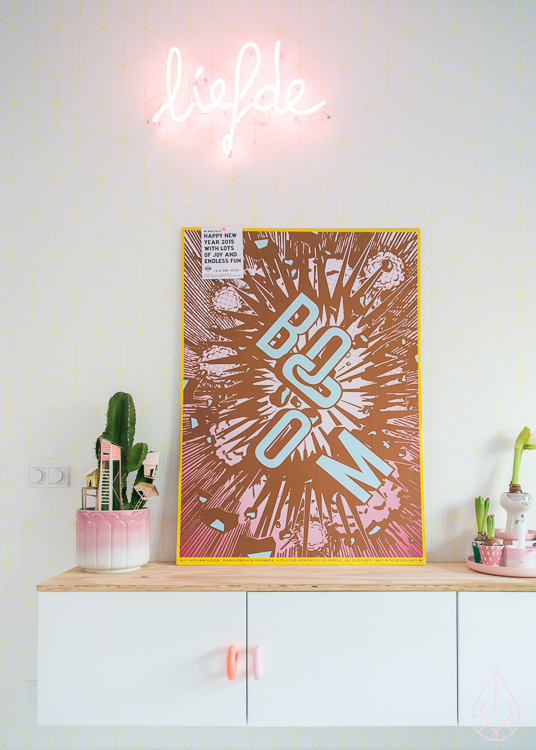 Op nieuwjaarsdag ruimden we het huis op. De feestdagen zijn voorbij. We vierden kerst én oud op nieuw met vrienden. Met kerst maakte ik twee megapannen soep, bakte 6 quiches, maakte een hele grote pan paddenstoelenragout en verse humus voor een heel weeshuis. Met oud op nieuw maakte Casper verse vegetarische worstenbroodjes, erwtensoep en bakte hij oliebollen. We lachten, aten en hadden het gezellig samen. Precies zoals het hoort te zijn.
We dachten dat wij cool waren met onze Merry & Bright printable voor kerst, maar dat het nog veel cooler kan bewees Studio Boot: zij verstuurden deze Booom-poster als kerstwens. De kalender op de koelkast is van Kristina Krogh, ik kreeg 'm van Casper als kerstcadeau. Hadden jullie ook allemaal fijne feestdagen?
Last days we cleaned up the mess we made during the holidays. We celebrated Christmas and New Year's eve with friends. I made two gigantic pans of soup, baked 6 quiches, made a really large amount of mushroom ragout and fresh humus to feed an army. Casper made typical Dutch sausage bread and oliebollen. We laughed, ate too much food and had a really good time. Hope you all had a great time too!
The big 'boom-poster' is Studio Boot's version of a Christmas card, isn't that cool? The print on the fridge is from Kristina Krogh, Casper bought it for me as a present.