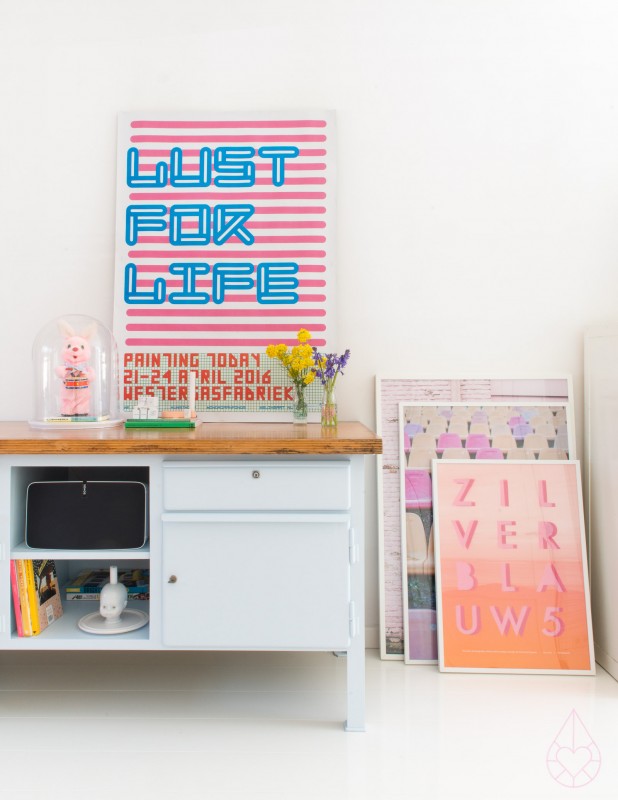 Ik hou van grafische kunst, typografie en papier (liefst een combinatie van die drie), misschien wel net zoveel als ik van fotografie hou. De enorme poster van We Like Art, ontworpen door Sigrid Calon, sprak me dus meteen aan. Toen ik op het We Like Art Instagram-profiel uitsprak hoe gaaf ik de poster vond, stuurden ze er als verrassing eentje naar me op. Superlief! De poster is ontworpen ter promotie van de 'Lust for Life'-tentoonstelling, die je dit weekend nog kunt bezoeken in de Westergasfabriek in Amsterdam.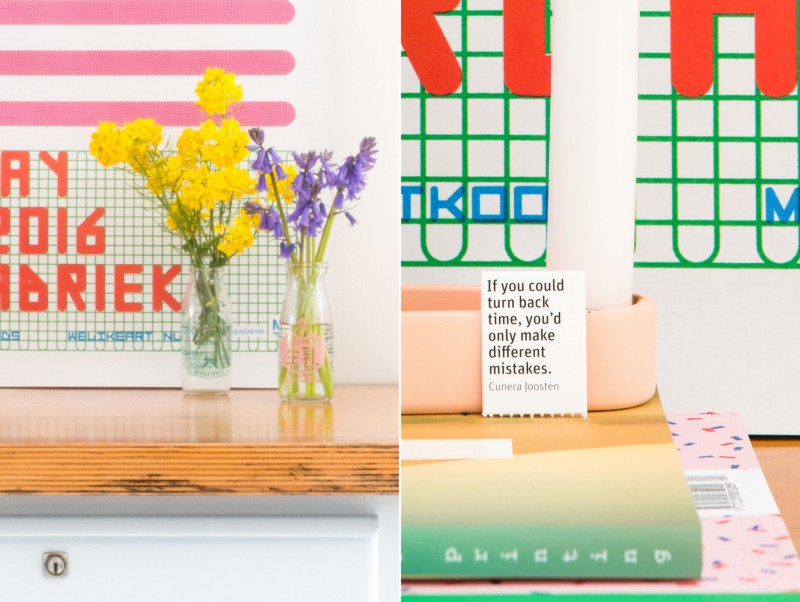 En toen ik afgelopen week op bezoek ging bij mijn vrienden Jorg en Froukje, kreeg ik zomaar een cadeautje van ze: the Cube Calender van Philip Stroomberg en de prachtige inspiratiepublicatie 'Anders' van Ipskamp Printing, dat laat zien hoeveel gave dingen we eigenlijk met papier en inkt kunnen. Jorg's bedrijf Iscent, dat ook de geuren voor onze kaarsjes maakte, ontwikkelde voor IGEPA, de papiergroothandel achter de Cube Calender, een geur op maat die ze voortaan als extra beleving gaan toevoegen aan hun briefpapier. Cool! (Ik ben erg trots op wat Jorg doet, het is zo gaaf!)
De kaft van het magazine is onder andere bedrukt met lichtgevende inkt, echt te gek. En misschien vinden jullie me nu een nerd, maar die kalender vind ik dus echt helemaal het einde: elke dag scheur je er een stukje papier af en om de zoveel dagen vind je pakkende quotes, allemaal superstrak en gelikt vormgegeven. Sommige van die quotes vind ik dus zo gaaf, dat ik het jammer vind om die stukjes papier weg te gooien. Dus die zet ik dan, als een echte nerd, naast de kalender. Wens jullie allemaal een fijne avond!
As you might know I love typography and graphic design, and so it came I fell in love with this poster from the We Like Art-show 'Lust for Life', designed by Sigrid Calon. When I told the people behind We Like Art about my love for the poster, they were so kind to send me one, how sweet. If you happen to be in Amsterdam for the weekend, I really recommend visiting 'Lust for Life' in the Westergasfabriek. The Cube Calender by Philip Stroomberg was a gift from my friends Jorg and Froukje and I feel like a true nerd when I look at it: I just love the design, the tiny but amazing quotes that pop up on a regular basis and the shape that changes through the year.