Sorry voor de hysterie, maar IK WON DUS EEN STOEL! Niet zomaar een stoel, maar de Slow Chair van Vitra, ontworpen door Ronan & Erwan Bouroullec. Een stoel die ik al wilde hebben sinds ik 'm voor het eerst zag, maar die zo duur is dat ik er never-nooit een zou kopen. En als ik eraan dacht dat ik de stoel misschien mogelijk zou kúnnen kopen, kreeg ik direct visioenen van een krabbende Pjoes en sap-morsende kinderen op die prachtige, dure stoel. En nu won ik de Slow Chair dus zomaar. Nou ja niet zomaar natuurlijk, ik deed mee aan een fotografie-wedstrijd van Samsung op de vtwonen en designbeurs. (Dit schreef ik daar destijds over, de foto waarop je de stoel ziet is degene waarmee ik de stoel gewonnen heb).
In oktober vorig jaar kreeg ik bericht dat mijn foto gewonnen had. Er zat een behoorlijke levertijd op de stoel, dus ik moest heel lang geduld hebben. Maar dat gaf niets. Ken je dat gevoel dat je hebt als je op iets leuks aan het wachten bent? Dat had ik dus wel 4,5 maand lang. Als ik door de regen moest fietsen of in de file stond, dacht ik 'haha, geeft niks want IK HEB EEN SLOW CHAIR GEWONNEN!'. Haast jammer dat de stoel afgelopen week werd bezorgd, in een doos die zo groot was dat hij niet door de voordeur paste. Ik wachtte nog een extra dag met uitpakken, om dat fijne gevoel van verwachting nog even vast te houden. Nu staat de stoel in de woonkamer te pronken. Wat een geluk. Fijne zondag!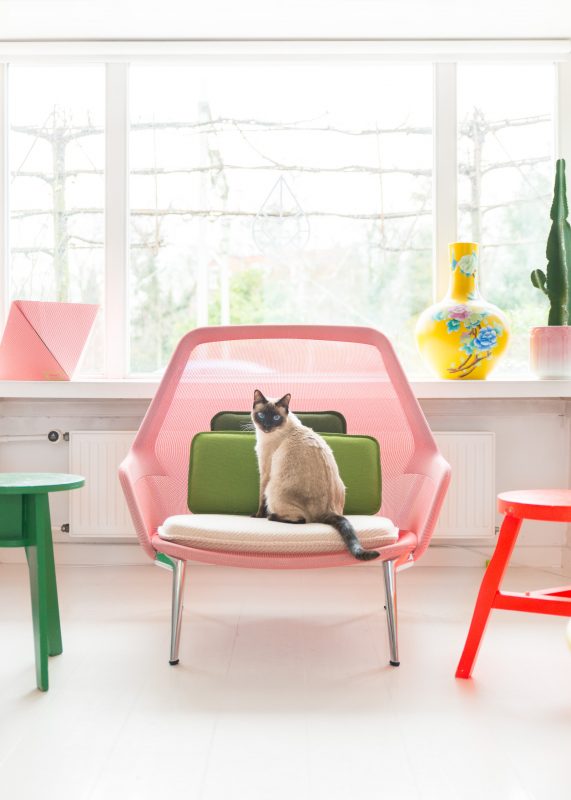 p.s. op de onderste foto kun je zien wie de echte koning is in dit huis. Ik krijg spontaan dit lied in mijn hoofd.
I won a Slow Chair from Vitra, can you believe that? At last years vtwonen en designbeurs I took part in a photography contest and this amazing chair was the price. I had to wait for 4,5 months for it to arrive, totally worth it. I feel so lucky!