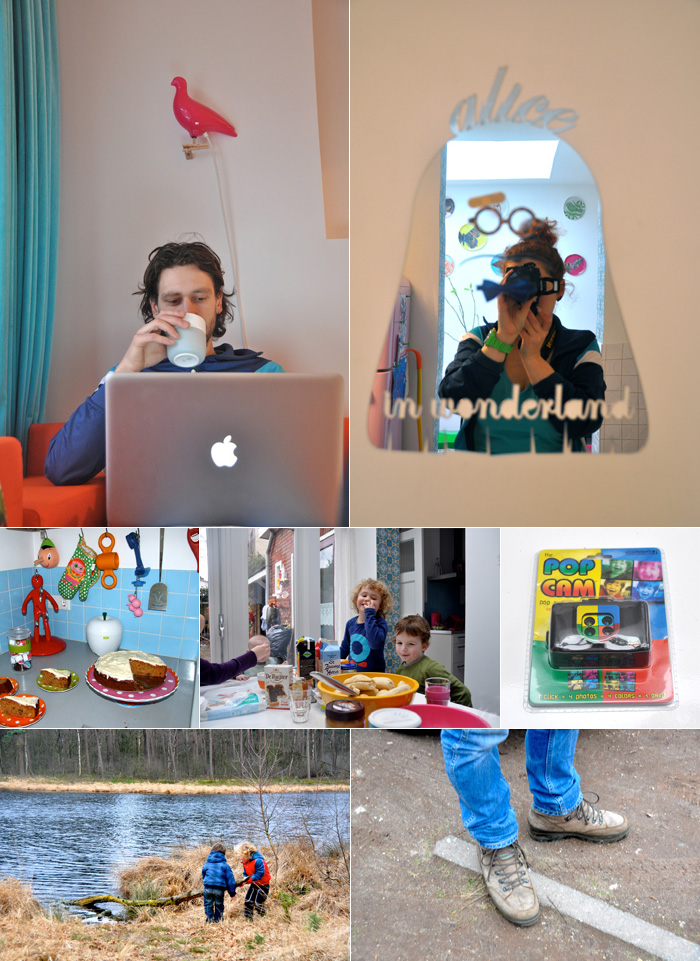 Deze week werd ik gelukkig van:
De heerlijke zelfgemaakte worteltaart die vriend Herwin ons kwam brengen. (zomaar! Wat een goede verrassing!)
Het bezoek van onze vrienden Jorg en Froukje en hun kindjes Ravin en Nox. Ravin en Wolf zijn bijna net zo oud en 'beste vrienden', leuk! We zijn lekker in het bos geweest.
Het enthousiasme waarmee lief Casper is begonnen aan zijn opleiding voor IVN-natuurgids. (haha, hij wordt een soort boswachter) Grappig om hem die wandelschoenen te zien dragen, weer eens wat anders dan Adidas of Puma.
Het ontzettend lieve cadeautje wat vriend Jorg meebracht voor mij, een Andy Warhol-lomocamera! Vier foto's, na elkaar genomen, in vier verschillende kleuren. Speciaal voor mij besteld uit Engeland. Ben er heel blij mee!
Mijn nieuwe camera, en mijn nieuwe camera, en oja, ik heb een nieuwe camera. 😉
Waar werden jullie gelukkig van afgelopen week?
This week I really enjoyed:
The homemade carrotcake friend Herwin baked us; delicious!! A visit from friends Jorg and Froukje and their children,  Wolf and their son Ravin are 'best friends'. Jorg brought me a gift; an amazing Andy Warhol-lomo camera!! So exciting! Casper started with his IVN-education to become a nature guide, I enjoyed his enthusiasm. Oh, and my new camera, and my new camera, have I alreaydy told you that I finally bought a new camera? 😉 What made you happy last week?