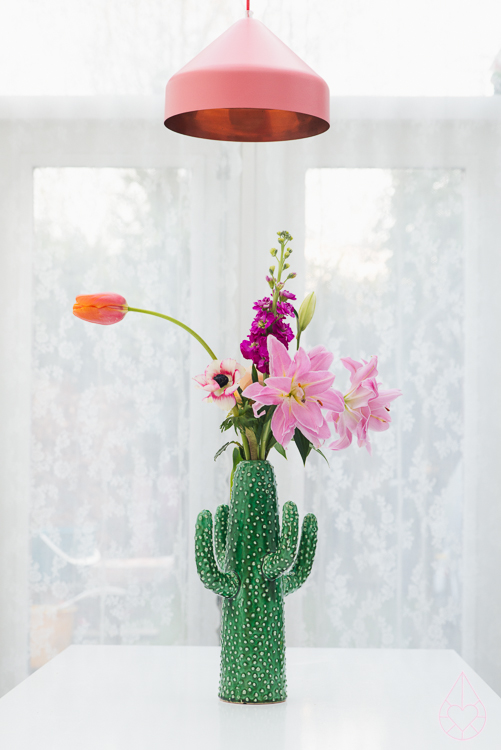 Het is carnavalsvakantie hier in het zuiden. Meestal is dat voor ons reden om een paar dagen weg te gaan, (vorig jaar waren we op het prachtige Texel) maar omdat ik nog niet helemaal beter ben, blijven we dit jaar thuis. Gisteren ging ik even met Mus met de trein naar Eindhoven. Mus vindt reizen met de trein fantastisch, het is echt een uitje voor hem. Ik had nog een cadeaubon van de Bijenkorf te besteden, dus het was een win-win situatie. Onderweg naar het restaurant voor frozen yoghurt, zag ik deze Cactus-vaas staan en het was liefde op het eerste gezicht.
De laatste tijd gebruikte eigenlijk alleen nog deze glazen vaas, wat eigenlijk een windlicht van Action is. (ja echt, ik heb de lettertjes eraf gekrabt met een mesje. Zo ziet hij er origineel uit.) Ik zat in een soort vazen-vacuüm, als dat bestaat. Met Iris de vazenkoningin als beste vriendin, ben ik blij dat dat vacuüm doorbroken is.
Ik vond de Serax cactus vaas ook online, voor de geïnteresseerden. Fijne nieuwe week allemaal!
I bought myself a new vase. It's the Serax cactus vase and I love it. I went on a little train-trip with Mus yesterday to get some frozen yoghurt and spend a gift voucher and it was love at first sight when I saw it at a big Dutch retailer. I found the vase online here. Happy new week!