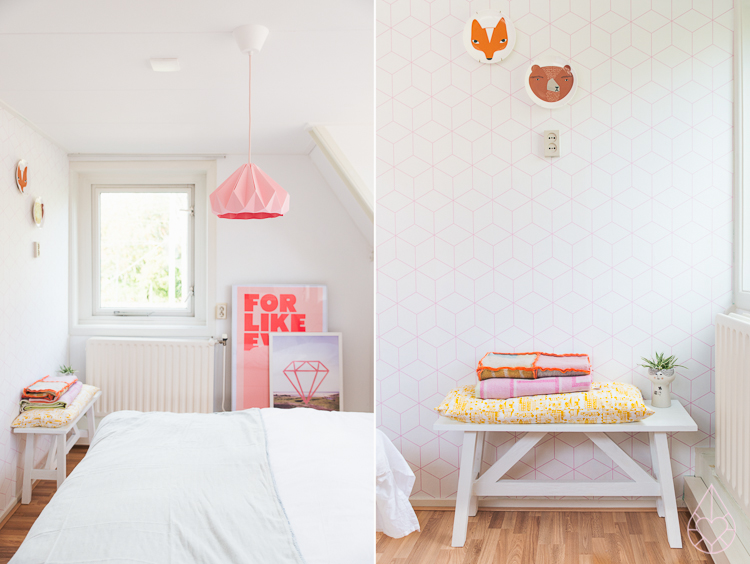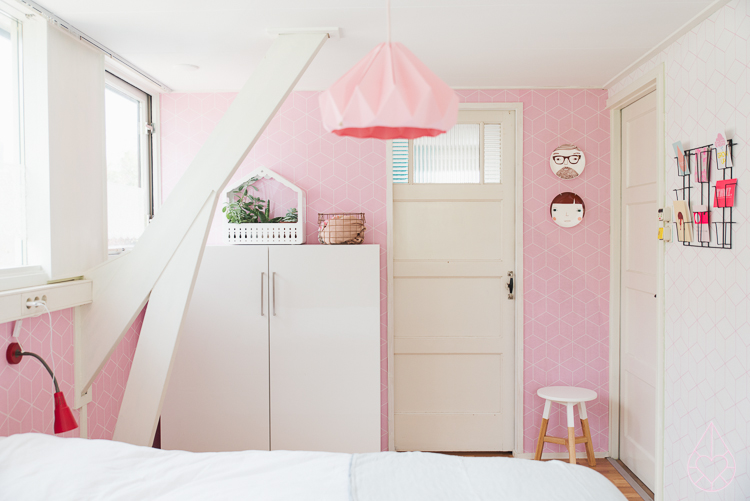 Toen Blogtoday ons benaderde voor een samenwerking met Leen Bakker, waren we in de eerste instantie wat terughoudend. Ik geloof dat ik voor de laatste keer bij Leen Bakker ben geweest in mijn studententijd. Ik kocht stoelen met zebrastof, die ik echt geweldig vond. (Deze waren het. Oh, het sentiment.) Toen Casper en ik gingen samenwonen, pasten de stoelen niet meer bij onze inrichting. Ik moet bekennen dat ik sinds die tijd niet meer bij Leen Bakker geweest was.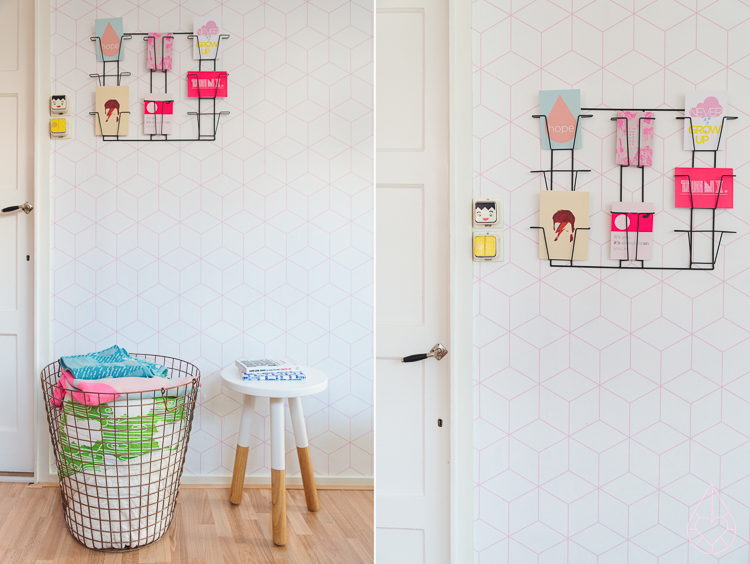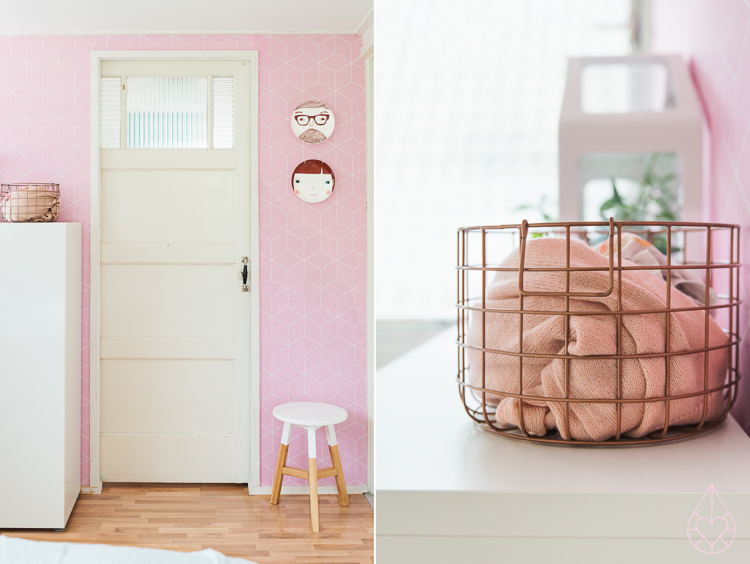 Omdat Casper en ik al langere tijd van plan waren de slaapkamer een update te geven, gingen we toch eens op de Leen Bakker-site kijken. We waren allebei gecharmeerd van de 101 Woonideeën-collectie. Deze collectie is in samenwerking met 101 Woonideeën uitgebracht en aangezien dat één van mijn favoriete tijdschriften is, besloten we de uitdaging aan te gaan.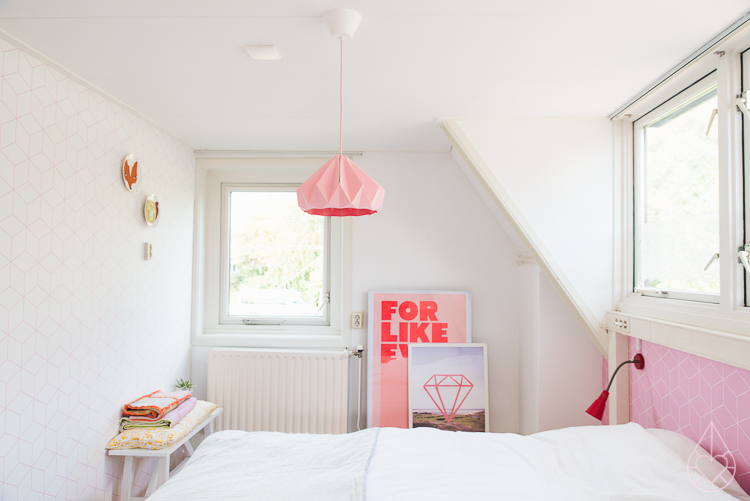 Casper voorzag de kamer van nieuw behang (zilverblauw-behang, uiteraard) en wat frisse witte verf. Op ons bed kwam een fris wit dekbedovertrek en een plaid uit de 101-collectie. Bankje Jurre is mijn persoonlijke favoriet, ik vind de vorm mooi en het is een uitstekend accessoire om mee te stylen. De grote en de kleine koperen mand zijn ideaal voor het opbergen van dekens en ander textiel. Het kaartenrekje vervangt ons witte kaartenrek, wat door de zon helemaal verkleurd was. De twee witte krukjes (een van de 101-collectie en de andere uit de reguliere collectie van Leen Bakker) staan voor de foto even op een andere plek, maar gaan we gebruiken als nachtkastjes.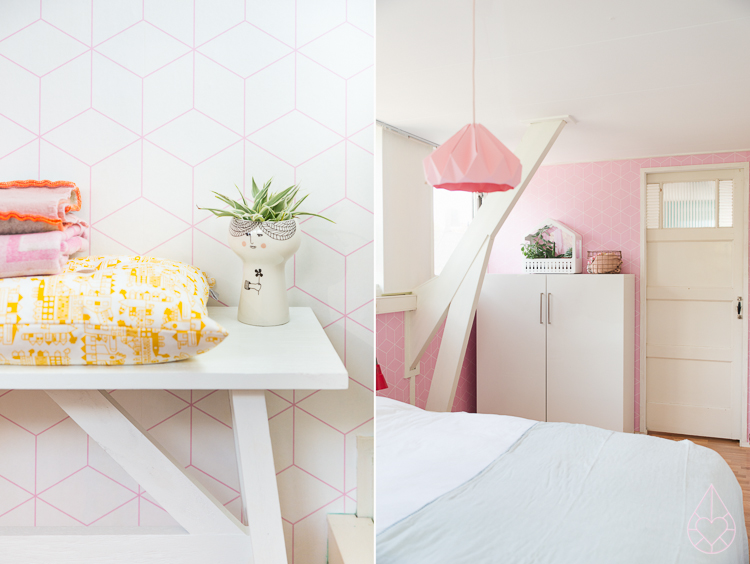 Aan één van mijn lezers mag ik een Leen Bakker-waardebon van 50 euro weggeven. Het enige wat je hoeft te doen is in een reactie hieronder aan te geven wat jouw favoriete product is uit Leen Bakker's collectie. (check meteen het frisse, nieuwe roze logo) Volgende week maandag maak ik een winnaar bekend. Succes!
Casper & I gave our bedroom a make-over in collaboration with the Dutch store Leen Bakker. We're giving away a 50,- gift voucher. Please leave a comment and tell us what your favorite Leen Bakker product is. We'll pick a winner next monday. Good luck! 
FYI: de bordjes die aan onze slaapkamermuur hangen, komen van Buiten de Lijntjes. De lamp is van Snowpuppe. Het roze behang is nieuw in onze shop, zie hier. Deze blogpost is in samenwerking met Blogtoday, ik schreef hier meer over hoe we omgaan met commerciële projecten. Samenwerkingen als deze maken Zilverblauw mede mogelijk, bedankt voor jullie begrip & support.