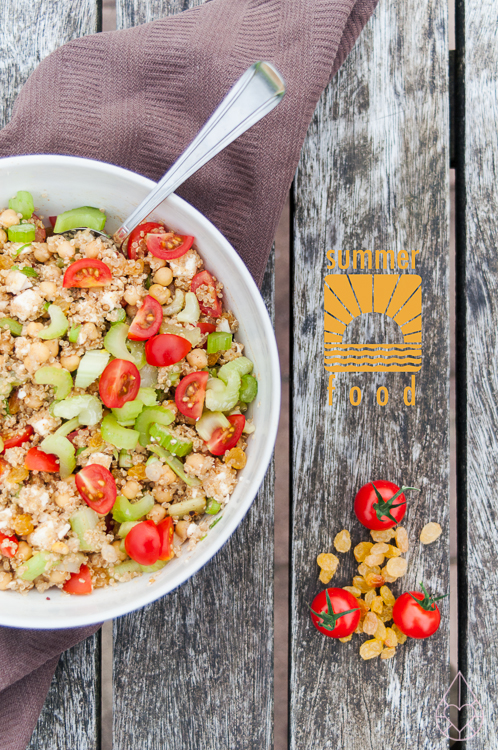 De afgelopen dagen mochten we er al een beetje van proeven: de zomer! Tijd voor lange, warme avonden met de tuin- of balkondeuren open. Van die avonden waarop warm eten veel te warm is, behalve als het van de barbecue komt. In de hoop dat het een mooie zomer wordt ga ik hier regelmatig zomerrecepten posten. Deze Quinoa-salade, waarvan ik het recept van mijn vriend Jorg kreeg, bijt de spits af.
Quinoa salade van Jorg, genoeg voor een volle schaal om met minimaal 2 volwassen van te eten.
Nodig: 150 gram quinoa, (ik gebruikte de helft van zo'n zakje) bakje cherrytomaatjes, zakje rozijnen, blikje kikkererwten, ongeveer 4 lente-uitjes, paar stengels bleekselderij, ongeveer een half blokje feta of saladekaas, ras el hanout naar smaak, honing-mosterddressing.
Doen: Simpel. Kook de quinoa zoals op de verpakking staat. Voeg na het koken ongeveer twee theelepels ras el hanout toe. (Naar smaak. Wij vinden het een heerlijk kruidenmengsel.) Meng daarna de quinoa en alle overige ingrediënten door elkaar. Als laatste kun je naar smaak honing-mosterddressing toevoegen. Smakelijk!
Nog twee zomerrecepten: zelf garnalenkroketten maken en een zomertaart. Fijne avond!
We're enjoying spring here in Holland with pretty nice temperatures. This inspired me to share this typical summer recipe, a quinoa salad. My friend Jorg came up with this recipe and we all love it. 
You need: 150 grams quinoa, cherry tomatoes (1 cup), raisins, (1 cup), chickpeas (1 can), about 4 spring onions, celery, salad cheese or feta (to taste), ras el hanout (to taste) honey mustard dressing (to taste).
To do: cook the quinoa as you're used to (or read the instructions here). Season with ras el hanout, to taste. We just love ras el hanout, it's one of our favorite spice mixes. After that, simply mix the rest of the ingredients together in a large bowl. Add the honey mustard dressing before serving. Enjoy your meal!