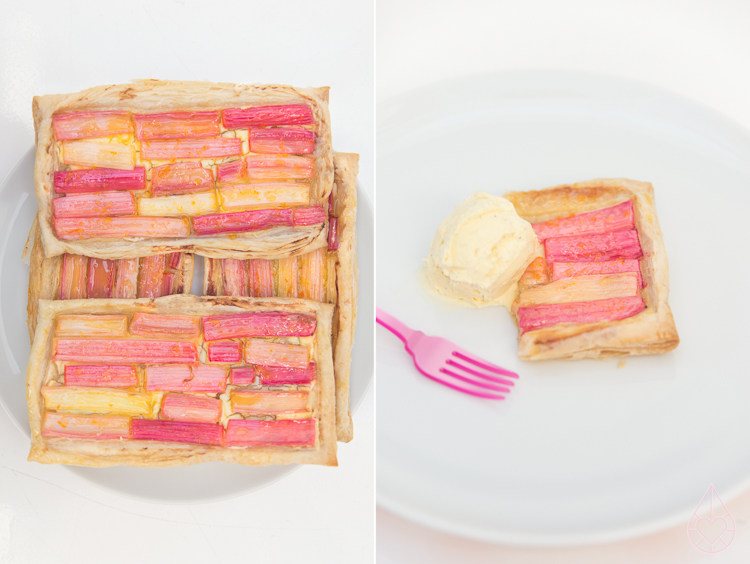 Hebben jullie dat ook, dat je zo onder de indruk kunt zijn van wat de natuur maakt? Neem bijvoorbeeld rabarber, dat vind ik zó mooi. De verschillende kleuren roze, de smaak en textuur, prachtig. Ik maakte deze slofjes dus gewoon omdat ik ze zo mooi vind. Dat ze ook lekker zijn, is een bijkomend voordeel. Zoals eigenlijk al mijn recepten is dit recept makkelijk om te maken, je hoeft geen ingewikkelde dingen te hebben of te kunnen en de slofjes zijn, exclusief oventijd, in ongeveer 20 minuten klaar.
Rabarberslofjes
Nodig: een pakje bladerdeeg, 100 gram Monchou, een bos rabarber, een kopje sinaasappelsap, een half kopje suiker, rasp van een sinaasappelschil, sap van een halve limoen.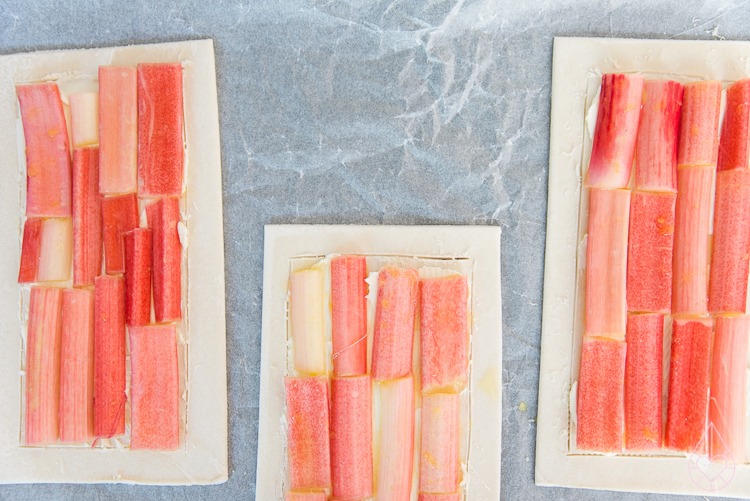 Doen: Verwarm de oven voor op 200 graden. Was en snij de rabarber zoals op de foto hierboven. Doe het sinaasappelsap samen met de suiker en het limoensap in een pannetje en laat je gesneden rabarber daar even in weken, terwijl je ondertussen de nog bevroren plakjes bladerdeeg op een bakplaat met bakfolie legt. Kras met een mes een kader en smeer het kader in met een laagje Monchou. Haal je rabarber voorzichtig uit het pannetje en duw in het Monchou-kader. Zet 30 minuten in de oven op 200 graden. Breng terwijl je wacht het sinaasappel-limoen-suikermengsel aan de kook. Laat zachtjes doorkoken, roer af en toe. Voeg 5 minuten voor de slofjes uit de oven mogen de sinaasappelrasp toe. Haal de slofjes uit de oven en besmeer ruim met het sinaasappel-limoen-suikermengsel. Heerlijk met een bolletje vanille-ijs. Smakelijk & fijne tweede paasdag!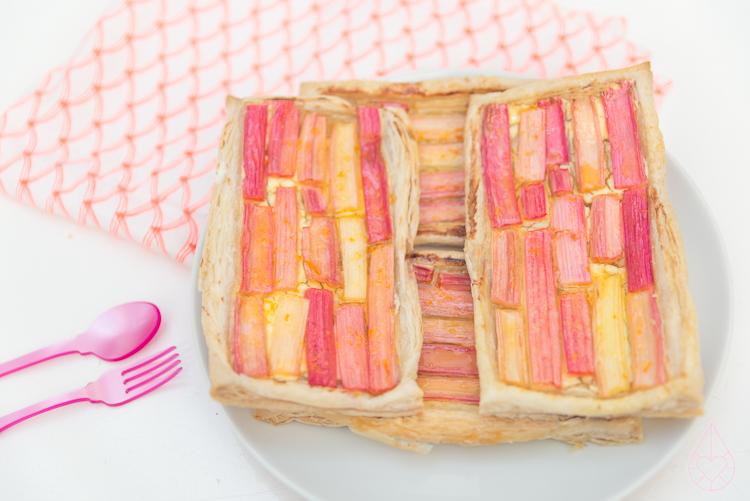 I can be really impressed by nature's beauty. For example rhubarb, I love it's gorgeous gradient pink. So I admit: I just made this recipe because of the looks of it. The fact that it turned out to be delicious too, is a nice side effect. Like all my other recipes, this rhubarb tart is easy to make and you don't need anything fancy. I found this recipe in English that's much the same as mine, except I used some soft cream cheese as an extra ingredient. So for the extra ingredient: spread the soft cream cheese onto the puff pastry and top with the rhubarb. Makes a lovely Easter dessert accompanied with vanilla ice-cream.