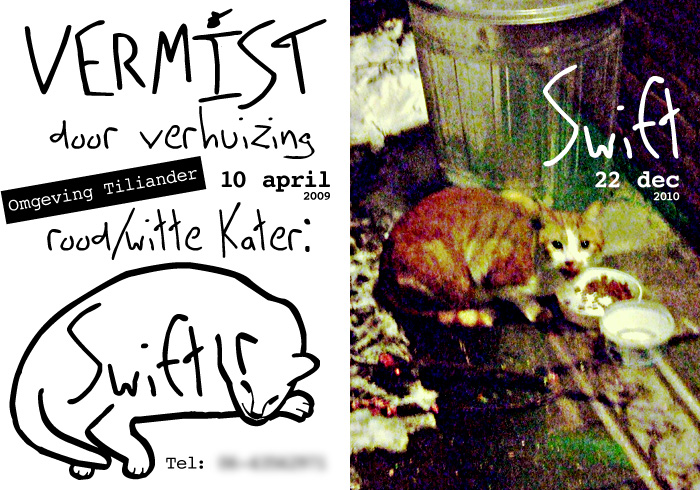 Als mijn vader in april 2009 verhuist naar een andere provincie en mijn broertje Jesse daardoor bij mijn moeder gaat wonen, (tja, gescheiden ouders, dan krijg je dat soort dingen) wil Jesse als vanzelfsprekend zijn rood-witte kater Swift en Swift's moeder Rat met zich meenemen. Swift en Rat worden dus door mijn vader in twee mandjes naar mijn moeder en broertje gebracht. Diezelfde nacht springt Swift uit het raam op de eerste verdieping. Sindsdien is hij spoorloos. Mijn broertje is ontroostbaar; Swift is zijn kat, hij heeft hem geboren zien worden. We zoeken tevergeefs; Casper maakt bovenstaande poster die we overal in ons dorp ophangen. Niemand reageert. Swift is weg.
Sinds enkele maanden hebben we last van een insluipkat, die 's nachts alle brokjes opeet. Onze eigen katten hebben stress; hoe kouder het wordt, hoe vaker en langer de insluiper binnenkomt en -blijft. Op een gegeven moment ligt hij zowat de hele nacht op het matje bij onze achterdeur, lekker warm op de door vloerverwarming verwarmde tegelvloer. Naarmate  het jaar vordert, kunnen we steeds vaker een glimp van onze insluiper opvangen; een rood-witte kater. Het kan toch niet waar zijn, Swift is al een jaar en acht maanden weg… Deze week maakt Casper 's ochtends snel een foto van de insluiper en stuurt die naar mijn moeder. Ongeloof. Het is tóch waar. Het is Swift!!
Op vrijdagochtend, de dag van kerstavond, organiseren we een grote actie om Swift te vangen. Mijn moeder en broertje Jesse komen vroeg in de ochtend naar ons toe, in de hoop dat Swift hen nog kent en dit het vangen zal vergemakkelijken. Swift is echter erg vroeg bij ons vandaag en laat zich gemakkelijk onze badkamer inlokken, waar hij al zit als hij met zijn baasje herenigd wordt. Zodra Swift Jesse ziet, begint hij te spinnen. Wij weten wel voor wie kerst 2010 niet meer stuk kan, inclusief overheerlijk kerstdiner bij een lekker warme kachel. Welkom thuis Swift!
Fijne kerstdagen allemaal!
A year and eight months ago, my little brother Jesse's cat Swift disappeared. Swift jumped out of a window on the second floor, never to be found again. Since a couple of months we notice that there's an uninvited guest visiting our house during night-time; a stranger cat eating all our cats' food. The colder it gets, the longer this cat stays in our home at night. We hear him, but don't see him. Our cats aren't happy with the uninvited guest, it makes them restless and stressed. Last week, Casper catches a glimp of our stranger; red-white, just like Jesse's Swift. Could it be true? Casper manages to make a photo of the cat and sends it to Jesse. It really is Swift!! Gone for almost two years and now found, by us, the family of his original owner. We still can't believe it, but it is clear that Swift and Jesse will have a fabulous christmastime!
A merry christmas to all of you!