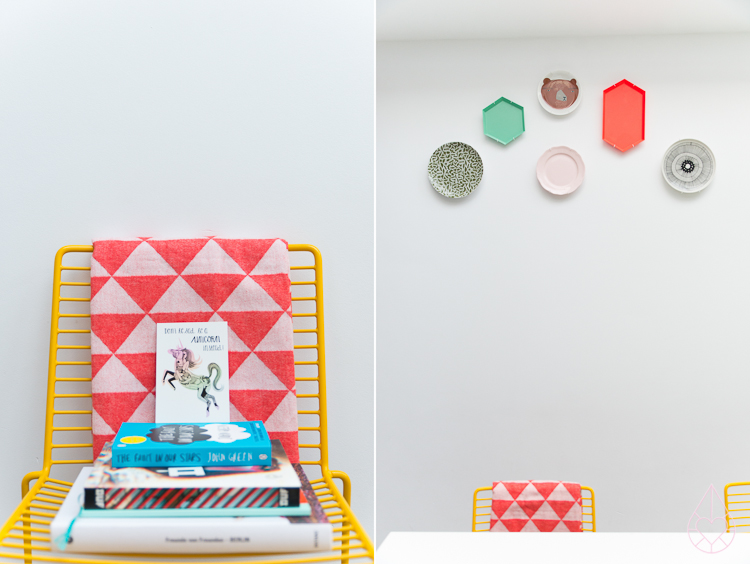 Ook in het eetgedeelte veranderen we. Onze rode Kartell-stoelen zijn verplaatst naar boven en vervangen door deze gele van Hay. We hebben een nieuwe bordjescollectie aan de muur gehangen. (zien jullie de nieuwe van Donna Wilson, die met het beertje? Ik ben er een beetje verliefd op, kreeg 'm van Jacqueline en Hennie, dankjewel!) Vandaag was ik op mijn vrije woensdag even in de HEMA en kwam ik deze deken tegen, die me erg doet denken aan de dekens van Ferm Living. In ons oude huis wordt het 's avonds al best weer fris, dus vanavond kan ik heerlijk onder een nieuw dekentje gaan zitten.
A few changes in our dining room: we replaced our red Kartell-chairs by this yellow chairs from Hay. On our wall a new collection of plates, my absolute favorite is the new one from Donna Wilson, with the bear. Today I went to the HEMA and bought this very Ferm Living-like blanket, autumn has started and the evenings get really chilly. The card 'don't be sad, be a unicorn instead' is from 'Buiten de Lijntjes', the blue book 'the fault in our stars' from John Green tells a beautiful, sad story about love. Have a nice evening sweet blogreaders!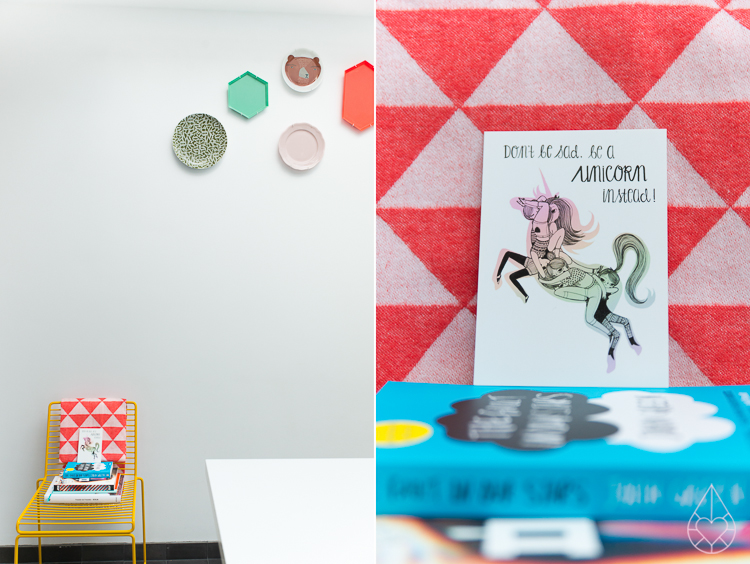 De kaart 'don't be sad, be a unicorn instead' is ook van Buiten de Lijntjes en maakt me aan het lachen. Het boek 'the Fault in our Stars' van John Green (of in het Nederlands 'Een weeffout in onze sterren') ben ik net aan het lezen en is nu al een aanrader; een prachtig, soms verdrietig verhaal over liefde. Fijne avond allemaal!