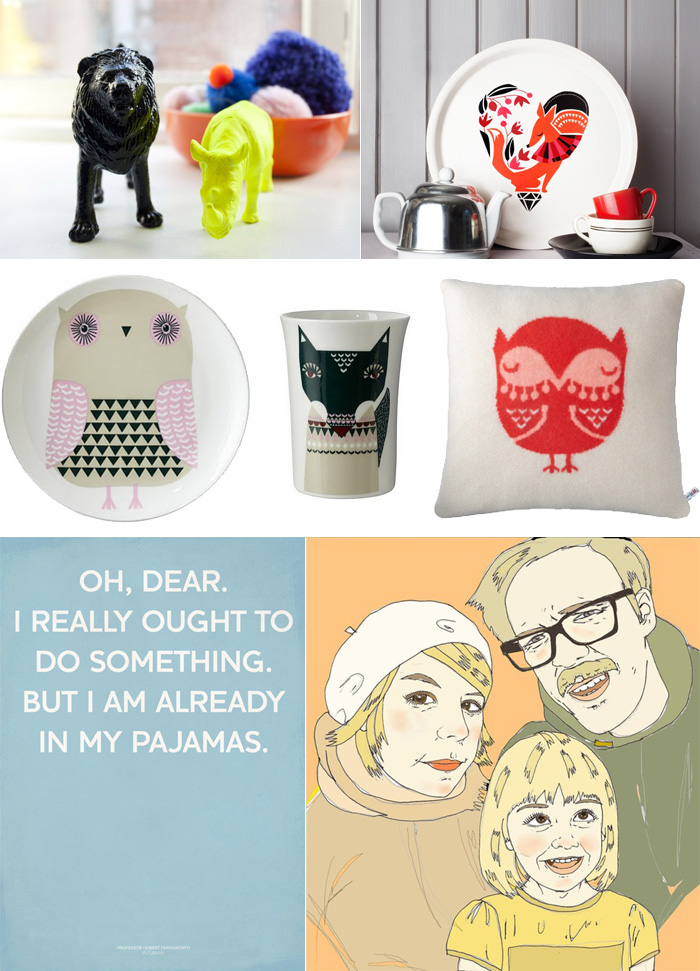 Ik kan mezelf moeilijk tot iets zetten deze week, zit niet zo lekker in mijn vel. Stress, zwangerschapsvermoeidheid of een combinatie van deze twee, ik weet het niet precies. Ik heb dus veel in mijn bed gelegen en op internet rondgehangen om te kijken naar mooie dingen. Mezelf omringen met schoonheid doet mijn humeur meestal goed. Bovenstaande beauties kwam ik tegen, wil ze graag delen met jullie:
Via een van mijn favoriete blogs Ungtblod kwam ik terecht bij the good machinery. Mijn voorliefde voor plastic speelgoeddieren leefde helemaal op toen ik de prachtige fluoriserende plastic dieren zag, geweldig! Ook hun blog is de moeite waard.
Caroline van Lille Lykke blogde deze week over de prachtige nieuwe collectie van Darling Clementine. De hele collectie is om van te watertanden, maar dat dienblad hoort gewoon in onze keuken, toch?
Donna Wilson's nieuwe collectie maakt me enorm hebberig. Dat uilenbordje, die beker! Op het kussen ben ik al maanden aan het azen, ik zie het hier al helemaal op de bank liggen. Prioriteiten, prioriteiten…
Ik heb geen idee meer waar ik de 'oh dear'-spreuk gevonden heb, maar hij past behoorlijk goed bij hoe ik me voel. Hopelijk gaan de verwachte temperaturen in het weekend me goed doen. (het wordt elf graden! Lente! Lente!)
de portretten van Fia Igelström maken me erg vrolijk! Zodra de baby geboren is en we een mooie foto van ons vieren hebben, ga ik via haar etsy-shop een familieportret bestellen bij Fia.

I'm not feeling quite well, stressed and tired. I'm spending my time surfing on the internet, looking for pretty things. On one of my favorite blogs Ungtblod I read about the good machinery. I love their plastic animals and their blog, too. Lille Lykke's Caroline wrote about the new Darling Clementine-collection. I want that tray! I also want the entire new collection Donna Wilson made, how lovely. I totally fell in love with the family-portraits made by Fia Igelström. They make me so happy. As soon as the baby is born, I'm gonna order a customized portrait in her etsy-shop. The 'oh dear'-slogan fits my mood perfectly. (no idea where I found it, sorry…)