Afgelopen week werd ik geopereerd aan mijn oog. Ik wist al langer dat dat zou gaan gebeuren en gelukkig lijkt alles tot nu toe goed te gaan, maar het was best spannend. Van al mijn zintuigen zijn mijn ogen me geloof ik het meest dierbaar. (Echt, ik hóu van zien. Het is zoals Mus zei: "Ik wil zo graag kijken naar wat mooi is.") Op de dag dat ik uit het ziekenhuis kwam, bleek dat Albert Heijn me onverwacht een mandje vol biologische boodschappen had gestuurd, ter promotie van de uitbreiding van hun biologische assortiment en de opening van hun bio pop-up store. Dat vond ik sympathiek en vanwege de timing voelde het een beetje als een fruitmand vol fijne gezonde artikelen. Vandaag voelde ik me goed genoeg om de producten eens op mijn gemak te bekijken en maakte ik een pompoensoepje van de biologische pompoen en kokosmelk die in het pakket zaten.
Biologische pompoensoep
Nodig: 1 ui, gesnipperd. 6 worteltjes, gesneden. 1 biologische pompoen, inclusief schil, in kleine stukken gesneden. 1 blikje biologische kokosmelk, 1 eetlepel komijnzaad, groentebouillon naar smaak en 1 ontpitte rode peper.
Doen: bak de ui, wortel en pompoen even aan in een beetje olijfolie, tot de ui glazig is. Voeg de eetlepel komijnzaad en de rode peper toe en voeg langzaam, in scheutjes ongeveer een liter water en bouillonblokjes naar smaak toe. Laat ongeveer 20 minuten staan op laag vuur en pureer de soep daarna met een staafmixer. Voeg tot slot het blikje kokosmelk toe en roer even goed door. Smakelijk!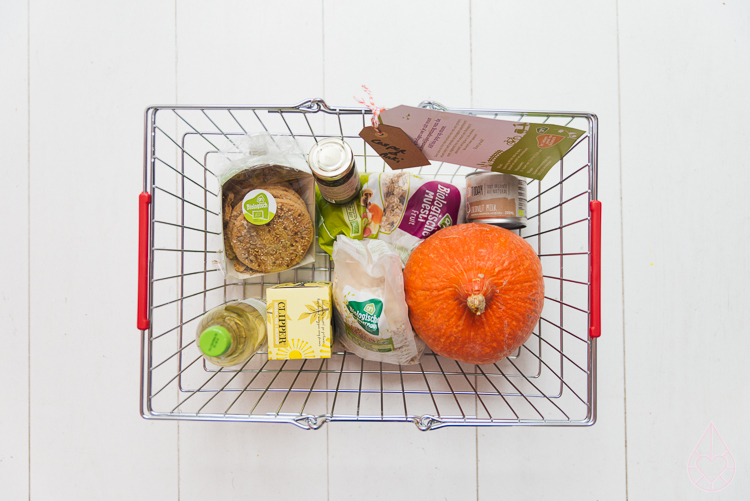 Het mandje. Helaas bleek dat de kinderen al behoorlijk wat hadden opgegeten toen ze (letterlijk) uit mijn zicht waren. Geef ze eens ongelijk.
Last week was kind of thrilling because I had to undergo eye surgery. My sight is worth the world to me, so I was pretty relieved to experience it all seemed to work out the way it should. A Dutch retailer sent me a basket full of biological groceries to promote their new biological brand, so I decided to make a biological pumpkin soup. I took this pictures with one eye, quite a challenge. Enjoy your Sunday!