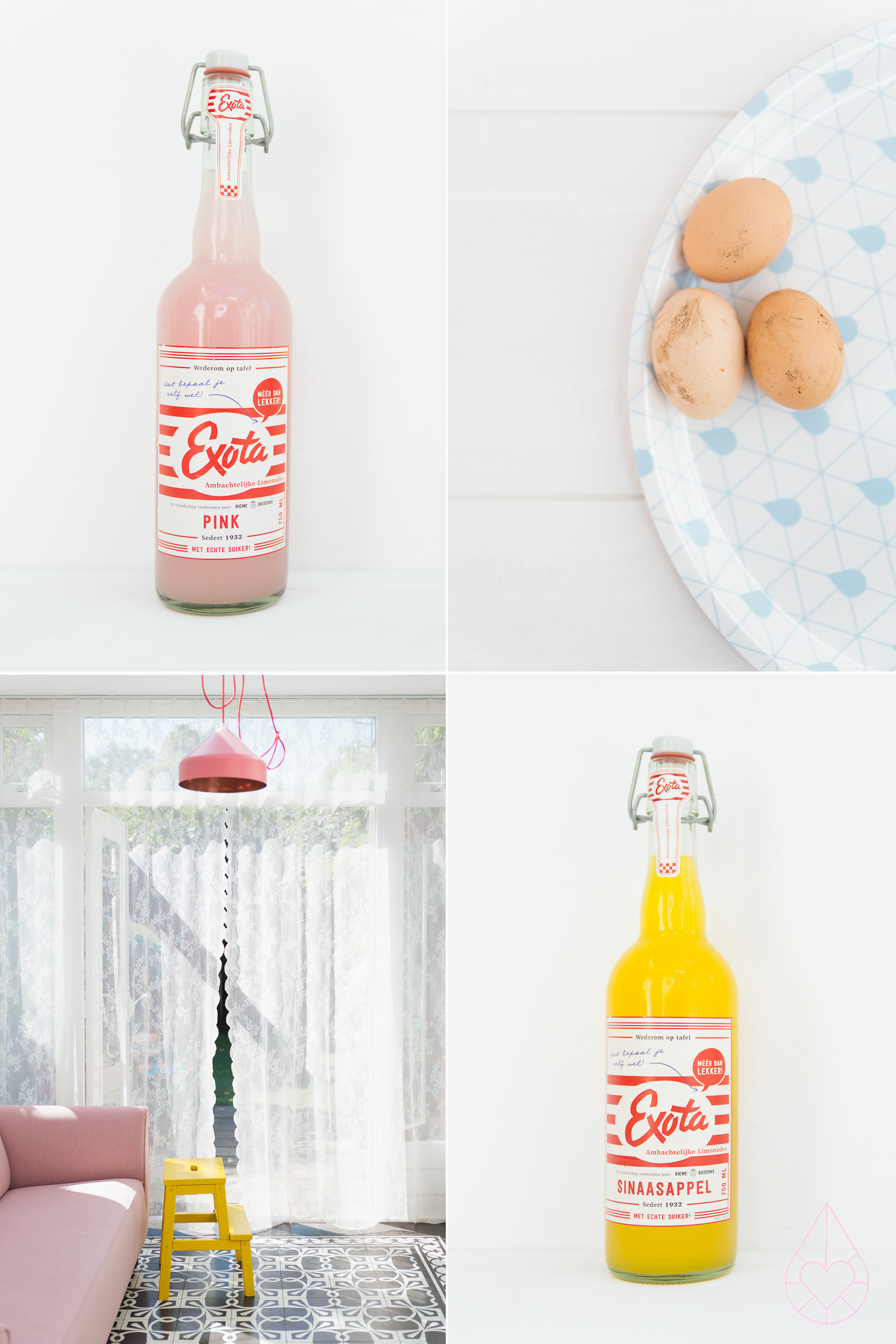 Allereerst hartstikke bedankt voor jullie lieve woorden over de cover van ons boek. Na al die maanden ermee bezig te zijn geweest is het heel fijn om alle reacties te lezen. Vooral goed om te lezen dat jullie Zilverblauw erin herkennen, dat was voor ons heel belangrijk. Het is echt óns boek geworden, een verlengstuk van dit blog en ons 'merk'. Met dank aan de dames van Snor natuurlijk, die ons de ruimte gaven om dichtbij onszelf te blijven. (Dat lijkt wel een tegenstelling, maar is het allerminst.)
Vandaag geniet ik dus, van een dagje thuis met Mus, alle lieve woorden en de zon. En van bovenstaande plaatjes die ik afgelopen week maakte, van mooie flessen Exota limonade, onze nieuwe roze bank (later meer!) en verse eieren van onze kippen.
De winnaars van de mooiwatplantendoen.nl give-away zijn:
Instagram: tessahop & wit.lof
Facebook: Patrice A.
Blog: Patty vd Boogaard & Stephanie (Plantenfestijn)
Winnaars: stuur een mailtje naar casper@zilverblauw.nl, dan zorgen we dat jullie de planten thuisgestuurd krijgen. (Gek hè, planten via de post? Ze sturen ze op in een speciale doos, heel bijzonder en grappig.) Allemaal een heel fijn weekend gewenst!
Thank you so much for all your sweet words about the cover of our book. It was such a relieve to finally show you (a small part of)  what we've been working on so hard this year. Today I'm at home with Mus, re-reading all the lovely comments, enjoying the sun and our new couch (more to come about that). And enjoying this pictures I made last week, of simple things that caught my eye. The lemonade is Exota, I just love the design and colors. Above you'll find the winners of the mooiwatplantendoen.nl give-away. Hope you enjoy the weekend to come!