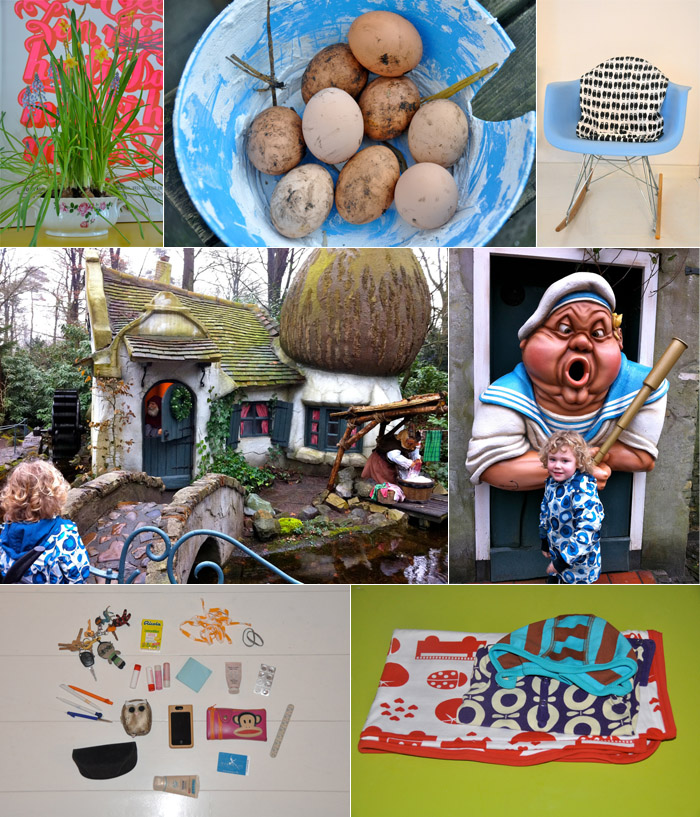 Waar vorige week relatief rustig was, had ik het deze week enorm druk. Een beetje té druk, eigenlijk. Niet zo goed voor mij en de baby; kreeg er zelfs harde buiken van. Erg blij werd ik de afgelopen week van:
Het oerwoud aan bloemen in het bloembollenservies.
De kippen, die duidelijk de lente in hun bol hebben en ineens weer alledrie elke dag een ei leggen. (mmm!)
Het uitzoeken van de eerste kleertjes voor de baby.
Gordijntjes maken voor op Wolf's zolderkamer, die eindelijk nu echt bijna klaar is.
Lieve vriendin Iris, die vrijkaartjes regelde voor de Efteling (we wonen vlakbij) zodat Wolf, zijzelf en ik ineens een hele leuke zaterdagmiddag hadden.
En het meedoen aan de What's in your bag-tour van het geweldige blog Dos Family.
Waar werden jullie blij van afgelopen week?
I had a pretty busy week at work. Left home early, came back late. Didn't like it. The following things made me happy: the jungle of flowers in the thrift store-tableware, our chicken clearly being aware of the arrival of spring; everyday fresh eggs again, jummy! Choosing the baby's first clothes, making curtains for Wolf's attic, (almost ready!) visiting the Efteling with friend Iris and Wolf and joining the What's in your bag-tour from the great blog Dos Family. What made you happy last week?