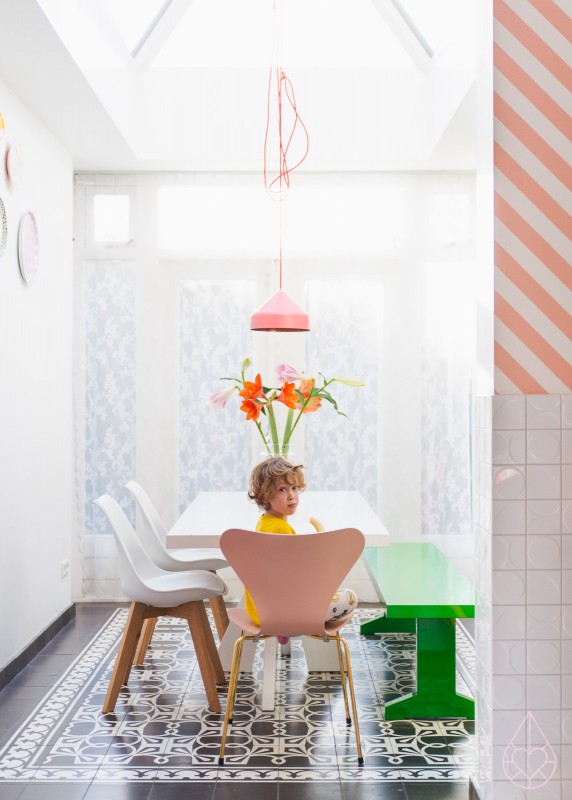 We hebben een logeerstoel. Dat is weer eens wat anders dan die eeuwige logeerberen die de kinderen meebrachten van de kleuterschool en die dan het hele weekend in hun tas bleven zitten (hetgeen vooral bij Wolf gebeurde, omdat hij vrij lang heeft gekleuterd en het wel gezien had met de logeerbeer. Uiteindelijk schreven we dan in het schriftje dat erbij zat zoiets als 'Flip de beer is erg uitgerust na zijn logeerpartij bij ons').
Onze logeerstoel is de vlinderstoel van ontwerper Arne Jacobsen en hij reist het land rond ter ere van z'n zestigste verjaardag. Voordat de stoel bij ons kwam, zijn hij en zijn diepblauwe collega (twee limited editions van het bekende model 3107) onder andere te gast geweest bij Ontwerpduo, Jasper Krabbé, Roderick en Claire Vos, Beeldsteil, April&May en Mart Visser.
De bedoeling is dat je de stoel een week deelgenoot maakt van je leven. Dat was voor ons niet zo moeilijk: met z'n gouden poten en roze zitting past de stoel moeiteloos in ons interieur en is het eigenlijk alsof 'ie er altijd is geweest. Mét de voordelen van een echte logeerstoel weliswaar: de kinderen vechten om wie erop mag zitten, vooral Mus is erg fan. Wat de stoel meteen populairder maakt dan elke logeerbeer tot nu toe. Je kunt de stoel online volgen via #vlinderstoelviertfeest en #sleepover3107.
We're having a special guest: a limited edition of Fritz Hansen's 3107 chair is staying with us for a sleepover. To celebrate the 60 years anniversary of the design by Arne Jacobsen the pink chair (and it's blue colleague) will stay in 60 different homes of designers, architects, stylists and other people from the world of lifestyle, design and architecture in the Netherlands. You can follow their journey online through #sleepover3107 and #vlinderstoelviertfeest.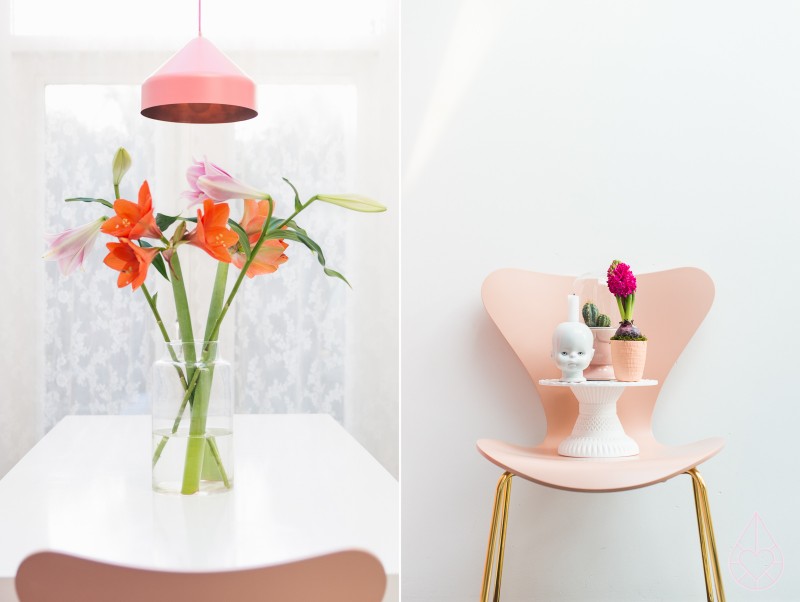 p.s. Dank voor al jullie reacties hier en op social media op mijn bericht hieronder, lief!