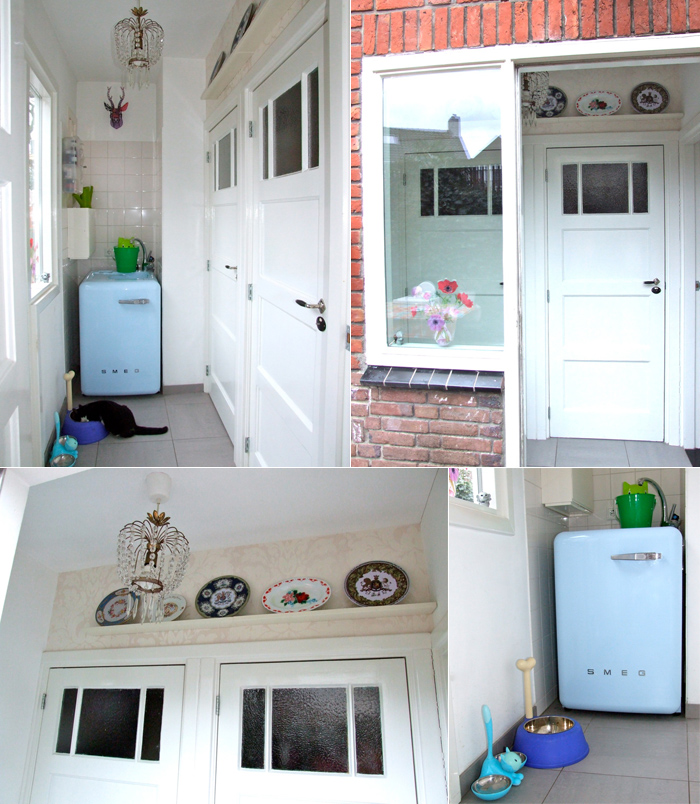 Barbara startte met Home Sweet Home. Ze schrijft; door AL het moois dat ik op verschillende blogs zie, vergeet ik vaak de gezelligheid en het fijne gevoel van mijn eigen huis te zien.Omdat ik me voorgenomen heb om in 2011 méér vriendjes te worden met mezelf (Lees: meer tevreden met wat ik heb en wie ik ben) lijkt het mij leuk om elke maandag een foto te plaatsen van een plekje uit mijn eigen huis, om even stil te staan bij hoe fijn dat eigenlijk is. Mooi initiatief, toch?
Nu is het zo dat ik jullie voor mijn gevoel voortdurend aan het 'spammen' ben met foto's van mijn huis, maar ik wil toch graag meedoen. Daarom heb ik besloten foto's te gaan plaatsen van plekken in huis waar ik normaal geen foto's van laat zien. Deze week ons kleine bijkeukentje, waar onze wasmachine staat. Kijk voor meer Home Sweet Home bij Barbara.
Barbara started Home Sweet Home. She wants to be more satisfied with her own, nice home instead of just comparing her home to the beauty of other houses. Every monday she publishes photo's of her home to remember herself that her own house really is her home. Although I'm already publishing a lot photo's of our house, I wanna join this project. I decided to take photo's of places I've never shown on this blog before. Today the scullery, with our washing machine and the cat's food.