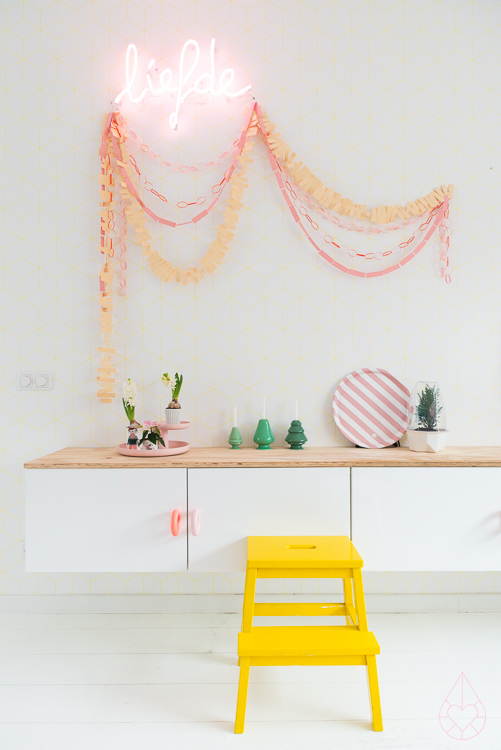 Deze week maakte ik simpele papieren slingers van stroken papier. Ik zocht wat van mijn favoriete kleuren bij elkaar en maakte vier verschillende slingers.
Het makkelijkst om te maken zijn de ronde slingers, ik vind dit zelf ook de leukste omdat ze me doen denken aan de slingers die kleuters maken. (Ik kan me nog herinneren dat ik ze zelf maakte op de kleuterschool. Er zit zoveel kracht in eenvoud.) De wat bredere ronde slingers heb ik simpelweg aan elkaar geniet, de smallere gelijmd met simpele papierlijm.
De slingers met de korte strookjes papier heb ik aan elkaar gestikt met de naaimachine. Dit is zo ongeveer het simpelste klusje wat er is om te doen op de naaimachine, dus laat je niet tegenhouden als je een beginner bent. Ik gebruikte voor deze slinger papier wat ik over had en op maat sneed met een snijmachine (lang leve een grafisch ontwerper als man) maar voor al deze slingers kun je ook gewoon kant en klare papierstroken gebruiken als je het jezelf makkelijk wilt maken. Ik bevestigde de slingers aan onze neoliefde met behulp van kerstbalhaakjes. (Die ik zo ongeveer overal voor gebruik, ook als het geen kerstmis is. Ze zijn ideaal om dingen mee op te hangen.)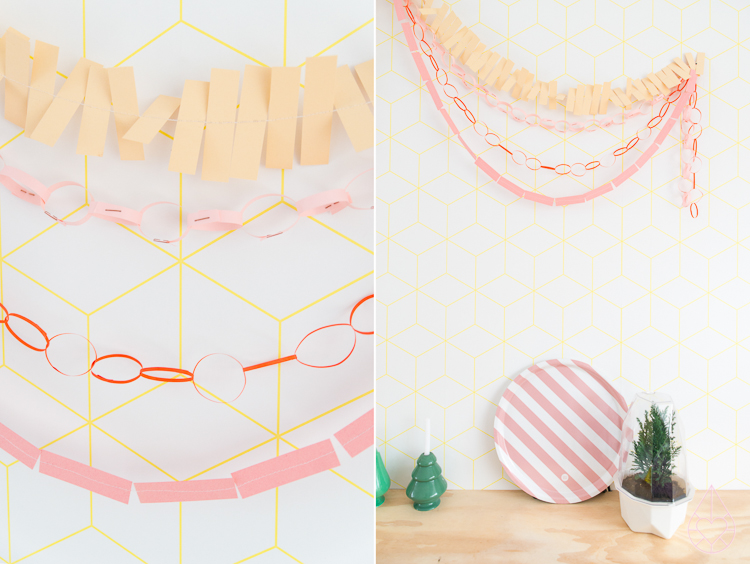 I made simple paper garlands this week, with colored paper in my favorite colors. I made four different garlands, to use them as a decoration for christmas.
The round garlands are really easy to make: simply use paper strips and glue or stables. I remember myself making these kind of garlands at nursery school, there can be so much beauty in simplicity, don't you think? The other garlands are made with the same paper strips and the sewing machine. If you're not an experienced sewer: this garlands are probably the most easy things on earth to sew, so just give it a try!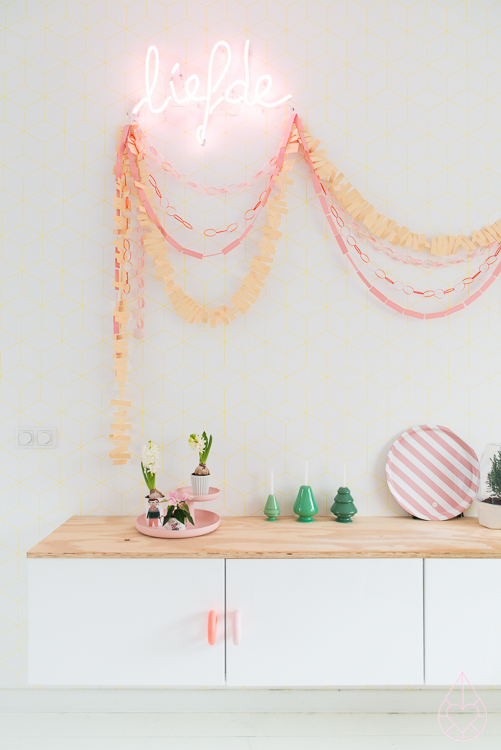 FYI: roze tray –  kerstboomkandelaars – neonliefde – gestreept dienblad. Gekleurd papier kun je praktisch overal kopen, online maar ook bij de hobbywinkel of kantoorvakhandel. Hetzelfde geldt voor papierstroken.
Zie hier Kerst DIY I en hier alle kerstgerelateerde berichten op dit blog. Fijne woensdag!
Click here for another Christmas DIY and here for all Christmas-related posts on this blog. Happy Wednesday!