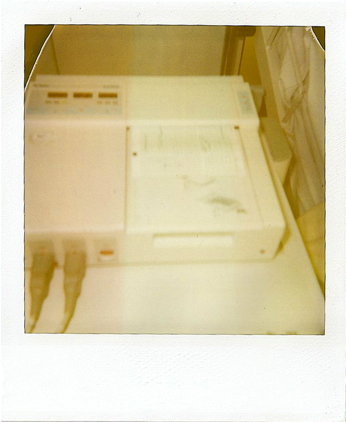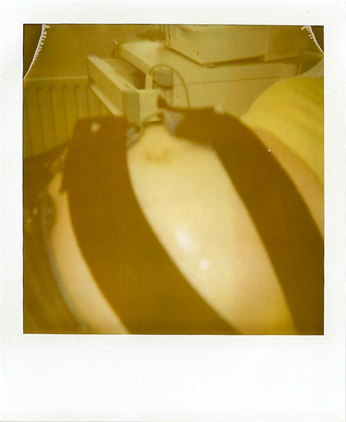 Vandaag smokkel ik een beetje, want Polaroids vind ik eigenlijk geen lomo's, hoewel het natuurlijk wel oude, analoge film is met verrassende effecten. Gisteren moesten we naar het ziekenhuis voor een check-up van de baby. Ik kreeg een CTG & echo, om te kijken of 'ie 't nog goed heeft daarbinnen. Zoals verwacht was alles oké. Ik had de oude Polaroidcamera van de vader van Casper meegenomen, een 636 close-up camera met verouderde film erin. Dat de film oud en dus aan het uitdrogen is, kun je zien aan de 'gouden' hoekjes. De desolate ziekenhuisomgeving komt mooi uit de verf op de verouderde film, vind ik. Kijk voor meer lomo-saturday bij Nikki, Casper, Iris, Mireille, Marrit & Aukje. Fijn weekend allemaal! (wil je trouwens meedoen aan lomo-saturday? Je bent van harte welkom! Laat het me even weten, dan nemen we je op in het lijstje)
Actually, I don't think Polaroids can be qualified as lomo's, so today Polaroid-saturday instead of lomo-saturday. Yesterday we went to the hospital for the 41-weeks check-up. Baby's still doing perfectly fine. I brought the Polaroid 636-close-up camera that once belonged to Casper's father. The (original!) film is expired. The photo's 'golden' nooks are because of the film's dehydration. I think the hospital's depressing environment suits the expired film great.
For more lomo-saturday, go check out the blogs of Nikki, Casper, Iris, Mireille, Aukje and Marrit. Hope you all have a nice weekend.