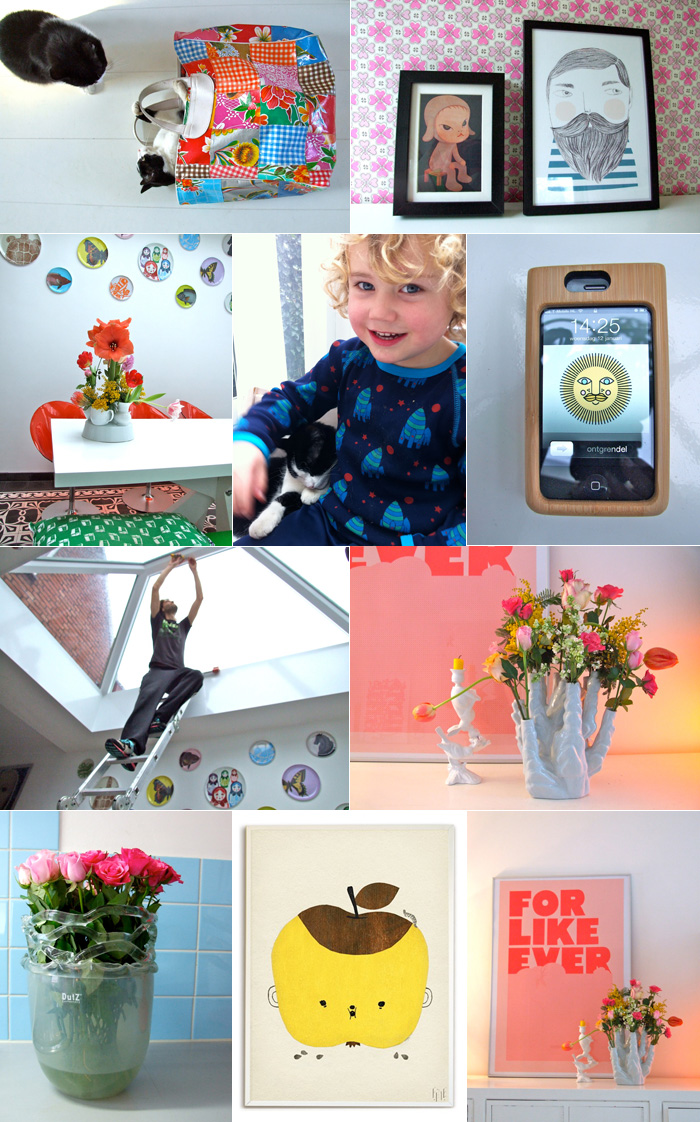 Deze week werd ik erg blij van:
Onze katten Thijs en Curry, die te pas en te onpas overal opdoken. Ze maakten me aan het lachen.
Het contact tussen Wolf en Thijs. Het zijn echte vrienden. Toen Wolf uit school kwam, hoorde ik hem tegen Thijs zeggen "Thijs, ik ben blij dat ik weer thuis ben en ik jou weer zie".
Mijn lichaam. Ik heb veel pijn in mijn onderrug, het belemmert me. Ik was bang dat ik bekkeninstabiliteit aan het ontwikkelen was, maar na een bezoek aan de verloskundige bleek het een beknelde zenuw. Pijnlijk helaas, maar gelukkig onschuldig. (wat een opluchting!)
Mijn lief Casper, die zo zijn best doet in huis, voornamelijk op de slaapkamer en op de zolder. Hij werkt hard en met zoveel plezier!
Mijn nieuwe Iphone in prachtig houten hoesje en de mooie appelprint die ik bestelde voor op de slaapkamer. (via finelittleday)
Alle mooie bloemen die me de regen deden vergeten.
This week the following things brought me happiness;
Our cats Thijs and Curry, especially Thijs is such a sweetheart.
My body. I was worried, because my pelvis hurts a lot. Luckily, there's nothing serious wrong with my body. The pain is annoying, but innocent. Pfew.
My love Casper, who's working so hard at the reorganization of our bedrooms.
My new Iphone in a beautiful wooden case and the wonderful print I ordered at finelittleday.
All the beautiful flowers in our house that made the sun shine whereas it was raining outside.