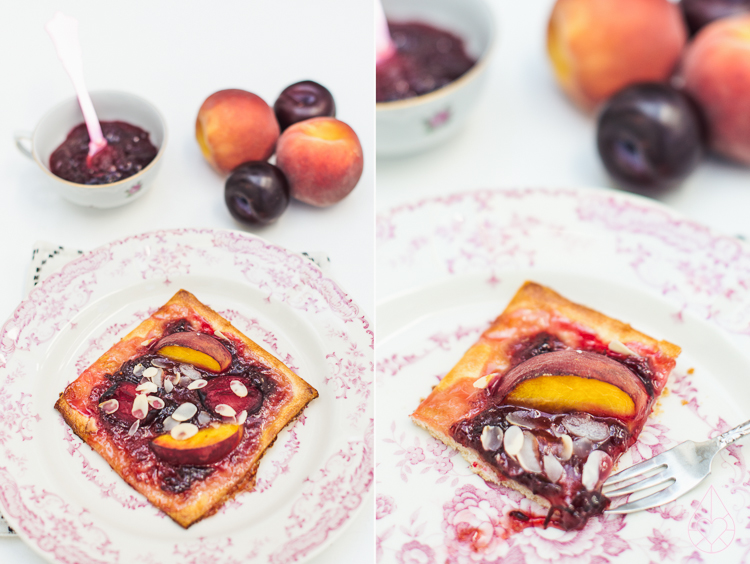 Een snel en heel makkelijk receptje op de zondagavond: pruim & perzikslofjes. Ik maakte ze vanavond voor de wedstrijd Nederland-Mexico – met drie mannen in huis is de voetbalgekte definitief toegeslagen.
Nodig, voor 8 porties: plakjes deeg voor hartige taart, pruimenjam, een perzik, vier pruimen, evt. wat amandelschaafsel.
Doen: Laat de plakjes deeg kort ontdooien, kras er met een mes een kader in en besmeer het kader met pruimenjam. Snij de perzik in zes partjes en de pruimen in tweeën en verdeel over de plakjes deeg. Bestrooi met wat amandelschaafsel en bak 20 minuten in een op 175 graden voorverwarmde oven. (Zo zagen de slofjes eruit voor ze de oven ingingen) Smakelijk eten!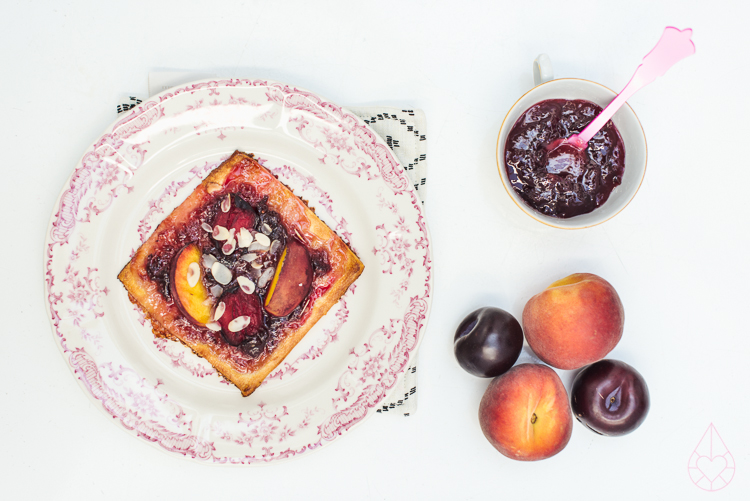 A fast and easy recipe for a peach-plum tart on this sunday night. I served it to the boys during the engrossing soccer match this evening. 
You need, for 8 portions: puff pastry, divided in 4 squares, plum jam, 4 plums, pitted and sliced, a large peach, pitted and sliced, flaked almonds.
To do: Preheat oven to 425F. Roll the pastry out on a lightly floured work surface and divide in four squares. Place the pastry on a parchment lined baking sheet. Apply the plum jam on your pastry, then add the fruit and finish with the flaked almonds. Place in the oven and bake until fruit has softened, for about 20 minutes. (this is how they looked before they went into the oven) Bon appetite!