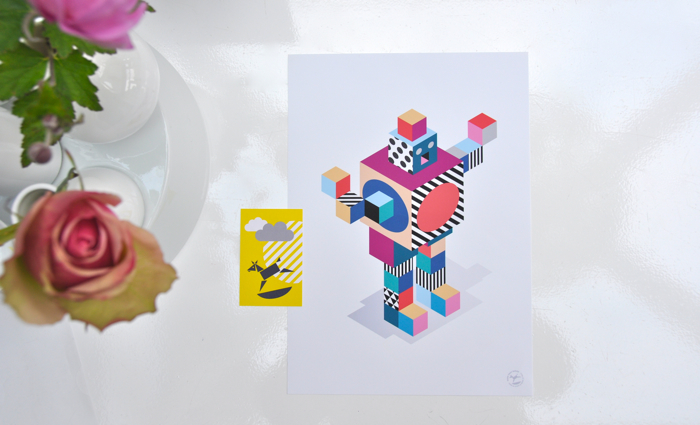 Hoe fijn is thuiskomen als er allemaal leuke cadeautjes op je liggen te wachten? Lieve Ingrid maakte voor Mus een Rockin' Mus wood and word-sign, prachtig! Ik ga een manier verzinnen om het bordje ook daadwerkelijk in de Rockin' Mus-setting te verwerken.
Van Julia kreeg ik de kleurrijke Robot-print, omdat ik haar give-away won terwijl dat helemaal niet de bedoeling was. Julia gaf het brei-boek van Donna Wilson weg en omdat ik helemaal niet kan breien maar wel weet dat het een heel leuk boek is (ik gaf het ooit cadeau aan een vriendin die goed kan breien) wenste ik de andere deelnemers aan haar give-away succes. Toen Julia vervolgens een winnaar ging kiezen, werd ik twee keer achter elkaar gekozen en besloot Julia me de schitterende print te sturen! Dank Ingrid en Julia, het is heerlijk thuiskomen zo!
(en volgens mij wacht er ook nog een pakje van Judith op me wat is afgegeven bij onze buren!)
It's great to come home after such a long time in the summerhouse, especially when there are sweet presents waiting for you. Ingrid made Mus a great Rockin' Mus wood and word-sign, I love it! And Julia send me the beautiful Robot-print, because I won her give-away which I didn't want to win. (strange huh? Julia gave the Donna Wilson-knittingbook away, but I can't knit and so I placed a comment to wish the other participants good luck -I know it's a nice book because I gave one as a present to a friend lately) When Julia wanted to pick a winner, she picked me twice in a row, so she decided to send me the print, isn't that sweet? Thank you so much Ingrid and Julia!