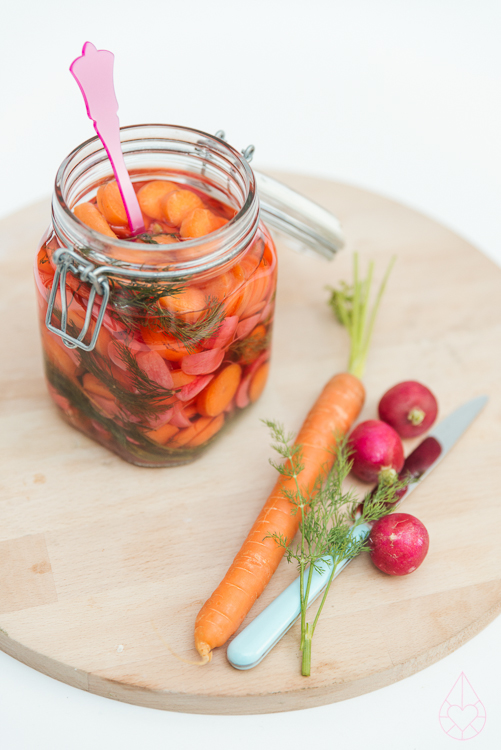 Ik zou liegen als ik tegen jullie zou zeggen dat ik heel erg veel zin had in ingemaakte zoet-zure radijsjes en worteltjes, want dat was niet zo. Ik had zin om iets moois te maken. Het was een grijze, grauwe zondag en ik had behoefte aan kleur. Daarbij vrolijkt fotograferen me altijd op en ben ik sinds vorige week hard aan het werk aan ons boek, waardoor ik voor mijn gevoel elk fotografie-project kan legitimeren. Ik maakte dus radijsjes en worteltjes in, simpelweg omdat ik dat er zo mooi uit vind zien. Vandaag aten we ze op en omdat ze verrassend lekker bleken, deel ik graag het recept met jullie.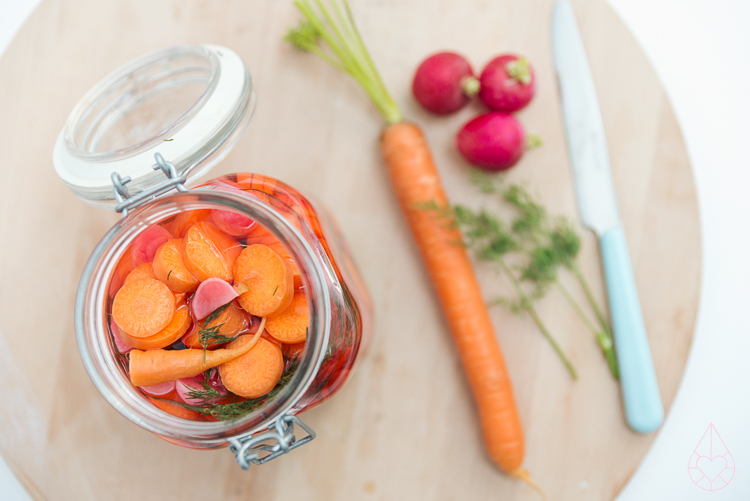 Ik had nog nooit groenten ingemaakt (wel eens jam) en ik dacht dat het heel veel werk zou zijn. Dat bleek gelukkig niet zo, in 20 minuten had ik de pot zoals op de foto gevuld.
Nodig: bos wortelen, klein gesneden, bosje kleingesneden radijsjes, dille, witte wijnazijn, natuurazijn, (ofwel gewoon azijn) suiker en een schone, lege pot.
Doen: Doe de kleingesneden groente samen met een aantal takjes dille in de schone pot. Verwarm ondertussen 180 milliliter azijn, 50 milliliter witte wijnazijn en 200 gram suiker, net zolang tot de suiker is opgelost. Schenk dit mengsel over de radijsjes tot de pot vol is en sluit het deksel. Je kunt de radijsjes na één dag al gebruiken, ze zijn dan mooi roze geworden. Lekker in een salade of op een borrelplank. Fijne avond allemaal!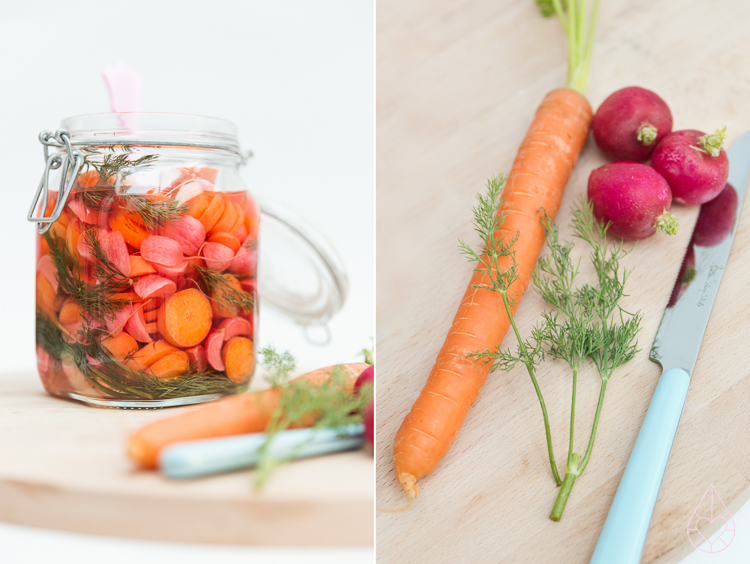 It was a dark, grey Sunday and I was in need of some color, so I decided to make pickled radishes and carrots with dill. I never realized how simple it is to pickle vegetables. I always thought it would take hours, but filling this large jar only took me 20 minutes. I used white wine vinegar (50 ml) simple normal vinegar (180 ml) and sugar (200 grams) and added dill for some extra spice. There's a similar recipe in English here, if you like. Happy Wednesday!