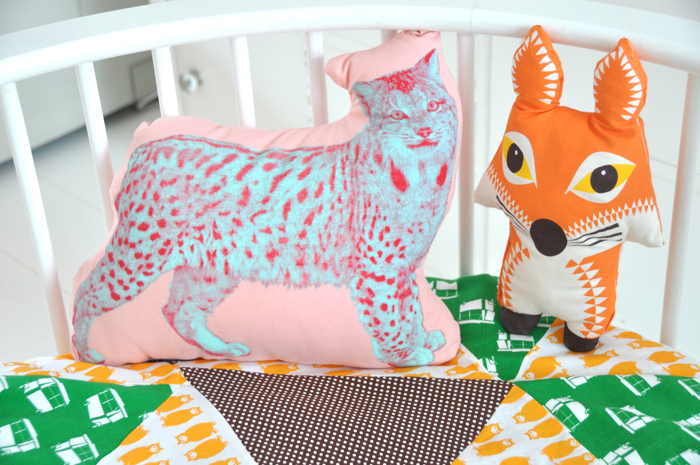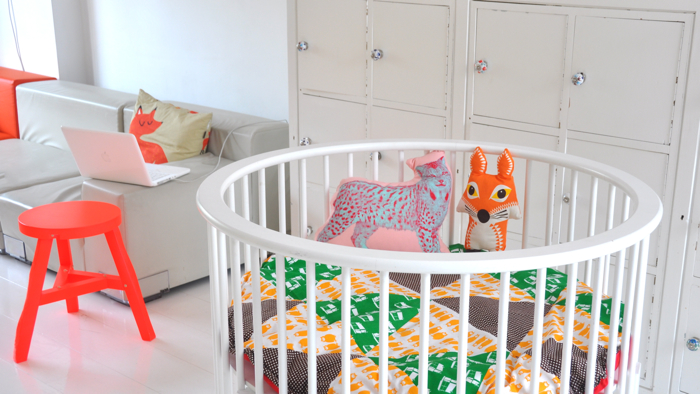 Ik weet dat jullie allemaal wachten op het bericht dat de baby geboren is, (en daar wachten we natuurlijk zelf ook op) maar dat is helaas nog niet het geval. Moeilijk om te geloven dat de kans dat 'ie komt écht elke dag groter wordt, terwijl het voelt alsof het helemaal nooit meer gebeuren zal en die hele zwangerschap één grote grap is. Of, zoals Carly woensdag schreef in een reactie, een goede online marketingstunt. De buik, nog steeds prominent aanwezig, bewijst het tegendeel. Bloggen geeft me zowel rust als structuur, dus tot de baby er is stel ik mezelf ten doel dagelijks een bericht te plaatsen. Beetje fotograferen, foto's bewerken en nadenken over iets anders dan de baby & bevalling vind ik fijn.
Vandaag wat foto's van mijn nieuwe kussen van Ross Menuez voor Areaware. Ik bestelde het eigenlijk om het te gebruiken tijdens de fotoshoot van ons huis, bij een Deense online winkel, maar de levering liet zó lang op zich wachten dat het kussen daarvoor te laat kwam. De puma mag daarom vanaf nu meneer Vos gezelschap houden in de box. Verder creëerde ik vandaag een tafereeltje (ik hou van het woord 'tafereeltje') rondom de foto's van mijn Polaroidcamera. Ik bedacht me ineens dat het eigenlijk zonde is om die camera & foto's op te bergen in de kast, ze verdienen het te worden gezien. Evelyn van Lievelyntje heeft trouwens ongeveer eenzelfde camera als de mijne op de kop weten te tikken, neem zeker ook een kijkje bij haar als je Polaroids leuk vindt. Tot morgen! (of niet natuurlijk…)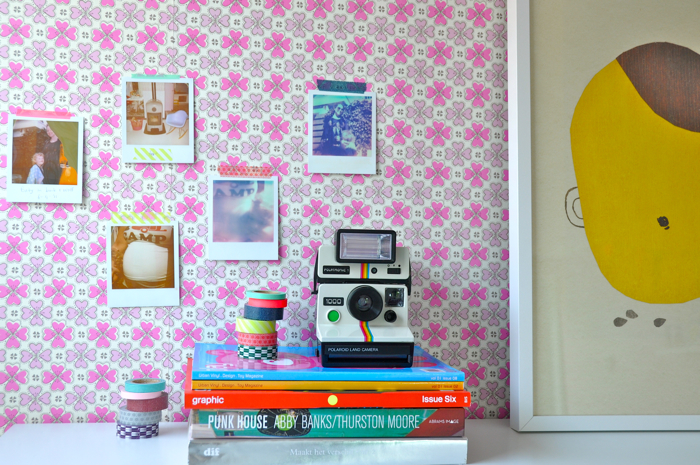 About waiting, waiting and waiting with nothing 'structural' to do but taking pictures every now and then and blogging. My new, long expected pillow from Ross Menuez for Areaware finally arrived and found his place in the playpen together with mr. Fox. I decided to exhibit my Polaroidcamera & photo's in our bedroom instead of hiding them in a closet. Have to do something to keep myself busy, haven't I?