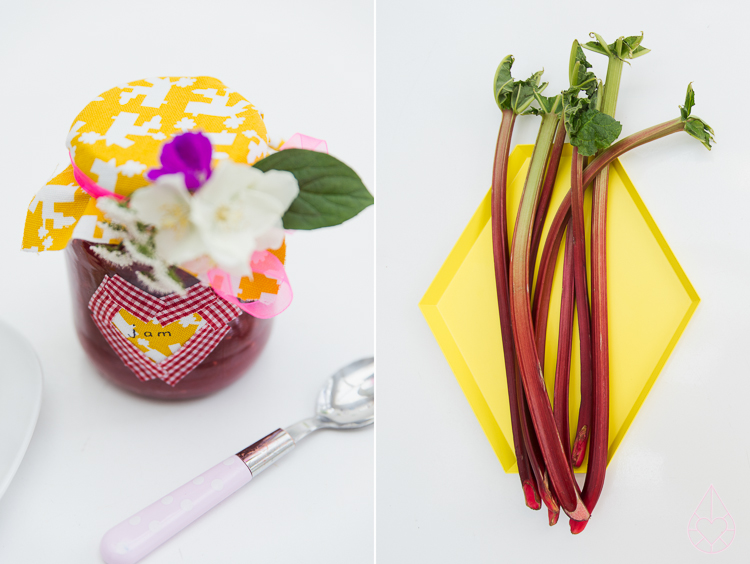 Vroeger, toen ik klein was, hadden we een buurvrouw met een moestuin. Als het seizoen daar was, bracht ze ons manden vol rabarber, waar mijn moeder moes van maakte. In mijn herinnering aten we hele zomers lang rabarbermoes. Op den duur verhuisde de buurvrouw en sindsdien heb ik nooit meer rabarber gegeten. Van de week liep ik over de markt en rook daar, zomaar ineens, de geur van rabarber. Ik besloot wat te kopen en ging op zoek naar een leuk recept, wat ik -toevallig- vond in het boek Zelfgeboerd. Ik paste het wat aan, omdat ik wat meer rabarber had dan noodzakelijk. Ik had nog nooit eerder jam gemaakt, maar het is erg makkelijk en heerlijk!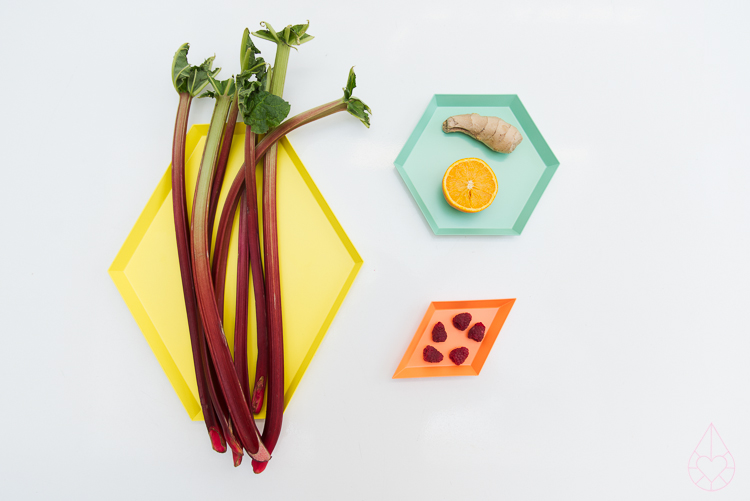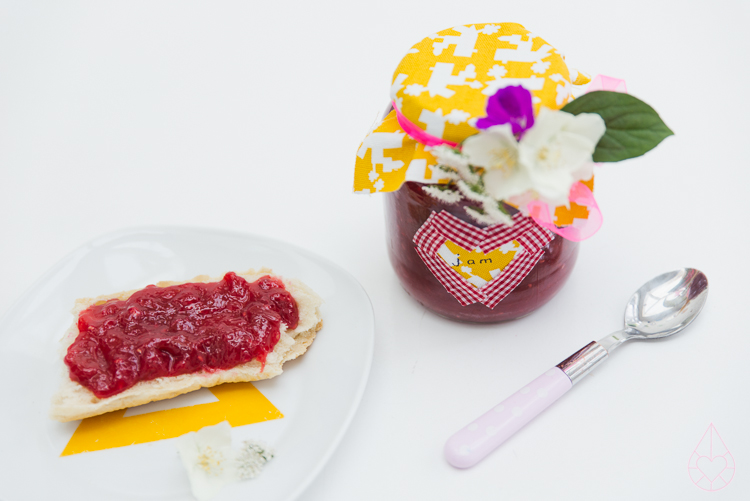 Voor een grote pot jam (formaat bruine bonen-pot, goed schoongemaakt en gesteriliseerd) gebruikte ik: 500 gram rabarber, 1 bakje frambozen, pak 'geleisuiker speciaal', sap van een sinaasappel, wat vers geraspte gember.
Was de rabarberstengels en snijd de uiteinden eraf. Snijd de stengels in stukjes en en weeg ze samen met de frambozen. Neem nu de helft van dit gewicht in 'geleisuiker speciaal', of iets minder als je een minder zoete jam wilt. Kook de rabarberstukjes met het sinaasappelsap en wat vers geraspte gember op laag vuur tot de rabarber wat zachter is. (paar minuten) Doe dan de frambozen en suiker erbij. Breng aan de kook en laat op hoog vuur 2-4 minuten koken. Doe de (nu nog dunne) hete jam in schone jampotten en zet ze 10 minuten op hun kop, zodat ze vacuüm trekken. Bewaren in de koelkast.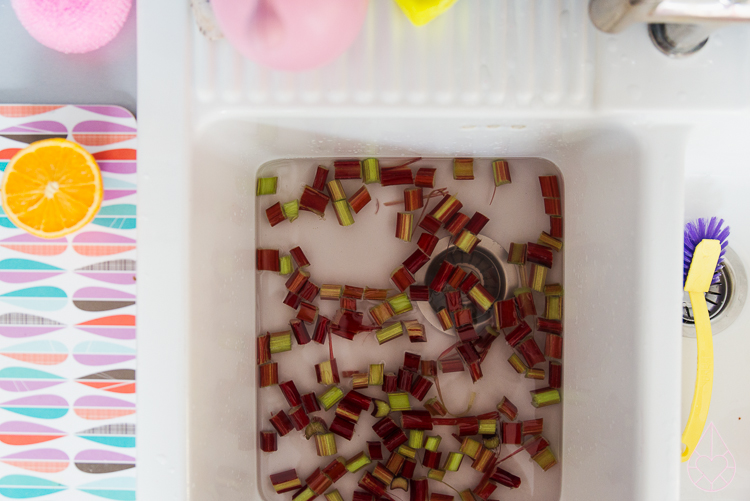 When I was a little girl, our neighbor often brought us rhubarb from her vegetable garden. In my childhood memories we ate rhubarb all summer long. After a few years our neighbor moved, so all of the sudden the rhubarb-supply stopped. I can't remember I ever ate it since then, until I was at the market last week, smelled it and all these memories popped up in my head. I decided to buy some, and found a recipe for rhubarb-raspberrie jam in this book. So easy, and delicious. Happy new week!